All Recipes
|
Breakfast
|
Lunch & Light Dishes
|
Dinner
|
Treats
|
Key Recipes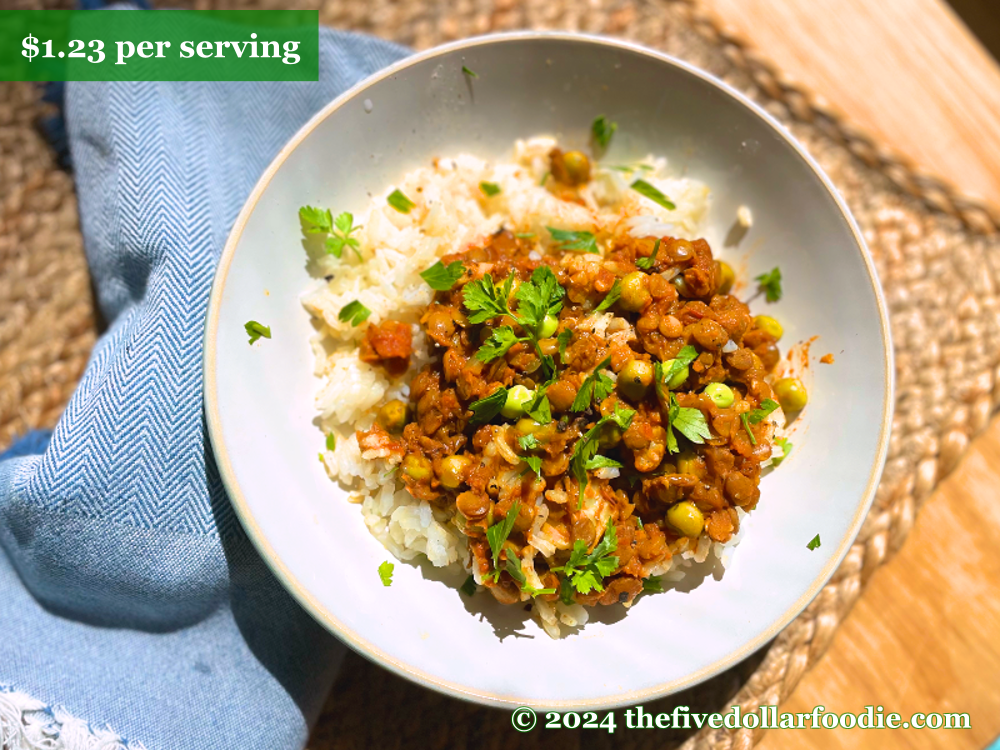 Creamy, hearty lentils that taste sweet and flavorful? Yes, thanks to this blend of Indian spices and luscious coconut milk, lentils are transformed into a treat. You'll be surprised how delicious this dish is, and it's easy to prepare, not to mention economical. We're a big fan of lentils for their nutrition and versatility, and are excited to share another way to prepare them with you. If you don't have garam masala, you can mix together a handful of spices (including cumin, cinnamon, nutmeg, cardamom, coriander—see quantities in notes below), some of which you may already have in the back of your spice cabinet. Chewy lentils—you can use green, red or brown—are complemented by fire-roasted tomatoes, onion, and garlic, and toss in some diced potato or cauliflower, or variety of other vegetables, depending on what you have on hand. Add creamy coconut milk, and dinner is sure to impress.
Makes 6 Servings - $1.23 per serving Show Detailed Pricing
2 tablespoons olive oil
1 onion, finely chopped
3 cloves of garlic, minced
* 1 potato, diced into small cubes, or 1 cup of cauliflower florets
1 cup dried green lentils (or red or brown), rinsed
2 teaspoons garam masala
1 teaspoon turmeric
1 teaspoon salt, to taste
15 ounces fire-roasted tomatoes
2 cups water (or vegetable broth)
1 cup coconut milk (regular, canned coconut milk works best)
* 1 cup green peas or 2 cups fresh spinach, chopped
1/4 cup parsley or cilantro, chopped
For serving
1 cup rice (cooked according to package directions to yield 4 cups cooked)
*Optional ingredients are not counted towards pricing
Prep Time: About 10 minutes
Cook Time: About 30 minutes
Instructions:
Heat the oil in a pot over medium heat until it shimmers. Add the onion and sauté for about 5 minutes, or until softened. Then add the garlic and optional potato or cauliflower and sauté about 2 more minutes.
Add the lentils, spices, salt, tomatoes, and water (or broth for a richer taste). Bring to a boil, then reduce heat and cover. Simmer about 10-30 minutes, or until the lentils are tender (red lentils will cook faster than green/brown). You can add more water during cooking if necessary.
Stir in the coconut milk and the optional peas or spinach for the last two minutes of cooking, and heat through.
Serve over rice and add chopped parsley or cilantro for garnish.
Notes:
Brown or green lentils provide a hearty texture for this dish. You can substitute another type of lentil and adjust cooking time accordingly—we also love red lentils, which have a bright, appealing hue, and they cook much faster.
Here's how to make garam masala: mix together 1 1/2 teaspoons of cumin with 1 teaspoon each of coriander, cardamom, and black pepper, 3/4 teaspoon of cinnamon, and 1/4 teaspoon each of clove and nutmeg. Save the extra spice mixture to use next time.
You can freeze the leftovers in an airtight container (keeping the rice separate) and enjoy it again up to a few months later.
This is also a wonderful slow cooker recipe. Just add all of the ingredients to the pot and cook on low for 6-8 hours (or high for 4-5 hours).
If you have leftover coconut milk, try our Coconut Chia Pudding, add to a smoothie, or freeze it in an airtight container for later use.
Related Recipes:
---
Review our Coconut Curried Lentils:
Thanks for your reviewing this recipe! We are looking over your comments and will post as many as possible.
---