All Recipes
|
Breakfast
|
Lunch & Light Dishes
|
Dinner
|
Treats
|
Key Recipes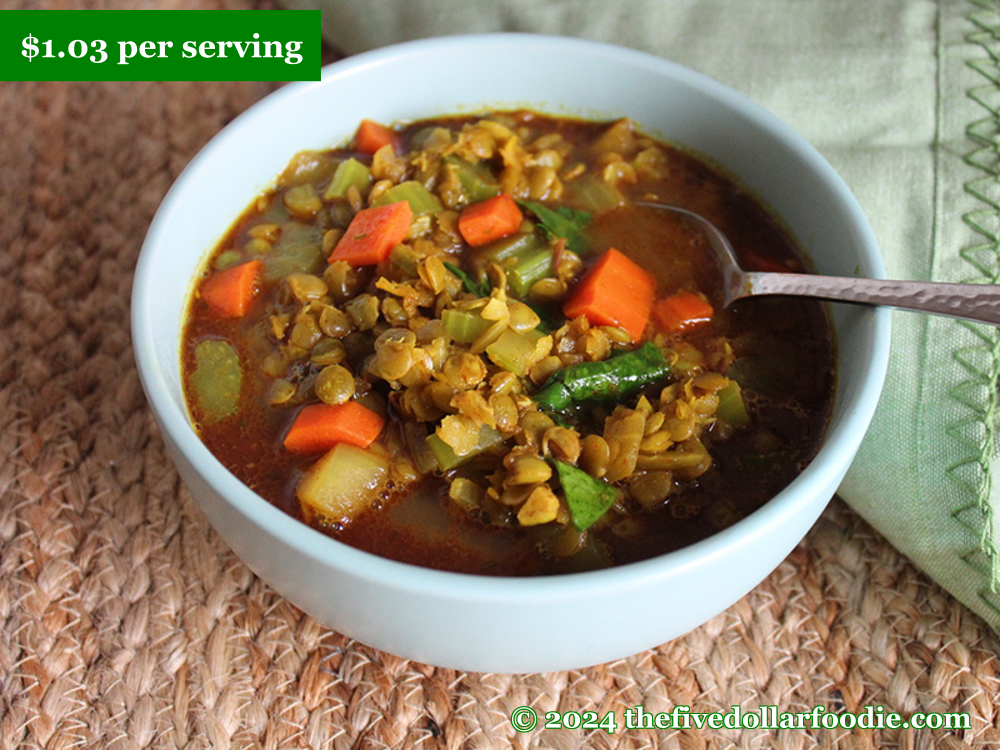 This lentil soup is the best we've ever tasted—really! It has its origins in the North African spices that have influenced southern Spanish cuisine. Oregano grows wild in the dry hillsides around the city of Granada (where $5 Foodie chef Amanda calls home), and bay trees dot the plazas of the Albayzín, Granada's historic quarter. This soup is vegan and an easy, quick winter dish to prepare, though its rich flavor will dazzle at any time of year. Plus, lentils are incredibly economical and extremely nutritious, rich in minerals, protein, and fiber. Those of us who are looking to eat more plant-based meals need look no further... we're making this a regular in our dinner rotation.
Makes 5 Servings - $1.03 per serving Show Detailed Pricing
1/4 cup olive oil
1 onion, chopped
3 carrots, peeled and chopped
2 stalks of celery, chopped
4 cloves of garlic, minced
1 tablespoon turmeric
2 teaspoons paprika (or smoked paprika)
2 teaspoons cinnamon
1 cup green lentils, rinsed
4 cups water
1 tablespoon oregano (dried)
4 bay leaves
1 teaspoon salt
1 pinch black pepper, to taste
1 pinch red pepper flakes
1 cup fresh spinach, kale, or other greens, chopped
1 tablespoon lemon juice, to taste
Prep Time: About 10 minutes
Cook Time: About 50 minutes
Instructions:
Heat olive oil in large pot over medium heat. Add onion, carrot, and celery and cook about 5-7 minutes. Add the garlic, turmeric, paprika, and cinnamon. Stir and cook for about 2 minutes.
Add the lentils, water, oregano, bay leaves. Add 1 teaspoon salt, the freshly ground pepper, and optional pinch of red pepper flakes. Raise heat to bring mixture to a boil, then partially cover the pot and reduce heat to simmer. Cook for 35-40 minutes, or until the lentils are tender. If the soup seems too thick, add a little extra water and simmer another minute.
Add the optional chopped greens. Cook for 2 more minutes, or until the greens have softened.
Remove the pot from heat and serve. Garnish with a squeeze of fresh lemon juice and an extra sprinkle of paprika.
Notes:
Soaking the lentils with baking soda for at least 6-8 hours before cooking the soup makes the lentils much more digestible by reducing or eliminating the phytic acid present in most legumes and grains. Place the lentils, 1 teaspoon of baking soda, and 2-4 cups of water (enough to cover the lentils) in a pot, cover, and let stand for 6-8 hours or overnight. After soaking, drain and rinse the lentils in abundant cold water. This will also reduce cooking time to about 15-20 minutes, and require less water during cooking (cut water to 2-3 cups in step 2).
An ancient source of nutrition, lentils vary in color from red, green, orange and yellow, to brown and black. We used green lentils for this dish, though if you use another type note that cooking times will vary.
Smoked paprika adds an interesting twist to the flavors of this stew, but traditional paprika in abundance is also delicious.
Related Recipes:
---
Review our Andalusian Lentil Soup:
Thanks for your reviewing this recipe! We are looking over your comments and will post as many as possible.
---
Molly C. on 3/19/2020
Loved this recipe. It's the first soup I've made with turmeric, and it's a winner!
Rating: