All Recipes
|
Breakfast
|
Lunch & Light Dishes
|
Dinner
|
Treats
|
Key Recipes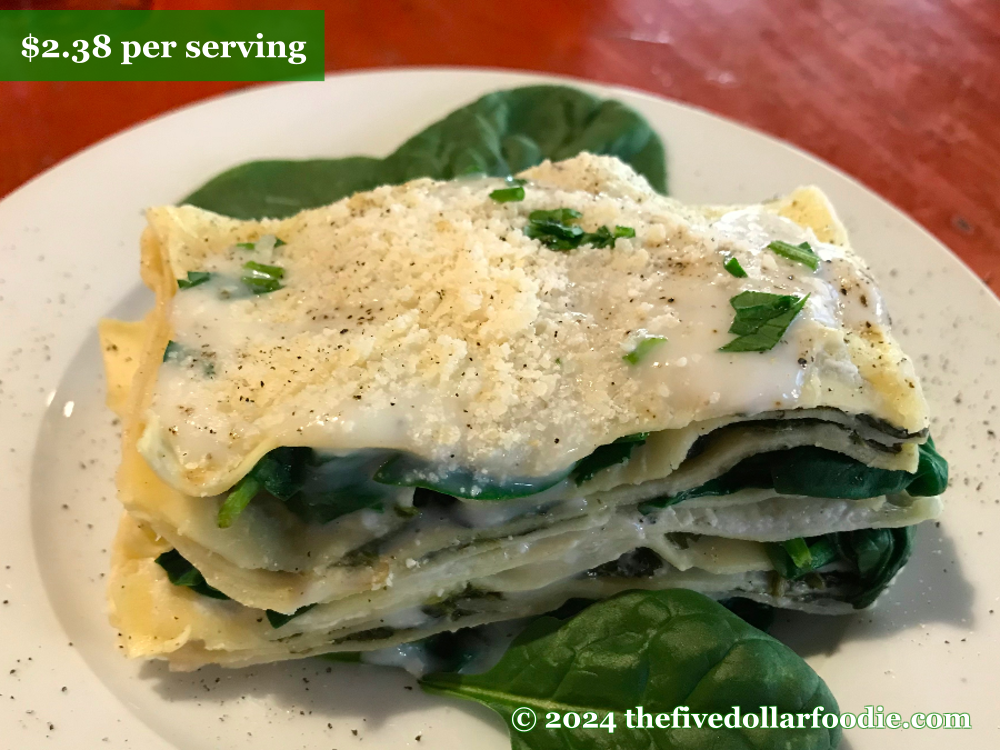 A pleasure to prepare, this unusual white lasagne has wonderful, complex flavor and a delightfully creamy texture. In France and Spain, lasagne is often made with bechamel (a silky white sauce) instead of tomato sauce. Combined with spinach and a balance of creamy and pungent cheeses, the bechamel binds the flavors and textures gracefully. In this contemporary version of the French classic, goat, blue, and feta cheeses—or your own choice of cheeses—are melted into the sauce to evenly distribute the tangy flavors throughout every luscious bite. You can assemble this dish up to a day ahead, and with a quick bake in the oven, it's ready. Perfect for entertaining along with an antipasto, and surprisingly, it is equally tasty the next day.
Makes 8 Servings - $2.38 per serving Show Detailed Pricing
2 tablespoons olive oil
1 onion, finely chopped
1 clove of garlic, peeled and minced
16 ounces fresh spinach
12 ounces milk
10 ounces feta cheese, you can also use blue or goat cheese
1 3/4 teaspoons cornstarch, dissolved in 3 1/2 tablespoons of cold water
2 pinches nutmeg
1 pinch salt and pepper, to taste
1 pound lasagne noodles no-boil lasagne noodles, or regular lasagne noodles cooked according to package instructions
1/2 cup water
2 ounces Italian cheese, shredded (mozzarella, parmesan, pecorino, or a blend)
Prep Time: About 35 minutes
Cook Time: About 30 minutes
Instructions:
Preheat the oven to 300 degrees. Place the olive oil and chopped onion in a large pot with high sides over medium-low heat and sauté until the onion softens but isn't browned, about 5 minutes. (The high sides of the pot will make wilting the large volume of spinach easier.) Add the minced garlic and cook for one minute. Then add the spinach and turn it with tongs for about two minutes or until it becomes brighter green, has softened and is reduced greatly in volume.
In a small saucepan bring the milk to a gentle simmer and add the feta, blue, and goat cheeses (or your own selection). Once the cheeses have melted, add the dissolved cornstarch and whisk until the sauce thickens slightly, to the texture of heavy cream. (If it becomes too thick, add a tablespoon at a time of water. If too thin, dissolve another teaspoon of cornstarch in another three tablespoons of water, and then whisk it into the bechamel.) Add two good pinches of nutmeg, salt, and pepper, and remove from the heat. Tip: go lightly on salt, as the cheeses will add some salt, too.
Spoon a layer of the bechamel sauce and three tablespoons of water into the bottom of an 8x8 baking dish. Cover the bottom completely with a layer of the lasagne noodles, overlapping the noodles slightly. Top the pasta with a thin layer of the spinach-onion mixture and another layer of bechamel. Repeat with another layer of lasagne noodles, spinach, bechamel, and another three tablespoons of water. Continue to layer the pasta, spinach, and bechamel until you use all the spinach and onion. The final, top layer should contain only lasagne noodles, (you can double layer noodles if you have extras), topped with a generous amount of sauce and a layer of the grated Italian cheese blend. If you begin to run short of bechamel, you can add water to the mixture to extend it.
Drape a sheet of aluminum foil over the top of the baking dish and press the edges to the baking dish to lock in moisture. Bake until the sauce and cheese bubble gently around the edges and the pasta appears tender, about 30 minutes. You can remove the foil during the last five minutes of baking to lightly brown the top.
Allow the lasagne to cool slightly before slicing. Add a flourish of ground black pepper and enjoy. If serving individual plates, you can garnish with a spinach or basil leaf, cherry tomato, or a sprinkling of chopped parsley.
Notes:
Cheeses: the bechamel sauce is wonderful with a combination of 4 oz feta, 4 oz goat cheese, and 2 oz blue cheese, but check your fridge for what's on hand—such as fontina, Roquefort, an Italian cheese blend—and create your own combination. You know this, but we'll say it anyway: for this flavor profile (French or northern Italian), DON'T use a Mexican or American cheese.
The foil over the top of the baking dish will prevent the lasagne from drying out or browning excessively while baking. If you see that the lasagne appears too wet at the end of the baking time, you can remove the foil and continue to bake the lasagne a little longer (it may be necessary to move it to a lower oven rack to avoid overbrowning the top).
The entire dish or individual servings can easily be frozen in an air-tight container. Leftover cheeses can also be wrapped securely and frozen for later use.
---
Review our White Lasagne with Spinach and Bechamel Sauce:
Thanks for your reviewing this recipe! We are looking over your comments and will post as many as possible.
---
Ann S. on 1/2/2019
This is a delicious lasagna! I added a pound of lean ground beef for our meat-loving family, and used 6 oz of feta and 4 oz of goat cheese. Also used only one-quarter of an onion per our family's taste. The Bechamel seemed a tiny bit thin when pouring it on the layers, but it cooked up perfectly!
Rating: