All Recipes
|
Breakfast
|
Lunch & Light Dishes
|
Dinner
|
Treats
|
Key Recipes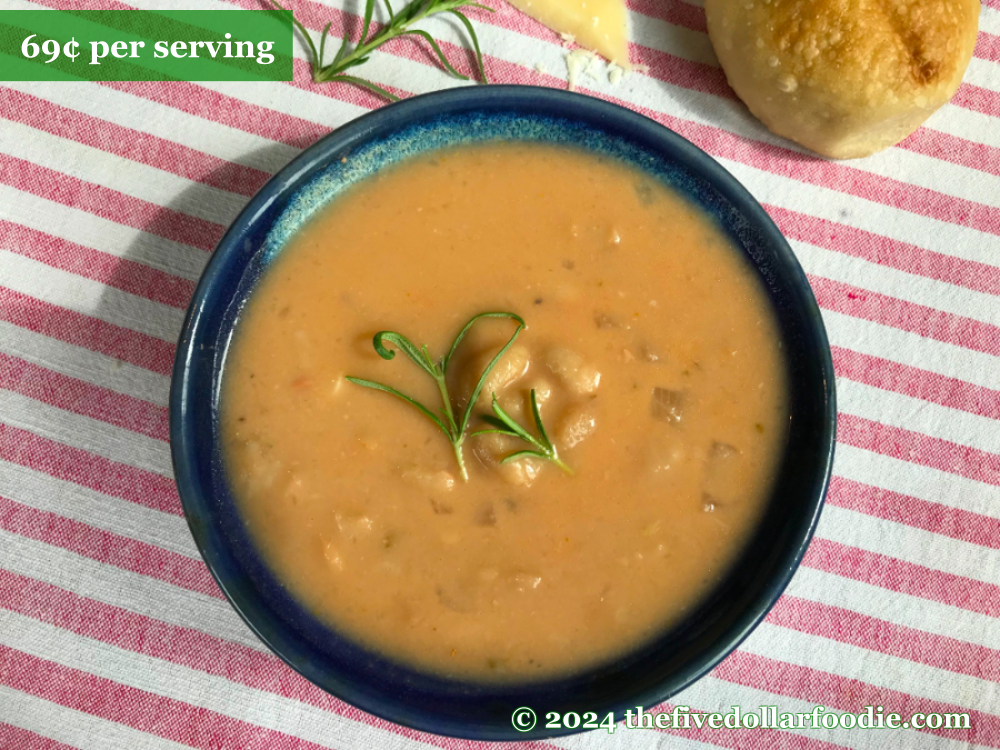 With the first cool weather come thoughts of soup—warming, nutritious, tasty! In Tuscany, cannellini beans are a favorite, simmered along with garlic, a splash of olive oil, and a hint of rosemary. Beans are full of healthful fiber, protein, and potassium, in addition to iron and calcium, and are an easy way to prepare a one-pot meal.  And at just 55¢ per serving, it's one of our cheapest dinners yet. Optional kale can be tossed in for the last few minutes of cooking for extra nutrients, and serve with crusty Italian bread and a wedge of cheese if you like.
Makes 7 Servings - 69¢ per serving Show Detailed Pricing
3 tablespoons olive oil
1 onion, peeled and chopped (about 3/4 cup)
1 carrot, peeled and chopped
2 cloves of garlic, peeled and chopped
1 tablespoon tomato paste (or ketchup)
1 pinch salt and pepper (to taste)
4 cups water
45 ounces canned cannellini beans, drained (approx 3 cans) or an equivalent quantity of dried beans, cooked according to package instructions
1 bay leaf
1 teaspoon thyme
1 sprig of fresh rosemary or sage (or 1 teaspoon dried)
* 2 cups kale, chopped
* 1/2 lemon
* 1 sprig of fresh rosemary or sage and extra olive oil
*Optional ingredients are not counted towards pricing
Prep Time: About 15 minutes
Cook Time: About 20 minutes
Instructions:
In a large soup pot, heat the olive oil over medium-low heat, adding the onion, carrot, garlic, and tomato paste (or ketchup), along with a pinch of salt and a grind or two of black pepper. Cover and cook for about 2 minutes—taking care that the oil doesn't smoke or the garlic burn!
Raise the heat to medium high and add the water or broth, beans, bay leaf, thyme, and rosemary or sage. Cover and maintain an easy simmer for about 12-15 minutes.
Remove pot from the heat and carefully mash some of the beans—the bottom of a wine bottle does the job—or place about 1/3 of the soup in a blender or food processor and very carefully puree until it's silky. To prevent splashing of the hot soup, hold a dish towel tightly over the blender or processor lid, or allow the soup to cool first. The mashing gives a more rustic effect, the blender a creamier result.
Return soup to the pot and stir. Taste, checking for seasoning and add more salt and pepper as needed. If you are including kale, add it now and cook a few minutes until it has softened. A squeeze of fresh lemon at the end of the cooking also adds a bright note to the soup.
To serve, ladle the soup into bowls and decorate with an optional herb sprig and a small swirl of olive oil.
Notes:
For another rich layer of flavor, add 1/4 cup diced ham to the pot along with the beans to simmer.
Vegetable or even chicken broth can be used in place of the water. If using broth, reduce or eliminate the salt altogether, as packaged broths tend to be high in sodium. For a homemade version, try our Quick Chicken Broth.
Related Recipes:
---
Review our Tuscan White Bean Soup:
Thanks for your reviewing this recipe! We are looking over your comments and will post as many as possible.
---