All Recipes
|
Breakfast
|
Lunch & Light Dishes
|
Dinner
|
Treats
|
Key Recipes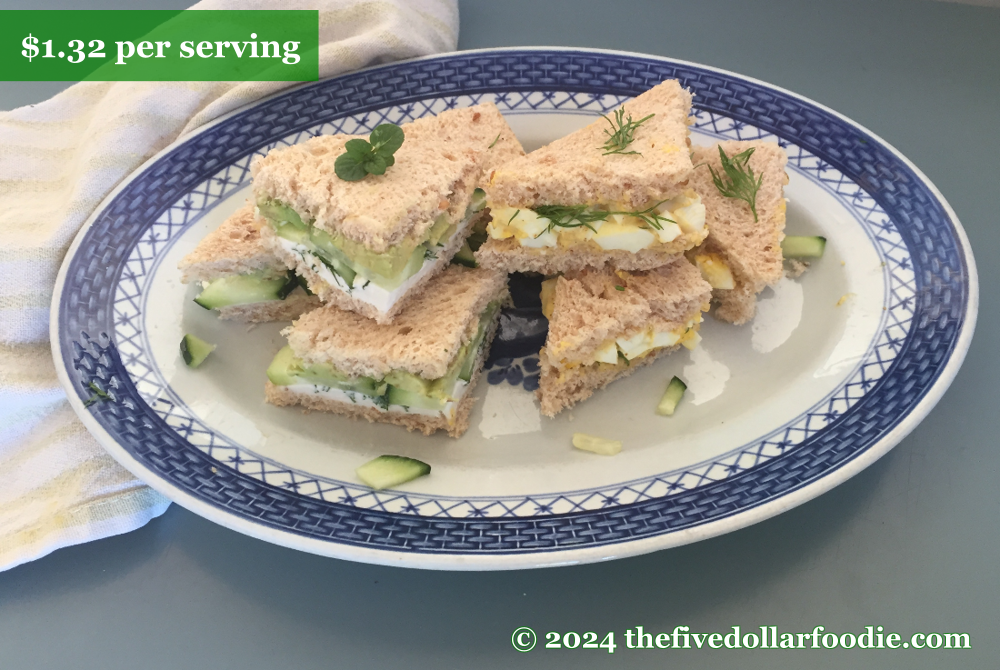 Tea sandwiches somehow transform basic ingredients into a special, tasty, bite-size treat. Whether you have them for lunch or afternoon tea, they are so simple to make and so extraordinarily delectable. The key is to use thinly-sliced bread with crusts removed. We paired cucumber with cream cheese, avocado, and mint, and egg salad with dill and stoneground mustard. You can enjoy them knowing that each serving of four mini-sandwiches costs under $1.
Makes 4 Servings - $1.32 per serving Show Detailed Pricing
8 slices of thin bread, crust removed
2 ounces cream cheese
1 cucumber small, thinly sliced
1 avocado, sliced
1 pinch mint leaves
2 eggs
1 teaspoon stoneground mustard
1 teaspoon mayonnaise
1 pinch dill (fresh), finely chopped
salt and pepper, to taste
Prep Time: About 10 minutes
Cook Time: About 10 minutes
Instructions:
Place the eggs in a small pot of cold water. Bring to a simmer and cook about 10 minutes. Rinse in cold water to cool.
While the eggs boil, spread the cream cheese evenly on two slices of bread. Layer on top the cucumber, avocado, and mint. Top each sandwich with another slice of bread.
Peel the eggs, dice them up, and put them in a bowl. Add about a teaspoon (to taste) of stoneground mustard (spicy or dijon mustard also works), and a teaspoon of mayonnaise. Toss in a pinch of fresh dill, and salt and pepper to taste. Mix the ingredients together until the egg salad is well combined.
Spread the egg salad evenly on two slices of bread. Top with two more pieces of bread.
Press each sandwich lightly together. Slice the sandwiches in half on the diagonal, and then in half again to achieve triangular shapes.
---
Review our Tea Sandwiches:
Thanks for your reviewing this recipe! We are looking over your comments and will post as many as possible.
---
Mary L. on 4/7/2019
I use the crusts to make French Toast Fingers. Use a regular French toast recipe and serve with a little dish of maple syrup for dipping - kids love them and have no idea they are eating bread crusts.
Rating:
Linda M. on 5/12/2018
Shades of my childhood! I am old but I remember my mother making and serving similar sandwiches with the crusts cut off sixty years ago. A group of us old ladies get together at each other's house once a month and this month I served these exactly as written. They went over big time - especially the special touch of avocado on the cucumber.

But you know what? Kids will especially enjoy the crusts cut off too. It makes the sandwiches "special" and that could work with tunafish or peanut butter as well I should think.

I now have a bag of bread crusts in my freezer - you coming up with a special bread pudding or stuffing recipe soon?
Rating: