All Recipes
|
Breakfast
|
Lunch & Light Dishes
|
Dinner
|
Treats
|
Key Recipes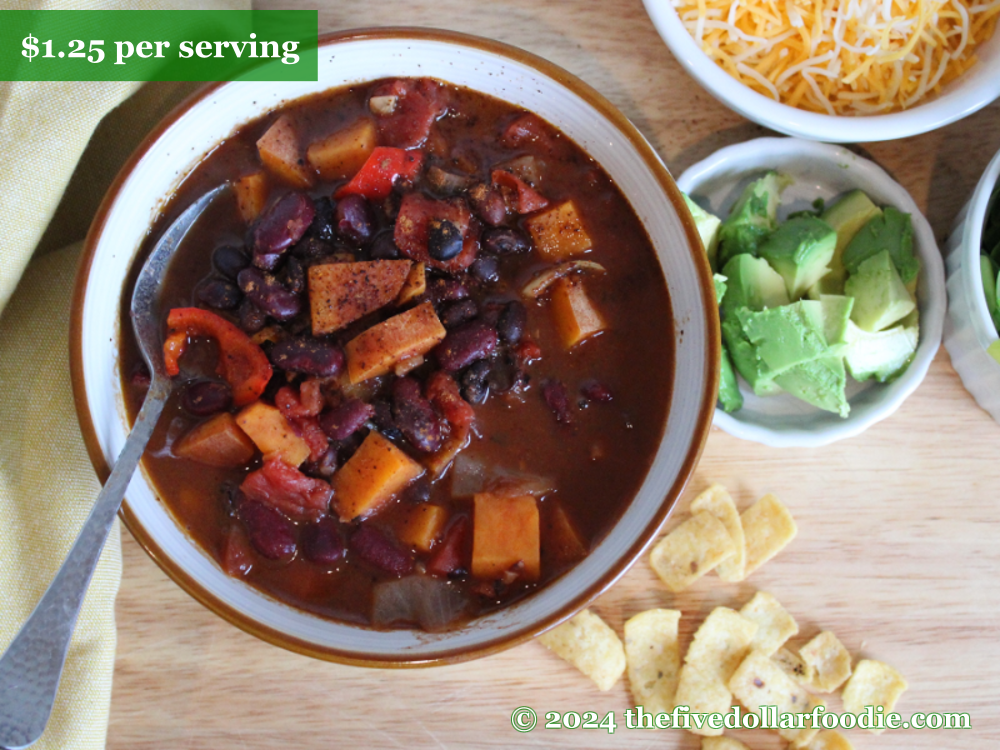 On a cold day, a warm bowl of delicious chili makes for a perfect dinner. This versatile, plant-based recipe is hearty and nutritious. Sweet potatoes, black and kidney beans, onion, and bell peppers simmer in a spiced tomato base. The key is the combination of spices — cocoa powder, chili powder, cumin, and cinnamon — which give rich layers of flavor. Top the chili with optional sour cream and cheese, or keep it vegan with scallion, corn chips, and avocado. You can make a large batch and enjoy it for a few days, or freeze any extra portions for another day.
Makes 6 Servings - $1.25 per serving Show Detailed Pricing
2 tablespoons olive oil
1 onion, chopped
3 cloves of garlic, minced
1 red bell pepper (or orange or yellow), chopped
1 sweet potato, cut into small cubes
28 ounces canned crushed tomatoes
15 ounces canned black beans
15 ounces canned kidney beans
2 tablespoons cocoa powder (unsweetened)
1 tablespoon chili powder
1 teaspoon cumin
1/2 teaspoon cinnamon
3/4 teaspoon salt, to taste
1/2 cup water
Toppings
* 2 tablespoons green onion, sliced
* 1/2 cup corn chips
* 1 avocado, diced
* 1/2 cup shredded cheddar or jack cheese
* 3 tablespoons sour cream
* 2 teaspoons hot sauce
*Optional ingredients are not counted towards pricing
Prep Time: About 10 minutes
Cook Time: About 30 minutes
Instructions:
In a large pot, heat the olive oil over medium heat until it shimmers. Add the onion and saute 2 minutes. Then add the garlic, bell pepper, and sweet potato and saute another 2-3 minutes.
Stir in the canned crushed tomatoes, the black and kidney beans, the spices (cocoa powder, chili powder, cumin, cinnamon, and salt), and water. Bring to a boil, reduce heat to medium-low and simmer, partially covered, about 25-30 minutes, or until the sweet potato is tender. Add more water if the chili seems too thick.
Remove from heat. Ladle into bowls and add toppings as desired.
Notes:
The chili only gets better as the flavors develop. You can leave it on the stove on very low heat for an hour, or longer, until ready to serve. And it's even tastier the next day—refrigerate any extra portions in an airtight container in the fridge, or freeze for another day.
You can substitute navy beans, pinto beans, chickpeas, or black-eyed peas for the black or kidney beans, depending on what you have on hand. Corn also makes a nice addition or substitution if you don't have bell pepper. Just stir in frozen or canned corn for the last few minutes of cooking.
This chili cooks wonderfully in the crockpot, too. Just add all of the ingredients and cook 4-6 hours on high (7-9 hours on low).
Related Recipes:
---
Review our Sweet Potato Chili:
Thanks for your reviewing this recipe! We are looking over your comments and will post as many as possible.
---