All Recipes
|
Breakfast
|
Lunch & Light Dishes
|
Dinner
|
Treats
|
Key Recipes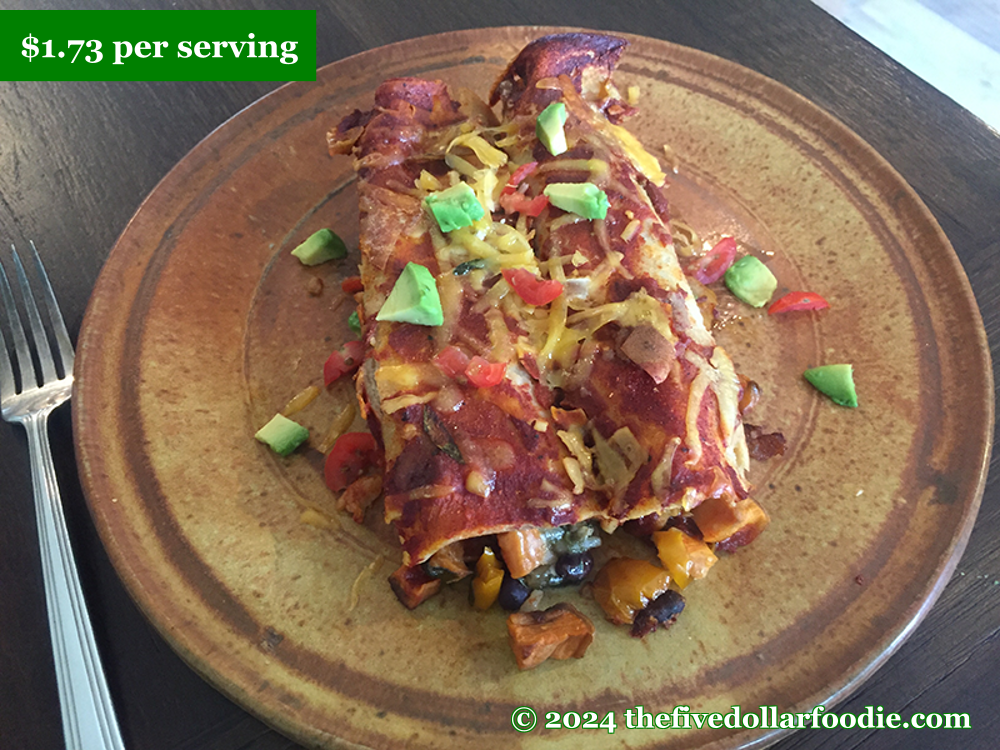 Enchiladas are simple, delicious and, of course, wildly inexpensive. What we like about this version is that it's full of sweet, nutritious potato and onion, with black beans adding fiber and protein. Plus, it's much easier to make than you might think. We're trying to eat more plant-based meals, and this fits the bill for satisfying and healthy. This recipe is versatile, too, as you can substitute bell pepper, zucchini, spinach, corn, mushrooms, or carrots that you have on hand (if you're using spinach you'll want to lightly sauté it separately instead of roasting in the oven with the sweet potato). Invite your friends or family to feast, or refrigerate or freeze the remaining portion in an airtight container and enjoy leftovers another day.
Makes 6 Servings - $1.73 per serving Show Detailed Pricing
1 sweet potato, cut into small cubes (with or without skin)
1 onion, diced
1 tablespoon oil
12 corn tortillas
15 ounces canned black beans
8 ounces cheddar cheese or jack cheese, shredded
20 ounces enchilada sauce
* 1 avocado, diced
* 1 pinch fresh cilantro
* 1/4 cup sour cream
*Optional ingredients are not counted towards pricing
Prep Time: About 15 minutes
Cook Time: About 60 minutes
Instructions:
Preheat oven to 350 degrees. Line a baking sheet with parchment paper or foil and place the chopped sweet potato and onion on it, lightly drizzling with oil. Roast in the oven for 20-30 minutes, or until softened and lightly browned. Remove and let cool for a few minutes.
Meanwhile, wrap the tortillas in foil and place them in the oven for the last 15 minutes of baking to warm them (warming the tortillas prevents them from breaking when you roll the enchiladas in the next step). Set aside 3 tablespoons of cheese for the topping.
Place a tortilla in a 9 x 12" baking pan, and spoon in a small amount of the sweet potato and onion, black beans, and cheese. Gently roll the tortilla, situating it so that the edges of the tortilla are held face down. If the tortillas start to tear when rolling, return them to the oven or heat each lightly in a skillet to warm them further.
Continue filling and rolling up the tortillas, arranging tightly in the pan so they do not unroll.
Drench with enchilada sauce and the remaining cheese. Cover with foil and bake for about 30-40 minutes, until the sauce is bubbly, removing the foil for the last 5-10 minutes to lightly brown the top. Do not overcook or the tortillas will become dry.
Remove from the oven and let cool slightly before serving. Garnish each plate with optional cilantro, avocado, or sour cream.
Notes:
Note:  If there is extra filling, you can sprinkle it on top, or place in an airtight container and refrigerate or freeze for another day (this also makes great leftovers for tacos!).
---
Review our Sweet Potato and Black Bean Enchiladas:
Thanks for your reviewing this recipe! We are looking over your comments and will post as many as possible.
---