All Recipes
|
Breakfast
|
Lunch & Light Dishes
|
Dinner
|
Treats
|
Key Recipes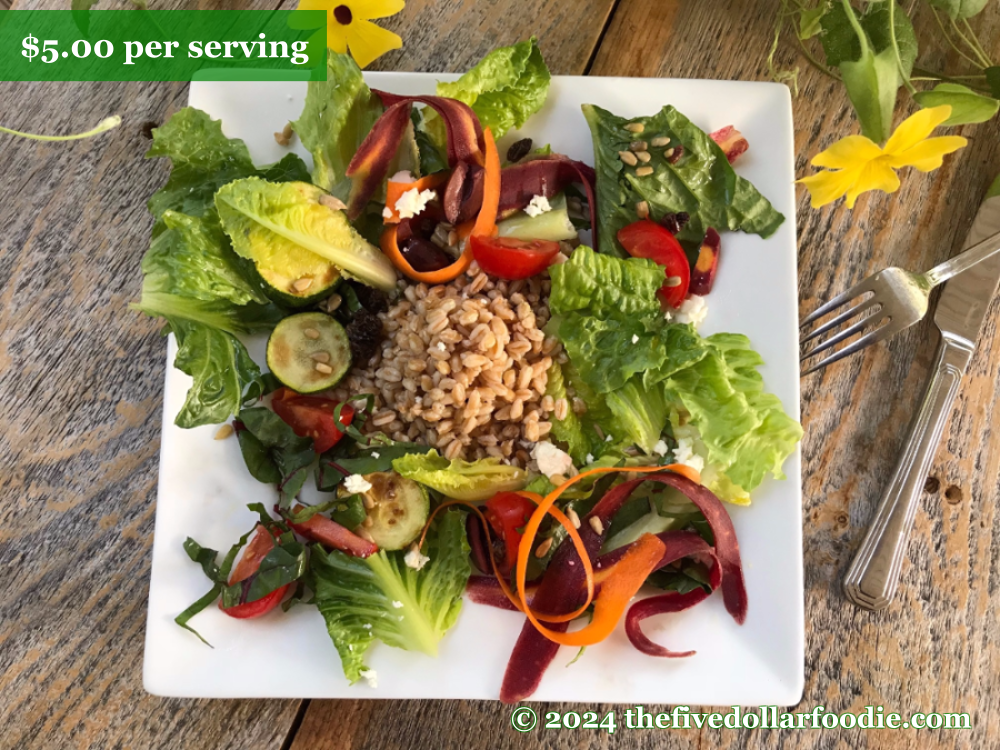 Contrasting color, texture, and sweet, sour, and salty flavors make a salad exciting. In this favorite hot-weather entree, we've mixed light and dark greens along with colorful vegetables, crunchy seeds, raisins, a dash of honey, fresh lemon, and blue cheese. Farro—a satisfying, chewy grain—cooks quickly and the lemony vinaigrette on both the greens and the grain is fragrant with zest. Plus, there are numerous heath benefits to farro. An ancient grain, it it rich in fiber, protein, antioxidants, and a wide variety of vitamins and minerals.
Makes 2 Servings - $5.00 per serving Show Detailed Pricing
For the farro:
1/2 cup farro
6 oz. water
1 pinch thyme, basil, or oregano
salt and pepper
For the lemon vinaigrette:
1 lemon, zested and juiced
1 teaspoon vinegar (wine vinegar, preferably)
1 teaspoon salt
1/4 cup olive oil, plus extra as needed to balance the vinaigrette
2 teaspoons honey
For the salad:
1/2 pound mixed salad greens like romaine and spinach, or butter lettuce and kale (about 4 cups)
1 zucchini medium, cut into 1/2 inch rounds
1 tablespoon oil (such as canola, safflower, or avocado)
2 carrots, peeled
2 tablespoons raisins
2 tablespoons sunflower seeds, or other seeds or nuts
2 ounces blue cheese (or feta or goat cheese), crumbled
* 1 tomato, medium sized, cut into small wedges
* 4 tablespoons mint leaves, basil, parsley, chives, or other herb, chopped
*Optional ingredients are not counted towards pricing
Prep Time: About 15 minutes
Cook Time: About 15 minutes
Instructions:
Cook the farro first, placing the grain in a small saucepan with the water, a pinch of dried herb, and salt and pepper to taste. Bring to a boil, lower heat to a simmer, and cook covered for 10 minutes. Remove pan from heat and let the farro sit for 5 minutes more before draining off any excess water.
While the farro cooks, prepare the vinaigrette: in a small bowl or measuring cup, combine all ingredients (using a whisk or fork) and blend until the vinaigrette turns a creamy texture. Taste, and if it's too lemony (acidic), stir in a little extra oil to adjust the balance. You're after a gentle but refreshing taste.
Clean the salad greens and tear them into bite-sized pieces, but finely slice tougher greens like kale or chard. Place in a salad bowl along with the optional fresh herbs.
In a hot skillet lightly filmed with cooking oil, place the zucchini rounds and sauté for about 2 minutes on each side, just until they color. Add a little more oil if necessary when you turn the zucchini if it seems dry. Season with salt and pepper and set aside on a plate to cool.
Using a vegetable peeler, run it the length of the peeled carrots, creating long ribbons. Repeat until only the cores remain and chop these into thin disks.
To assemble the salad, place the zucchini slices and carrot ribbons on the greens, and sprinkle the raisins, seeds (or nuts), and cheese over the top. Add the optional tomato wedges and drizzle half the lemon vinaigrette on the salad, toss it well, and stir the other half of the vinaigrette into the farro.
Notes:
Notes: Chopped nuts, if that's what you have, or other seeds can be substituted for sunflower seeds. Likewise, goat or feta cheese, instead of the blue, will be good too.
---
Review our Summer Salad with Lemon Farro:
Thanks for your reviewing this recipe! We are looking over your comments and will post as many as possible.
---