All Recipes
|
Breakfast
|
Lunch & Light Dishes
|
Dinner
|
Treats
|
Key Recipes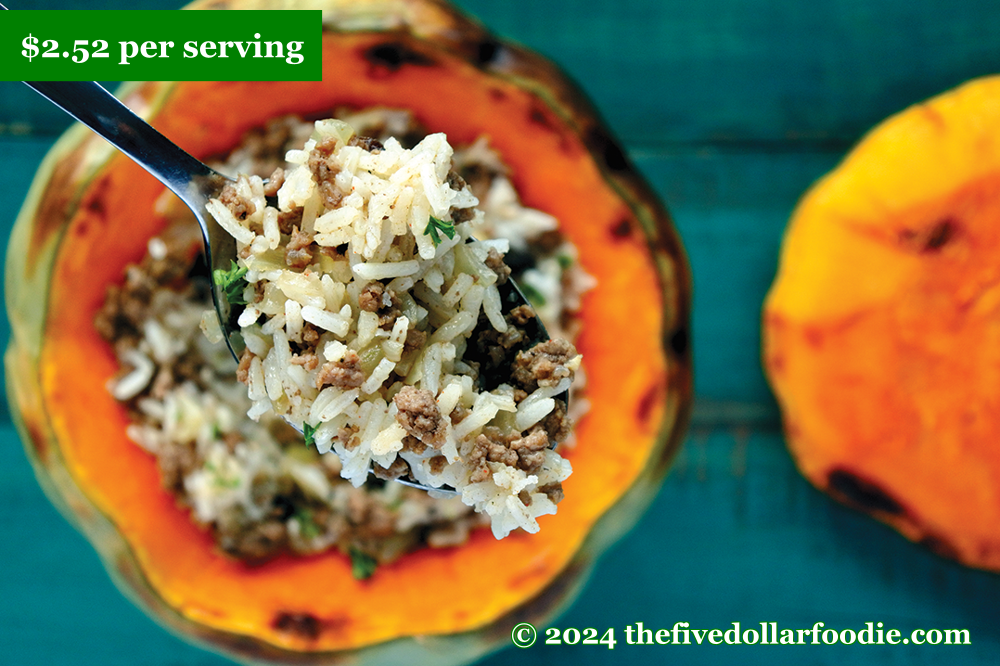 This is a wonderful warming dinner, perfect to make during winter when squash is in season (and on sale at the supermarket). Acorn squash (or other type, such as kabocha) doubles as the serving bowl, providing a pretty—and impressive—presentation. Beef is spiced with cinnamon, nutmeg, ginger, and clove, and a little chili powder gives it some kick. There is lots of vitamin C and A in the squash and protein in the beef, so you won't go hungry after enjoying this inexpensive but hearty meal.
Makes 2 Servings - $2.51 per serving Show Detailed Pricing
1 acorn squash (or kabocha squash), about 1 1/4 pounds
1/2 teaspoon cinnamon
1/4 teaspoon nutmeg
1/4 teaspoon ground ginger
1/4 teaspoon ground clove
6 teaspoons oil (or butter)
2 teaspoons honey
1/2 cup rice
1 onion, medium or large, chopped into 1/8-inch thick slices
1/2 pound ground beef
2 teaspoons chili powder
2 tablespoons ketchup
2 pinches salt and pepper, to taste
Prep Time: About 15 minutes
Cook Time: About 60 minutes
Instructions:
Preheat the oven to 425 degrees. Slice squash in half to form two "bowls" and remove seeds. Place the squash, cut side up, on a cookie sheet and sprinkle cinnamon, nutmeg, ginger, clove and a pinch of salt evenly over both halves. Place two teaspoons of oil (or butter) and one teaspoon of honey in each squash shell. Bake for 1 hour or until the squash is soft.
Meanwhile cook the rice following package directions. Sauté the onion in a medium-size frying pan in two teaspoons of oil until golden brown. Add the ground beef, chili powder, ketchup, and salt and pepper to taste; fry until the beef is cooked through. Remove from heat and stir the cooked rice into the spiced meat and onions.
Remove cooked squash from oven and spoon the rice-beef mixture into the center of each squash bowl and serve.
---
Review our Squash Stuffed with Spicy Beef:
Thanks for your reviewing this recipe! We are looking over your comments and will post as many as possible.
---