All Recipes
|
Breakfast
|
Lunch & Light Dishes
|
Dinner
|
Treats
|
Key Recipes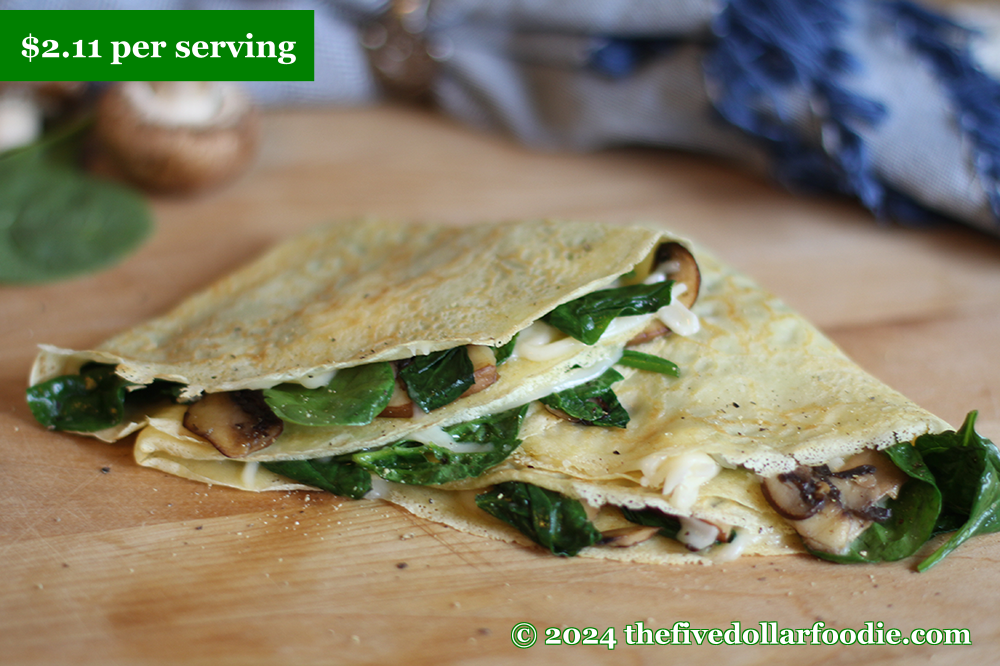 The crepe is a surprisingly economical treat, despite its glamorous French associations and astronomical price tag at restaurants. Crepes are made from a few basic ingredients, can be served hundreds of different ways, sweet or savory, and don't require any special pan or utensils for cooking. Prepare a large batch of crepes ahead of time and store them in the refrigerator or freezer (between sheets of waxed paper) for a quick lunch or breakfast. This recipe makes approximately eight crepes (four servings of two each).
Makes 4 Servings - $2.11 per serving Show Detailed Pricing
1 cup flour
2 eggs
1 1/3 cups milk
1/4 teaspoon salt
2 tablespoons butter
2 teaspoons oil
2 cups mushrooms, sliced
4 cups fresh spinach, chopped
1/2 pound swiss cheese, grated
1 pinch salt and pepper, to taste
Prep Time: About 10 minutes
Cook Time: About 20 minutes
Instructions:
Beat flour, egg, milk, and 1/4 teaspoon salt together until smooth and blended. If you need to thin the batter a bit, add a few more tablespoons of milk until it resembles the consistency of heavy cream. Let it rest in the refrigerator for about 30 minutes to overnight.
Heat a dab of butter in a medium-size nonstick skillet over medium heat. Once the skillet is hot, add about ¼ cup of the batter and tilt the pan to create a thin, even layer. Cook 1-2 minutes until the edges appear to lift up slightly, then flip the crepe over (use a spatula for help) and cook about another minute until light golden brown. Repeat until all the crepe batter is used.
In a separate skillet, place mushrooms with about 2 teaspoons of oil and sauté until softened, about 5 minutes, adding spinach for the last minute of cooking. Season with salt and pepper.
Transfer the mushrooms and spinach onto crepes and sprinkle with swiss cheese, then fold each crepe in half and then half again, and return all the crepes to the skillet to slightly warm and brown for another minute or two on each side. Serve them straight from the pan or at room temperature.
---
Review our Spinach and Mushroom Crepes:
Thanks for your reviewing this recipe! We are looking over your comments and will post as many as possible.
---
Linda M. on 2/12/2018
Delicious. Have to confess that I overstuffed the crepes and was consequently not able to double fold them. But I did save the extra crepes that resulted and served them to myself over several breakfasts stuffing them with walnuts, banana and honey. Quick, easy, and tasty recipe. Will definitely make again. Never knew crepes were so easy - it is good to know because there are so many ways you can fill them - both savory and sweet.
Rating:
Judy E. on 1/21/2018
I LOVED making the crepes and they turned out perfect!!! I never knew I could make a crepe! Incredible experience! And so easy. The instructions were perfect.
Positives: The stuffing for the crepes was delicious. We liked it because it was a different sort of meal than we usually have, and it filled us up.
Suggestions: From the recipe, I wasn't sure how much stuffing to put in each crepe, whether they should be flatter or fatter. Also, we ended up with a gazillion dishes to wash, from cutting and washing and preparing and cooking! Next time (and there WILL be a next time since we loved these!) I'll conserve how many dishes we use.
Rating:
Derek T. on 1/18/2018
I'm not french, but after this recipe, I'm strongly considering it. :) Super delicious!
Rating: