All Recipes
|
Breakfast
|
Lunch & Light Dishes
|
Dinner
|
Treats
|
Key Recipes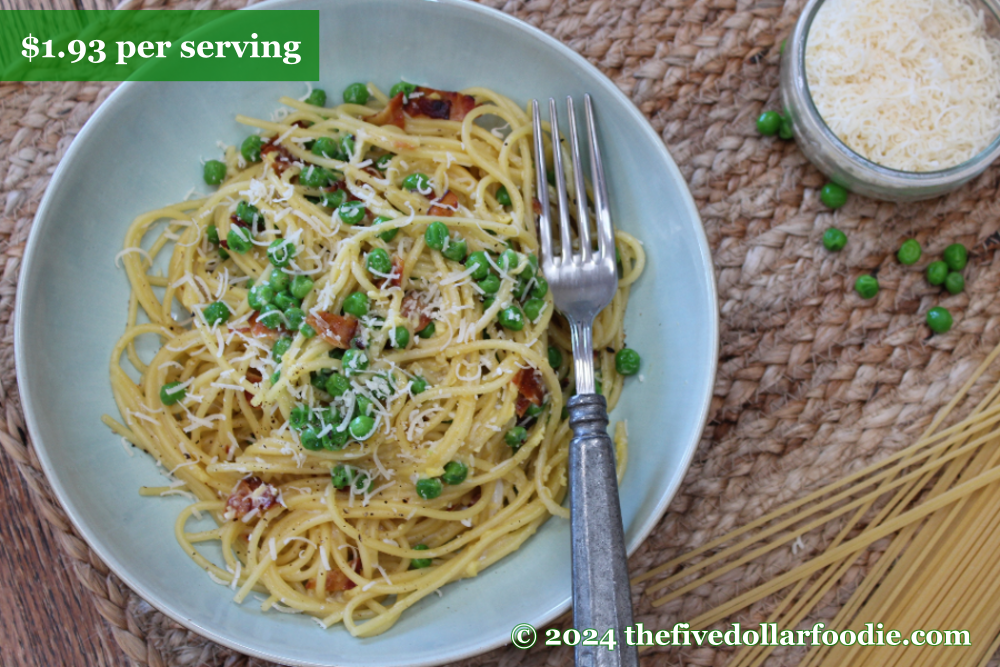 The fastest, cheapest, most elegant main dish ever. How and where this fabulous creation originated is disputed. Some say that American soldiers infatuated with pasta brought bacon and eggs to Italy at the end of World War II and asked their Italian friends for a dish that used these ingredients. This pasta has been a family favorite of ours for years. It is so simple but looks and tastes impressive. Great comfort food, and great for entertaining!
Makes 4 Servings - $1.93 per serving Show Detailed Pricing
8 strips of bacon
6 tablespoons olive oil
2 pinches red pepper flakes
8 ounces spaghetti (or other long pasta such as linguine or pappardelle)
1 cup green peas (frozen)
4 eggs (medium sized), beaten
8 tablespoons parmesan cheese, grated
1 pinch salt and pepper, to taste
Prep Time: About 10 minutes
Cook Time: About 15 minutes
Instructions:
Cut the bacon into bite-size pieces and cook in a large sauté pan over medium heat until just done but not crisp. Drain off bacon fat (or don't pour off the bacon fat if you crave that extra-rich taste), turn heat to medium-low and add olive oil plus a pinch or so of red pepper flakes. Heat gently for 5 minutes, remove from heat and cover.
Meanwhile boil salted water and cook pasta until done, al dente; add peas for the last minute of cooking; drain pasta and peas. Add them to the pan with the bacon. Toss with the beaten eggs,* then the parmesan cheese, and salt and pepper to taste. Serve right away.*Be sure to add the eggs when the pasta is still very hot so that they cook, or else use pasteurized eggs.
Notes:
We used medium eggs for this recipe, but if you have extra large or jumbo eggs you may want to decrease the quantity to 2-3 eggs.
You can replace the eggs with 3/4 cup of sour cream or heavy cream if you prefer. Take care to gently warm the cream with the cooked bacon (do not let it come to a simmer) to prevent curdling.
Spaghetti is traditional, but pappardelle and linguine also work well in this recipe. It's an art to match pasta and sauce, and delicate angel hair or robust rigatoni won't be nearly so successful in this dish.
---
Review our Spaghetti alla Carbonara:
Thanks for your reviewing this recipe! We are looking over your comments and will post as many as possible.
---
Emily P. on 7/15/2019
I love this- easy enough for a beginner like me to make but my family was raving about it! A new family favorite! Thank you for an easy win!??

Emily
Rating:
L E. on 5/2/2018
I love this pasta!! Not only is it delicious but it's super easy to make and only uses a few ingredients so it's quickly become a go-to. I used 2 extra large eggs which seemed like it made enough sauce. we had no problem using the leftover eggs and bacon. :)
Rating:
Jason H. on 1/18/2018
My wife introduced me to this recipe. Im always looking for fast and easy dishes to make as I don't care much for cooking. This dish is so easy to make and always turns out so good that I make it almost every Wed. night. Which is my only night to cook :)
Rating:
Norma R. on 1/16/2018
This was delicious and so simple to make. The ingredients are all staples in our house, so I was able to cook this up last minute and it came out great! It's now a go-to dish in my weekly meal planning.
Rating:
Lisa A. on 1/15/2018
This is now my favorite quick pasta dish . More like this please.
Rating: