All Recipes
|
Breakfast
|
Lunch & Light Dishes
|
Dinner
|
Treats
|
Key Recipes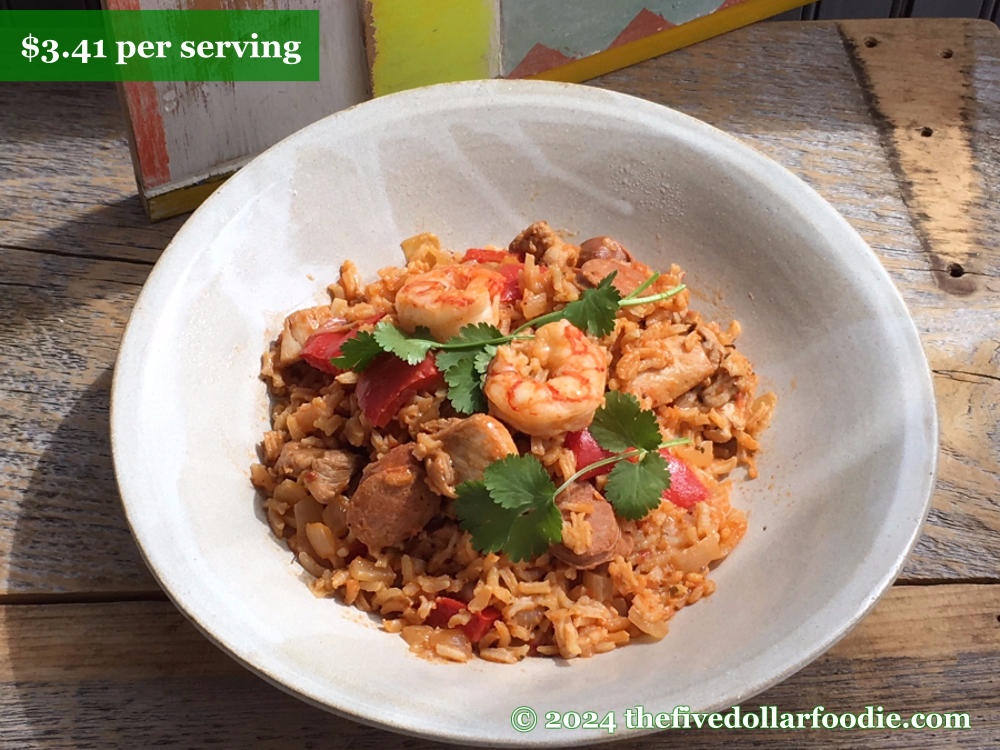 At last, a paella recipe that fits in a frugal foodie budget! Paella is the national dish of Spain, Valencia to be precise, where for a long time, rabbit and duck were simmered with rice over a wood fire made from orange tree branches. These days, and the closer to the coast you roam, the trend is towards seafood or a mix of seafood and meat. Our version uses shrimp, chorizo sausage, and chicken, but paella is highly adaptable—variations abound. Costly saffron is the traditional spice of choice, but we found that pimentón ahumado, or smoked paprika, really provides the authentic punch and characteristic red blush of the dish, at a fraction of the cost of saffron.In this recipe, if you wish for seafood to predominate, for example, just make adjustments keeping the basic proportions in place and you will be off on a culinary experience that delivers you far from your own coast.
Makes 5 Servings - $3.41 per serving Show Detailed Pricing
For the marinade:
1 tablespoon olive oil
1/2 teaspoon smoked paprika
1 teaspoon oregano
1 pinch salt and pepper
For the paella:
1 tablespoon olive oil
4 boneless, skinless chicken thighs, cut into 2 inch pieces
1 onion, chopped
1 red bell pepper, diced into 3/4 inch pieces
2 chorizo sausages (precooked), sliced crosswise into 1/2" disks
2 cloves of garlic, minced
1/2 cup white wine
1 cup rice (Bomba or a white, short-grain variety)
2 teaspoons oregano
2 pinches salt and pepper, to taste
1/2 cup tomato sauce
1 cup water
6 ounces shrimp, peeled and deveined (about 10 shrimp)
* 1 orange, zested
* 2 tablespoons fresh parsley
*Optional ingredients are not counted towards pricing
Prep Time: About 15 minutes
Cook Time: About 30 minutes
Instructions:
In a bowl large enough to hold the chicken, prepare the marinade by mixing together the olive oil, smoked paprika, oregano, and salt and pepper. Coat the chicken in the marinade and cover, returning the chicken to the refrigerator to marinate for 2 hours to overnight. (If you're short on time, you can coat the chicken in the marinade and go to step 2.)
Add a tablespoon of oil to a large 12-14 inch skillet, braise pan, or paella pan over medium heat. When the oil is hot, add the marinated chicken pieces and sauté about 4-5 minutes, or until the chicken has lightly browned.
Add the chopped onions, bell pepper, chorizo, and garlic to the pan and cook about 3 minutes, just to soften the onions. Add the wine to the pan, stir, and allow the alcohol to cook off briefly.
With the pan still at medium heat, add the rice, paprika, oregano, salt and pepper, tomato puree, and water. Simmer gently, uncovered, about 10 minutes, stirring occasionally.
Place the shrimp on top, cover the pan, and continue to cook about 3 more minutes or until the rice is al dente and the shrimp is pink on both sides. Stir once or twice, if needed, to prevent the rice on the bottom of the pan from burning.
When you have confirmed that the shrimp are cooked (cut into the center of a shrimp; it should be white and opaque, not shiny and semitranslucent), turn off the heat and serve the paella by spooning from the bottom of the pan. Optional: add a generous grating of orange zest to the top of each serving, along with a sprig of parsley or cilantro.
Notes:
Smoked paprika seems to be readily available in a range of supermarkets.  If you cannot find smoked paprika, the regular sweet paprika with a few pinches of cumin will help with the smoky component.
For a vegetarian version, omit the meat and seafood and add extra vegetables, such as sliced mushrooms and chopped zucchini, with the onion and bell pepper in step 3. You can also add fresh or frozen peas or chopped asparagus for the last 5 minutes of cooking to gently steam it.
---
Review our Simple Spicy Paella:
Thanks for your reviewing this recipe! We are looking over your comments and will post as many as possible.
---
Aida E. on 8/2/2019
Easy to prepare. Delicious!
Rating: