All Recipes
|
Breakfast
|
Lunch & Light Dishes
|
Dinner
|
Treats
|
Key Recipes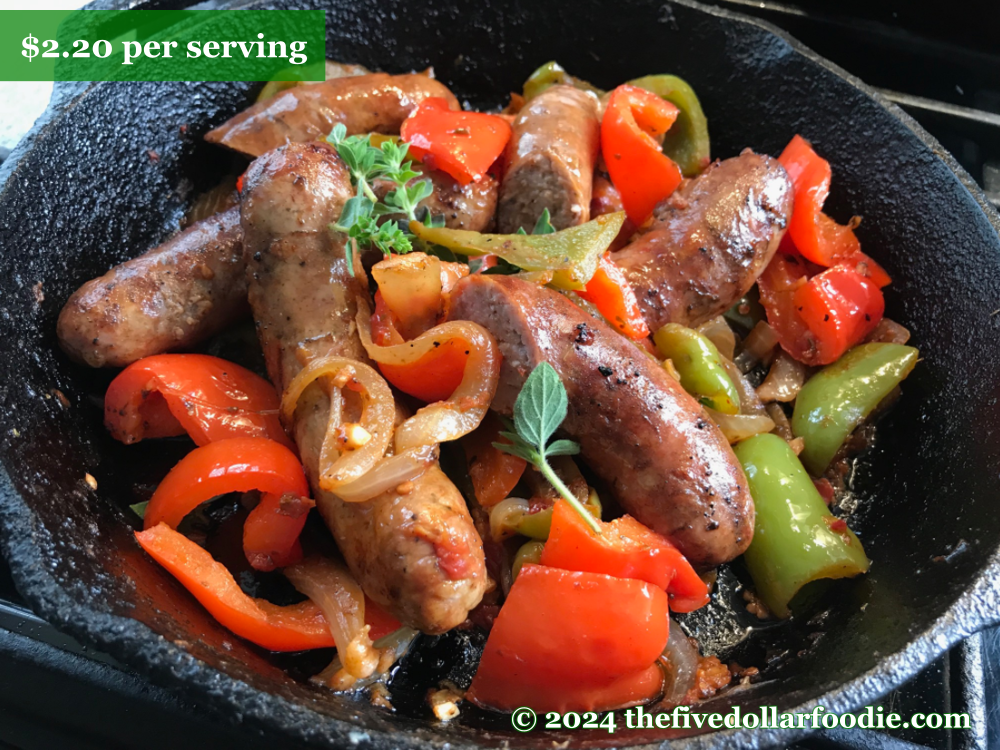 Fun to cook over an open fire in a cast iron pan, this summery classic takes little labor, whether you cook outdoors or in. Serve the sausages in rolls, accompanied by multicolored baked beans (see our BBQ-Baked Beans recipe below!) and relax. You probably deserve it! By the way, this menu easily adapts to a variety of preferences, as you can choose among chicken, pork, vegetarian or vegan sausages, and for the gluten-free just omit the roll.
Makes 6 Servings - $2.20 per serving Show Detailed Pricing
2 bell peppers, sliced and seeds removed
1 onion, sliced
2 tablespoons oil
1/2 teaspoon oregano
1 pinch salt and pepper
1 pinch red pepper flakes
3 cloves of garlic, minced
6 italian sausages, precooked
6 sub rolls
Prep Time: About 15 minutes
Cook Time: About 35 minutes
Instructions:
In a large frying pan—cast iron is great for this—heat the oil just until it shimmers and add the bell peppers and onions, along with the oregano, salt, pepper and red pepper flakes. Saute, stirring occasionally for about 20 minutes, until the peppers are softened (but not mushy!) and the onions slightly carmelized. For the last few minutes add the minced garlic.
Set aside the peppers and onions, and place the sausages (sliced attractively into thirds on the diagonal if you like) in the pan. Saute until they are hot and nicely browned, about 5-8 minutes. Return peppers and onions to the pan and stir. Slice the rolls and place a sausage with some peppers in each roll.
Notes:
In place of rolls, you can use lengths of baguette, sliced open horizontally.
Related Recipes:
---
Review our Sausage, Peppers and Onions:
Thanks for your reviewing this recipe! We are looking over your comments and will post as many as possible.
---