All Recipes
|
Breakfast
|
Lunch & Light Dishes
|
Dinner
|
Treats
|
Key Recipes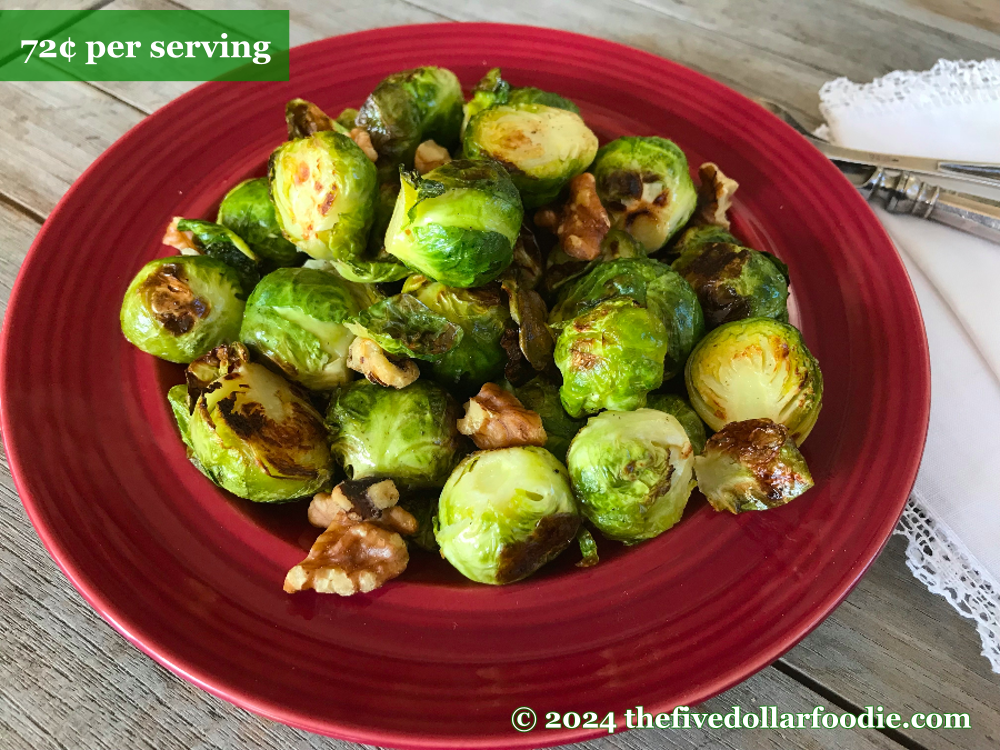 Roasted Brussels sprouts are delish, easy to prepare, and good for you. The toasted walnuts complement them perfectly, and the dish is topped off with a slightly sweet balsamic glaze. We love this as part of a trio of colorful and economical side dishes for the holidays, along with a Fresh Cranberry Relish and our Orange and Honey Glazed Carrots.The Brussels sprouts roast on their own while you prepare the relish, a rendition of an old favorite which celebrates the tart crispness of uncooked cranberries and is sweetened just enough with honey, while hints of cinnamon and orange add subtle notes. Carrots with green stems, when available, make an especially eye-catching presentation. Make one or all three—they are quickly prepared and reward with refreshing flavors and hues that complement robust holiday fare. You can't beat the price, and they're even healthful!
Makes 8 Servings - 72¢ per serving Show Detailed Pricing
1 pound Brussels sprouts
1 1/2 tablespoons olive oil
2 ounces walnuts, chopped or pieces
1 pinch salt and pepper, to taste
* 1 teaspoon balsamic glaze
*Optional ingredients are not counted towards pricing
Prep Time: About 5 minutes
Instructions:
Place a cast iron pan, or other non-glass baking dish, in the oven and preheat oven to 400 degrees.
Trim any brown stems and leaves from the sprouts and slice the larger ones in half vertically for better caramelization and easier eating—cutting sprouts with a knife and fork at the table has launched more than a few off dinner plates.
Place the sprouts in a mixing bowl and toss with the olive oil and a little salt and pepper. Turn them into the hot pan and roast for about 15-20 minutes. A few minutes before they are done, add the walnuts to the pan to brown lightly. The sprouts are ready when they are lightly caramelized and can be pierced with a fork but are still a bit al dente (for best flavor and texture).
Place on a warm serving platter and drizzle with optional balsamic glaze.
Notes:
Balsamic glaze is available in most grocery stores by the bottle for about $3-$4, and a little goes a long way. It adds panache to green salads, beets, roasted chicken, and pork, to name a few possibilities.
Walnut pieces are more economical than walnut halves, and work just as great for this recipe (or almost any other).
The sprouts can easily be roasted in a toaster oven, unless you're making a sizable quantity.
---
Review our Roasted Brussels Sprouts with Walnuts:
Thanks for your reviewing this recipe! We are looking over your comments and will post as many as possible.
---