All Recipes
|
Breakfast
|
Lunch & Light Dishes
|
Dinner
|
Treats
|
Key Recipes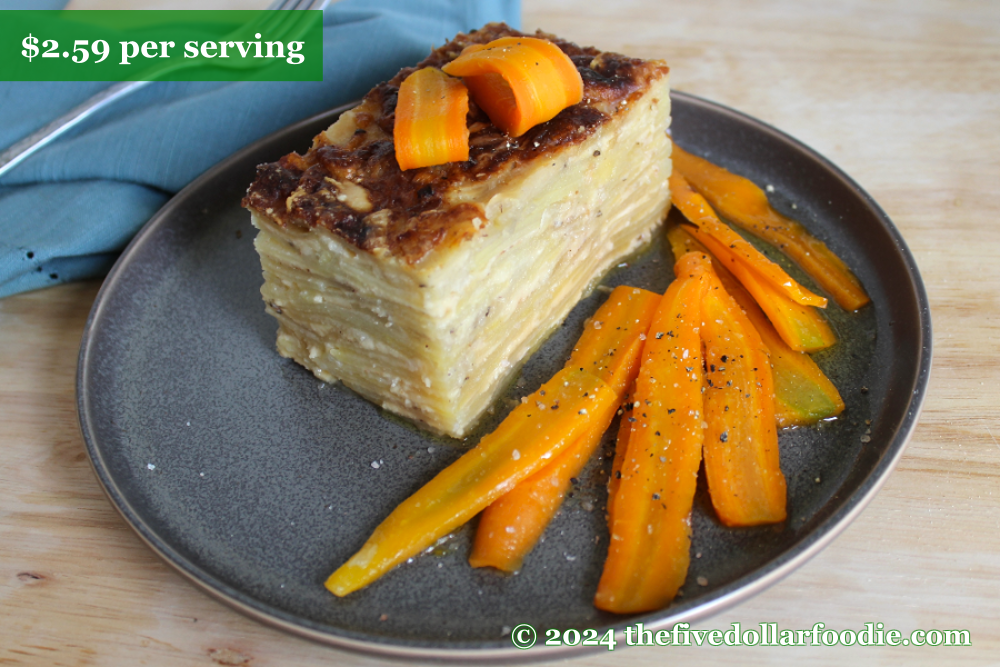 The potato is an excellent, inexpensive staple. For centuries it's been known that potatoes contain most of the vitamins and minerals (vitamin C, B6, potassium, magnesium, and iron, to name a few) needed for sustenance, while being incredibly cheap. Here potatoes are dressed up in a classic gratin with onion and cheese. The meal is rounded off with fancy glazed carrots.
Makes 2 Servings - $2.58 per serving Show Detailed Pricing
1 tablespoon oil (or butter)
2 potatoes large, cut into 1/8-inch thin slices
3/4 onion, chopped into small pieces
3 pinches salt and pepper, to taste
1 cup swiss cheese (or sharp cheddar), grated
1 cup milk
* 1 pinch nutmeg
For the glazed carrots:
6 carrots, peeled
2 tablespoons honey (or sugar)
* 1 tablespoon frozen orange juice concentrate (or a squeeze of fresh orange)
*Optional ingredients are not counted towards pricing
Prep Time: About 35 minutes
Cook Time: About 45 minutes
Instructions:
Preheat the oven to 400 degrees. Lightly coat a small pie pan or small baking dish with a film of butter or oil (a smaller pan will make a thicker gratin). Place a layer of potatoes in the pan, sprinkle with onion, salt and pepper, a pinch or two of nutmeg, and a layer of cheese. Repeat the layering until all ingredients are used, finishing with cheese on top.
Pour milk over the potatoes and bake for about 45 minutes. The gratin is done when it bubbles, the top layer of cheese turns light brown and the potatoes are soft when tested with a fork.
While the gratin bakes, place the carrots in a pan with enough water to cover them. Bring to a boil, cover the pan, and cook for about 5 minutes or until the carrots are almost tender. Drain off the water and add 2 tablespoons honey or sugar to the pan (to taste), and salt and pepper. If you happen to have frozen orange juice concentrate, toss a tablespoon into the pan for extra flavor, or a squeeze of fresh orange. Cook the carrots over low heat for about 5 more minutes until they are glazed and can be cut with a fork.
To serve, cut sections of the gratin and place on a plate along with a few pieces of carrot. To create an impressive presentation (as in the photo), let the gratin cool first, then slice into segments, and reheat just before serving by placing the plate in a hot oven for a few minutes (be sure it is an oven-safe plate).
---
Review our Potatoes Gratin with Glazed Carrots:
Thanks for your reviewing this recipe! We are looking over your comments and will post as many as possible.
---
Linda M. on 2/2/2018
Brought this recipe as side dishes to a housebound friend. We both agreed that it was really the best "scalloped potatoes" we had ever had. It was crispy and the flavor was wonderful - I enjoyed the nutmeg. Used cheddar cheese since that was what I had on hand. Glazed carrots were also good. I was glad I had the concentrated orange juice to use because I felt that it added a wonderful dimension to the flavor
Rating:
Judy E. on 1/21/2018
Positives:
The potatoes were delicious.
I loved the texture of the Swiss cheese in the potato.
The color of the potatoes on top came out just like in the photo, brown and yummy looking.
My partner Charlie liked the texture, that the potatoes were not mushy.
The recipe made the right amount for the two of us.
Suggestions:
—I would rather not layer the potatoes, but have a single layer that is all brown on top. The second and third layer of potatoes were less appealing.
—The carrots were a bit sweet for our taste.
Rating: