All Recipes
|
Breakfast
|
Lunch & Light Dishes
|
Dinner
|
Treats
|
Key Recipes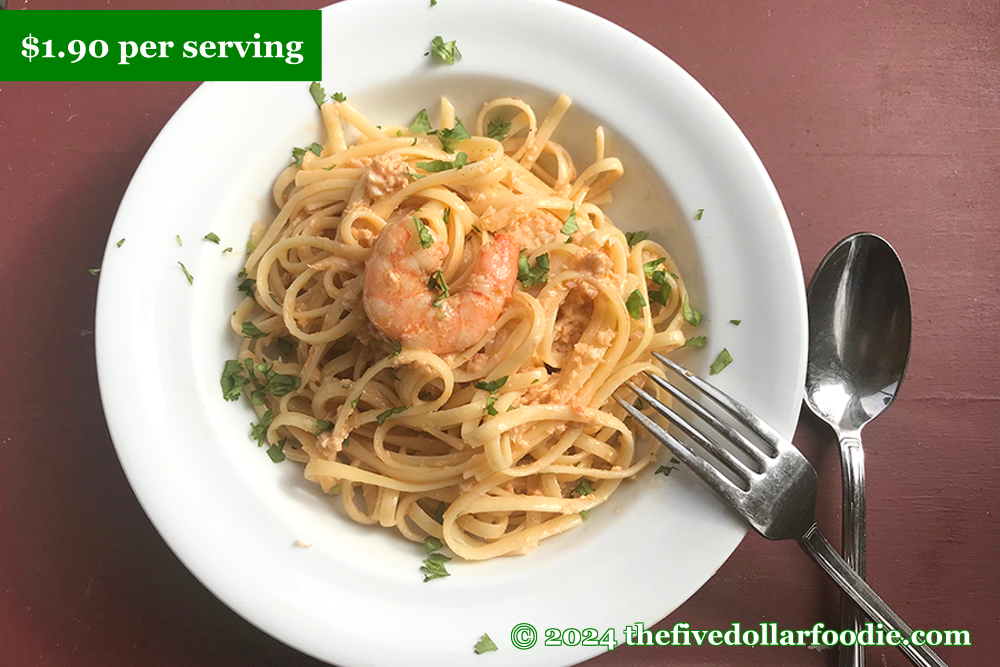 A pink sauce delicately laced with shrimp, wine, and cream melds with linguine for a romantic and luscious main dish. A hint of tomato paste creates the lovely hue and lends a soft flavor undertone. While shrimp is normally on the pricey side, this dish remains economical by blending a few shrimp in the sauce for flavor while topping each plate with a single elegant shrimp. We first tasted this sublime creation on a sunny patio overlooking Lake Maggiore in Italy. Is it imagination, or does every bite carry that aura with it? So easy to make, it will leave you smiling when the brief cooking is done. Pair this pasta with a side salad, such as our Salad Greens with Raspberry-Balsamic Vinaigrette for a satisfying and complete meal.
Makes 4 Servings - $1.90 per serving Show Detailed Pricing
1/4 cup olive oil
2 cloves of garlic, minced
1/2 cup white wine
1 1/2 tablespoons tomato paste
1/4 pound shrimp, raw and shelled
1/3 cup heavy cream
8 ounces linguine (or other pasta)
1 pinch salt and pepper, to taste
* 2 tablespoons fresh parsley or oregano, minced for garnish
*Optional ingredients are not counted towards pricing
Cook Time: About 25 minutes
Instructions:
Set a large pot of water on the stove to boil for the pasta, while preparing the sauce.
Place oil and garlic in a small sauté pan or saucepan and cook over medium-low heat until the garlic softens, about 3 minutes. (If the oil smokes, it's too hot!)
Stir tomato paste into the wine until it dissolves, and add this mixture to the pan. Raise the heat to medium high, and cook for a couple of minutes before adding the shrimp. Cook until the shrimp turn pink and opaque, about two minutes, and remove pan from heat. Remove 4 shrimp to a plate and set aside for serving. If the shrimp are large, just remove 2 and slice them in half horizontally for serving.
When the pasta water boils, add a big pinch of salt and the linguine, cooking for about 6-8 minutes, while finishing the sauce.
Puree the remaining shrimp in the blender or food processor until finely minced and return them to the wine sauce. Stir in the cream, season with salt and pepper, and gently heat the sauce until very hot but not boiling. If it seems too thin, stir and cook a little longer.
Drain the pasta, return it to the pot and stir in the sauce until the pasta is well coated. When plating, place a whole shrimp on top of each serving, and sprinkle with optional fresh parsley or a dusting of black pepper. Mangia!
Notes:
Note:  As a rule, Italians do not serve cheese with seafood, and this goes for seafood sauces with pasta, too.
---
Review our Pink Shrimp Sauce with Linguine:
Thanks for your reviewing this recipe! We are looking over your comments and will post as many as possible.
---