All Recipes
|
Breakfast
|
Lunch & Light Dishes
|
Dinner
|
Treats
|
Key Recipes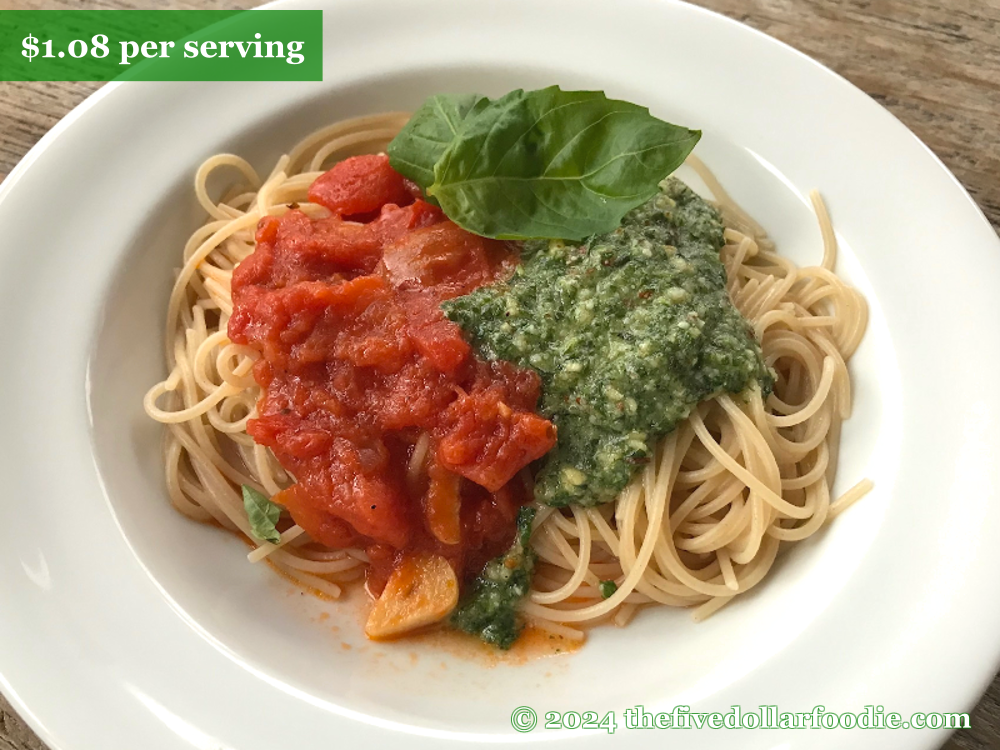 Fragrant and piquant, this traditional blend of nuts, fresh basil, a bit of garlic, cheese and oil is made in five minutes. It is adaptable: almonds, walnuts or pine nuts are all excellent—choose what you have on hand or can find at a good price. Fresh mint, cilantro, parsley or spinach can replace the basil, though basil is traditional. Pesto goes well with many pastas—linguine, spaghetti, gnocchi, angel hair, and shells, to name a few. For a festive occasion, serve it on the pasta alongside a good spoonful of Classic Marinara (recipe linked below), and take a bow.
Makes 4 Servings - $1.08 per serving Show Detailed Pricing
1 garlic clove, chopped
3 tablespoons sliced almonds, walnuts, or pine nuts
1 cup fresh basil
1/4 cup grated parmesan cheese
1/4 cup olive oil
1/8 teaspoon black pepper
8 ounces linguine
Prep Time: About 5 minutes
Cook Time: About 15 minutes
Instructions:
Put a pot of salted water on to boil for the pasta. Place the garlic and nuts in a food processor and combine until they are finely chopped.
Add basil (stems removed), cheese, and oil and pulse until they are blended but still have texture. Season with black pepper and taste for salt, though the cheese adds salt so you probably won't need to add any.
Cook pasta until tender but al dente, according to package directions, and drain it. If the pesto seems too thick when you are ready to serve, you can thin it with a bit of the hot pasta water.
Spoon the pesto over the pasta and serve.
Notes:
If replacing the basil with parsley, you'll need much less, about 1/4 cup, and be sure to remove stems before blending it.
Use gluten-free pasta if preferred.
You can freeze extra pesto, covered with a thin layer of oil and tightly covered.
Related Recipes:
---
Review our Pesto for Pasta:
Thanks for your reviewing this recipe! We are looking over your comments and will post as many as possible.
---