All Recipes
|
Breakfast
|
Lunch & Light Dishes
|
Dinner
|
Treats
|
Key Recipes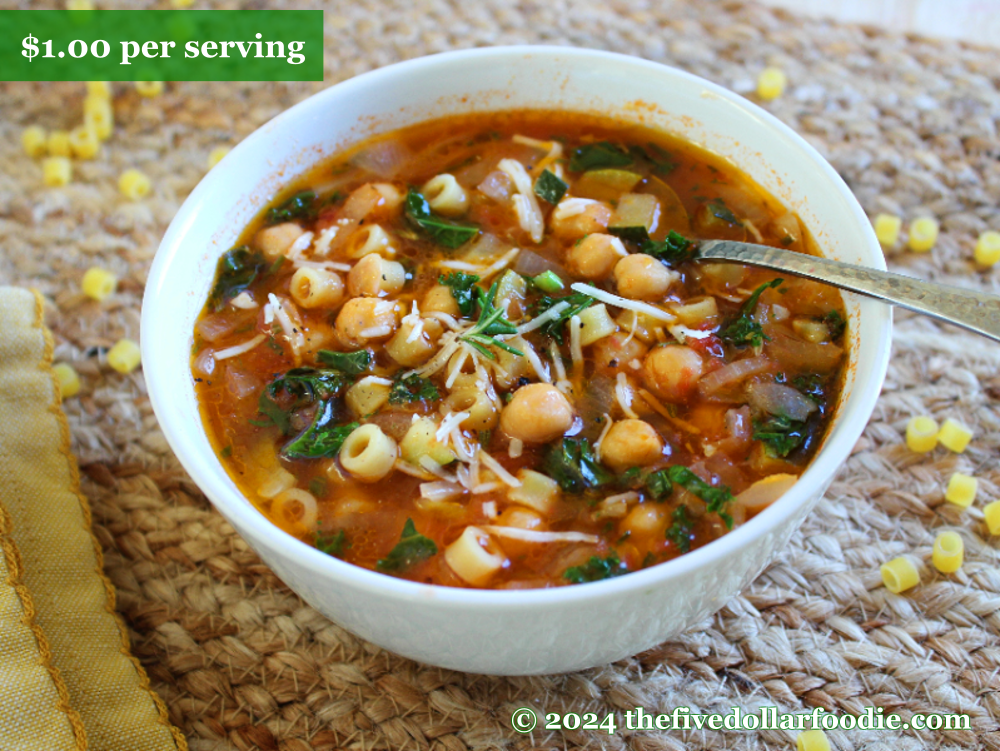 It's getting to be soup season! Pasta e ceci, Italian pasta and chickpea stew, is a go-to for a quick and so-good dinner. Hearty chickpeas add protein and fiber to a subtly-flavored, tomato-based vegetable broth. Fresh greens, like kale, spinach, or escarole, complement the flavors in this delicious plant-based stew, topped off with a squeeze of lemon and pinch of rosemary. This recipe is perfect for an easy-to-prepare, healthful weeknight dinner, which you can make all in one pot. We like to add extra vegetables, such as chopped zucchini, if you have any on hand (potatoes also work nicely too). Serve with crusty bread and dinner is ready!
Makes 8 Servings - $1.00 per serving Show Detailed Pricing
3 tablespoons olive oil
1 onion, chopped
4 cloves of garlic, minced
1 cup canned crushed tomatoes
15 ounces garbanzos (canned)
* 1 zucchini, diced
1 cup ditalini or other small pasta like macaroni or orecchiete
2 cups vegetable broth plus 2 cups water
2 sprigs of fresh rosemary or 1/4 teaspoon dried (plus more for optional garnish)
1/2 teaspoon salt, to taste
2 pinches black pepper, to taste
4 cups kale, escarole, or spinach, roughly chopped
1 lemon, juiced
* 1/4 cup pecorino romano or parmesan cheese, grated (for serving)
*Optional ingredients are not counted towards pricing
Prep Time: About 5 minutes
Cook Time: About 20 minutes
Instructions:
Heat the olive oil in a large soup pot over medium heat. Once it shimmers, add the onion and saute 3 minutes or until softened. Add the garlic and saute one more minute.
Add the canned tomatoes, garbanzo beans, optional zucchini, pasta, vegetable broth/water, half of the fresh rosemary, and salt and pepper to taste. Bring to a boil, then reduce heat to a simmer and partially cover the pot.
Cook about 10-15 minutes, stirring occasionally, until the pasta is al dente. Add more water as it cooks if the stew becomes too thick.
Near the end of cooking, stir in the chopped kale or escarole and cook another 5 minutes or until they are wilted and tender.
Remove from heat, stir in the lemon juice and let the stew rest a few minutes if possible. Ladle the stew into bowls and top with the optional grated pecorino, romano, or parmesan cheese and an additional garnish of fresh rosemary.
Notes:
If you don't have canned crushed tomatoes, you can use diced or whole tomatoes and pulse in a food processor or blender until mostly a uniform texture. Also, save any leftover canned tomatoes in an airtight container in the fridge or freezer to use in other recipes such as marinara another day.
This stew only gets tastier as it rests. If you cook it early in the day, undercook the pasta a bit as it will continue to cook in the broth. Store any leftovers in an airtight container in the fridge for up to 5 days, or freeze leftovers to enjoy another night.
For a gluten-free version, substitute a gluten-free pasta or other grain for the ditalini.
---
Review our Pasta e Ceci Stew:
Thanks for your reviewing this recipe! We are looking over your comments and will post as many as possible.
---