All Recipes
|
Breakfast
|
Lunch & Light Dishes
|
Dinner
|
Treats
|
Key Recipes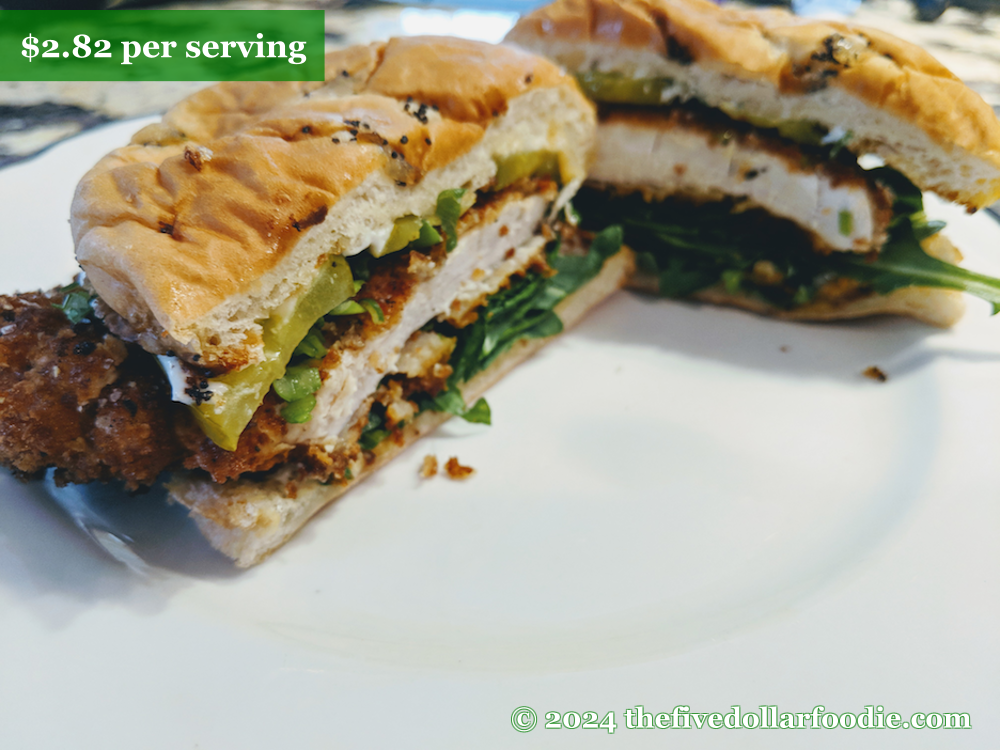 The fried-chicken sandwich is an indulgent classic. Here crunchy panko breadcrumbs give texture to a light but juicy take on an old-time tradition. Onion rolls and chopped scallions contribute extra flavor and dill pickle slices add tang. If you're feeling brave, add some hot sriracha! --Charlie E., Foodie Contributor
Makes 4 Servings - $2.81 per serving Show Detailed Pricing
1/2 cup flour
1 egg, beaten
2 tablespoons water
1 cup panko bread crumbs
2 teaspoons paprika
2 chicken breasts (boneless and cut into halves lengthwise)
1 pinch salt and pepper, to taste
1/2 cup oil (a mildly flavored one like canola or safflower)
4 onion hamburger buns
6 teaspoons scallion, finely chopped
* 1 tablespoon sriracha (hot chili sauce)
5 tablespoons mayonnaise
2 kosher dill pickles
2 cups fresh baby spinach
* 1/2 cup barbecue sauce
*Optional ingredients are not counted towards pricing
Prep Time: About 15 minutes
Cook Time: About 10 minutes
Instructions:
You'll need 3 bowls, each large enough to easily hold one piece of chicken. In the first bowl, place the flour. In a second bowl, place the beaten egg plus 2 tablespoons of water and energetically mix them with a fork until well blended. Into the third bowl goes the panko and paprika.
If the chicken pieces are thicker than 1/2 inch, butterfly them before seasoning with salt and pepper. Then dredge each piece in flour. Shake off excess flour, and dip the chicken pieces one at a time in the egg before dredging in the panko. Make sure each piece has a consistent coating of panko.
Heat 1/4 inch of oil in a large frying pan on medium high. When the oil starts to shimmer, gently place the chicken pieces in the skillet, being careful not to overcrowd them in the pan (or cook in batches). Fry for about 2-2 1/2 minutes per side, or until they are a nice shade of golden brown and when you cut into the thickest part of the chicken it is cooked through--it will be perfectly white and not shiny. Place on a plate lined with paper towels.
Drain the remaining oil from the pan. Toast the buns—if you're using a cast-iron skillet, let them hang out for a minute or two in the pan. Combine the scallions, sriracha (optional), and mayonnaise in a small bowl. Thinly slice the dill pickle lengthwise.
Spread the mayo-scallion-sriracha sauce on the inside of both tops and bottoms of the buns, and layer the spinach on the lower half of each bun. Place fried chicken on the spinach, and top with dill pickle slices. Finally, add a dollop of barbecue sauce (optional) and go for it!
---
Review our Panko Fried Chicken Sandwiches:
Thanks for your reviewing this recipe! We are looking over your comments and will post as many as possible.
---