All Recipes
|
Breakfast
|
Lunch & Light Dishes
|
Dinner
|
Treats
|
Key Recipes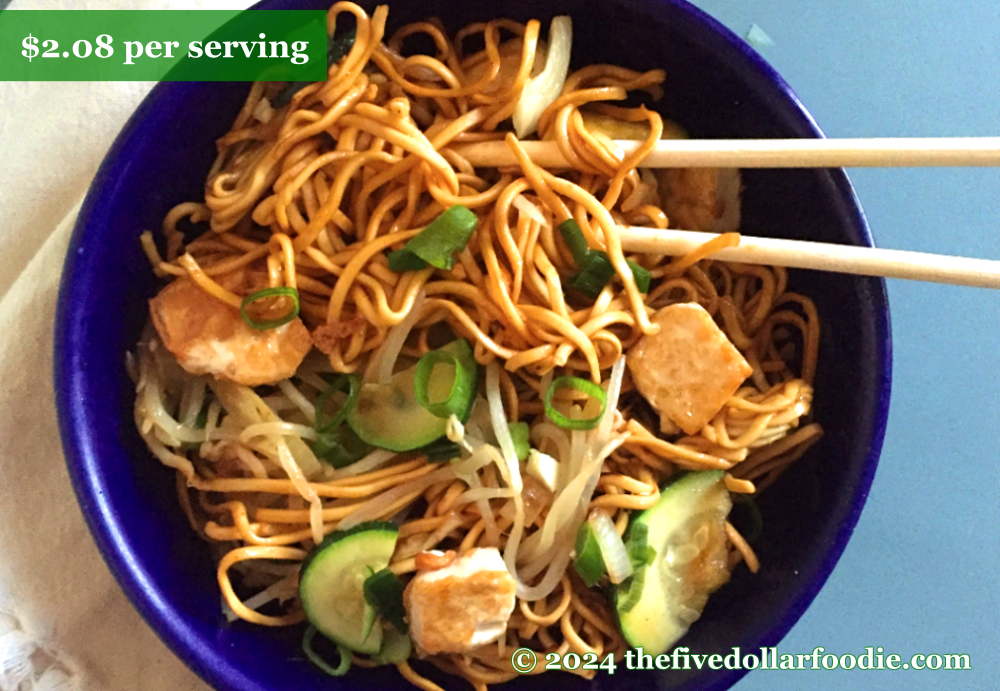 This stir-fried pan noodle dish is a favorite with foodies of all ages—even our 2-year-old can't get enough—and it makes a good, quick weeknight dinner. Onion, zucchini, bean sprouts, and scallion went into the dish here, though many other vegetables will do nicely. For example, broccoli, carrot, bell pepper, celery, spinach, cabbage, snow peas, bok choy and others that you may have in stock (though not red beets). Chinese egg noodles, found at most supermarkets, can be replaced with rice noodles for a gluten-free or vegan variation. Be sure to cook the noodles until they are just slightly underdone, because they will finish cooking in the wok (or frying pan). A sweet and spicy soy-chili sauce, made in a moment, adds layers of flavor, and leaves us asking for seconds.
Makes 6 Servings - $2.08 per serving Show Detailed Pricing
12 ounces Chinese egg noodles
3 tablespoons oil (a mildly flavored one like canola or safflower)
12 ounces tofu (firm), cut into cubes
1 onion, medium, chopped
1 zucchini, large, chopped
2 cloves of garlic, peeled and minced
10 scallions, sliced thinly
9 ounces mung bean sprouts
For the sauce:
1/3 cup soy sauce (to taste)
1 tablespoon rice vinegar
1 tablespoon sugar (or honey)
1 tablespoon sriracha (hot chili sauce)
2 teaspoons sesame oil
1/2 teaspoon ground ginger (or fresh ginger)
Cook Time: About 15 minutes
Instructions:
Bring a large pot of water to a boil. Add the noodles and cook 2-3 minutes, until al dente (take care not to overcook). Strain, rinse with cold water and set aside.
Make the sauce now: mix the soy sauce, vinegar, sugar (or honey), sriracha, sesame oil, and ginger in a bowl and set aside.
Heat 2 tablespoons of canola (or other mildly flavored) oil in a wok or large frying pan over medium-high heat. Once the oil shimmers, add the tofu, and cook about 5 minutes, stirring occasionally until it begins to lightly brown. Remove the tofu from the pan and set aside in a bowl.
Next, add the onion and zucchini to the pan and cook 3-4 minutes, stirring frequently; then add the garlic, scallion, and bean sprouts and cook another minute.
Spoon the vegetables into the bowl with the tofu and set aside. Add another tablespoon of oil to the pan, and carefully add the noodles (to prevent the oil from splattering). Stir for about 2-3 minutes, or until the noodles are slightly brown and cooked through.
Toss the vegetables and tofu back in the pan with the noodles, and stir in the sauce. Serve and eat!
---
Review our Pan-Fried Noodles with Tofu and Soy-Chili Sauce:
Thanks for your reviewing this recipe! We are looking over your comments and will post as many as possible.
---
Michael G. on 1/11/2021
This was a quick process and the result was wonderful; I did replace the noodles with egg noodles; the Sauce was brilliant ...and the left-overs were just as good.
Rating:
Linda M. on 8/31/2019
This was so good. Also a very easy dish, although what with making the sauce, and chopping the vegetables and cutting the tofu I used double the prep time. Couldn't find mung bean sprouts at my grocery store, but stirred in some celery and green pepper instead. And it worked. I treated the leftovers like a pasta salad the next day, not heating it. It was just as tasty then. My family is cutting back on eating meat, so it is wonderful to find vegetable main dishes on this website that I want to cook again and again.
Rating: