All Recipes
|
Breakfast
|
Lunch & Light Dishes
|
Dinner
|
Treats
|
Key Recipes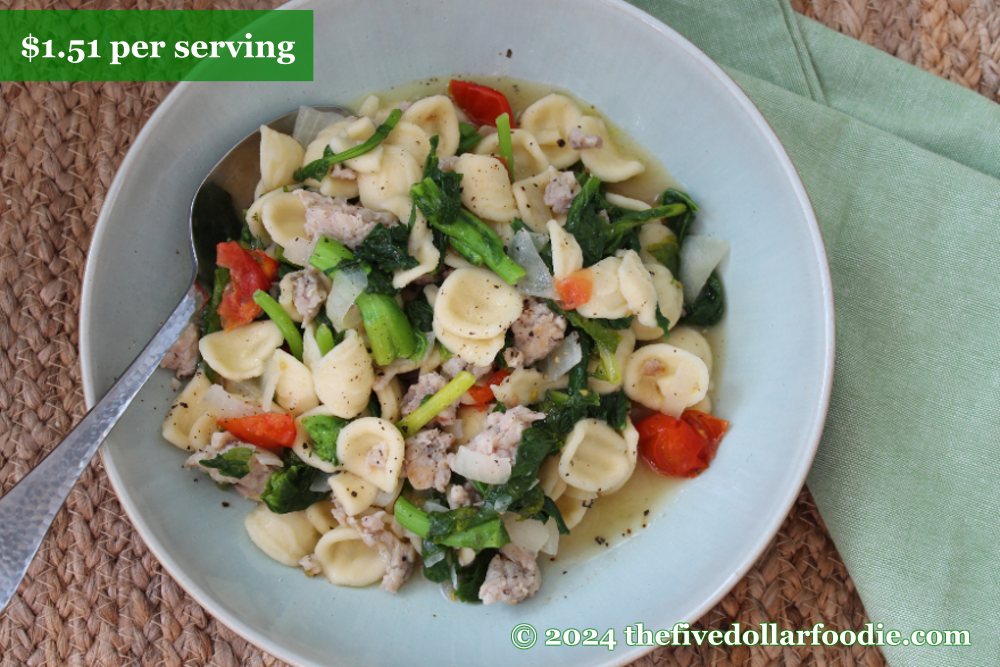 Orecchiette is paired with sweet Italian sausage and hearty greens in a white wine garlic sauce in this flavorful and filling dish. Rapini, also known as broccoli rabe, is a delicate, slightly bitter green that is packed full of vitamins and minerals, especially vitamins A and C. Broccoli rabe is not broccoli, despite its misleading name; it's actually related to turnips. If you can't find rapini, you can use another green such as spinach, but we love the flavor combination as this recipe is written. Garlic and white wine balance the bitterness of the greens, sweetening it for a delectable and incredibly cheap dinner. Lucy and Hugo developed this pasta dish after sampling something similar at an Italian restaurant. Now we enjoy this restaurant-quality meal at home for amazingly only a little over a dollar per serving. Plus, it's super quick and easy to prepare. Win-win!
Makes 8 Servings - $1.51 per serving Show Detailed Pricing
1 pound orecchiette pasta (or other similar-shaped pasta, such as farfalle, cavatelli, or rotini)
1 bunch rapini (broccoli rabe), stems trimmed, coarsely chopped (about 4 cups packed)
3 tablespoons olive oil
3/4 pound sausage (sweet or spicy Italian), uncooked
1 onion large, finely chopped
1/2 cup tomato, diced (fresh cherry or grape tomatoes preferred)
4 cloves of garlic, peeled and minced
1/2 cup white wine
1 tablespoon fresh basil or oregano, chopped (or dried if you don't have fresh)
* 1/4 cup parmesan cheese, grated
* 1 pinch red pepper flakes
*Optional ingredients are not counted towards pricing
Cook Time: About 15 minutes
Instructions:
Set a large pot of water over high heat to boil. Add a large pinch of salt and the orecchiette, and cook according to package directions, until al dente. Add the rapini to the boiling pasta for the last minute of cooking to lightly steam it. Strain and save about 1/2 cup of the pasta water.
While the pasta is boiling, coarsely chop the sausage (remove from casing first, if necessary). Set a large skillet or saucepan over medium heat, add the olive oil and once it shimmers add the sausage and sauté until the sausage begins to brown, about 5 minutes. Add the onion and sauté for about 2 minutes, then add the tomato and garlic and cook for 2 more minutes. Turn the heat to low and carefully stir in the white wine, cooking for another minute.
Remove from heat and combine the sausage, onion, tomato, and garlic mixture with the drained pasta and extra pasta water.
Serve with fresh basil or oregano, grated parmesan cheese and red pepper flakes (optional)
Notes:
Chicken or pork sausage works nicely for this dish. You can also make this with pre-cooked sausages. If you're using pre-cooked sausages, add them (coarsely chopped) with the onion in step 2.
The leaves, stems, and buds of the rapini are all edible. Remove the lower third of the stems, which tend to be slightly tough and more bitter than the upper stems and leaves.
Though rapini is the ideal choice of greens for this dish, if you cannot find it you may substitute a comparable amount of chopped spinach.
---
Review our Orecchiette with Italian Sausage and Rapini:
Thanks for your reviewing this recipe! We are looking over your comments and will post as many as possible.
---