All Recipes
|
Breakfast
|
Lunch & Light Dishes
|
Dinner
|
Treats
|
Key Recipes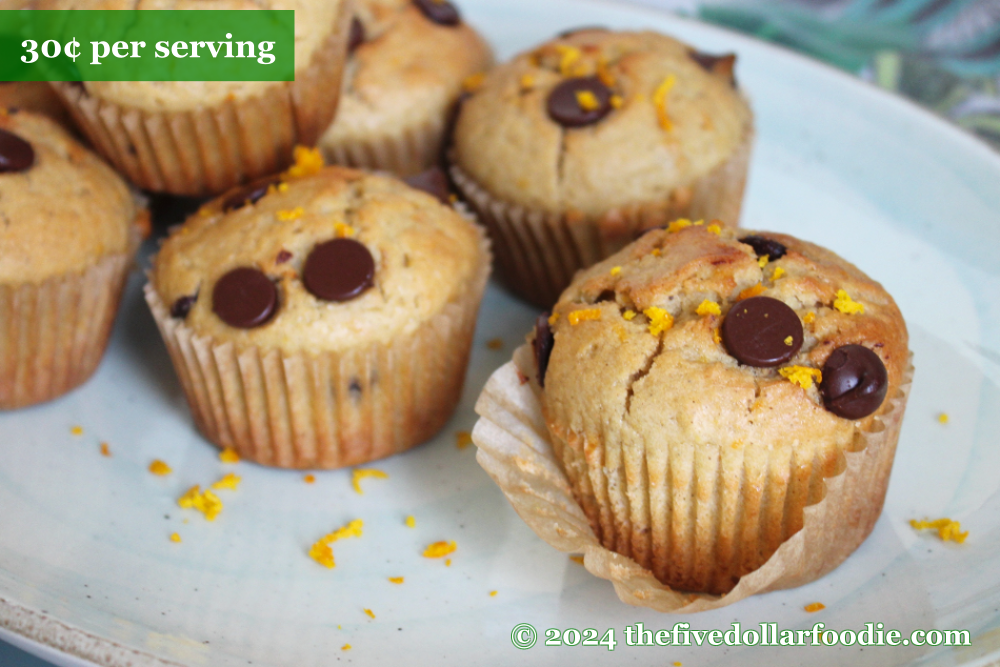 Muffins are a great breakfast treat. This version pairs fresh orange with chocolate chips and a touch of spice, a winning combination for flavor and price. The chocolate adds a bit of richness but they are just sweet enough in our opinion and aren't overloaded with sugar unlike commercial muffins. We enjoy them with a cup of coffee in the morning, with tea as an afternoon snack, or even for a light dessert! You can make a batch of muffins ahead of time and freeze them in an airtight container. Simply heat one up in a minute on rushed weekday mornings. You can experiment with other types of fruits and flavors—see our Blackberry-Lemon Muffins for one variation. Once you try homemade, you'll never go back to store-bought again.
Makes 12 Servings - 30¢ per serving Show Detailed Pricing
2 1/4 cups flour
1/2 teaspoon salt
1/3 cup sugar
2 teaspoons baking powder
1 teaspoon allspice
2 eggs
1/3 cup oil
3/4 cup milk
1 teaspoon vanilla extract
1 orange, zested and juiced
1/2 cup semisweet chocolate chips (plus an optional extra tablespoon or two for on top)
Prep Time: About 10 minutes
Cook Time: About 20 minutes
Instructions:
Preheat oven to 400 degrees. Line a 12-cup muffin tin with baking cups or grease the tin thoroughly and set it aside.
In a large mixing bowl, combine flour, salt, sugar, baking powder, and allspice.
In a separate bowl, whisk together eggs, oil, milk, vanilla, orange juice and zest (made by finely grating the thinnest, orange part of the peel). Save a good pinch of the orange zest to decorate the muffins after they've baked.
Combine the wet and dry ingredients, and mix quickly and lightly with a fork, adding the chocolate chips last. Tip: Do not overmix or bother to remove lumps or the muffins will be tough.
Spoon batter into the muffin tin and top each muffin with a few additional chocolate chips (optional). Bake for about 20 minutes, or until the muffins are light golden brown and a toothpick inserted into the center of a muffin comes out clean. You can also test them by pressing lightly on the top of a muffin. If it feels springy, they are done. Sprinkle with the remaining orange zest and enjoy hot from the oven or at room temperature.
Notes:
---
Review our Orange Chocolate Chip Muffins:
Thanks for your reviewing this recipe! We are looking over your comments and will post as many as possible.
---