All Recipes
|
Breakfast
|
Lunch & Light Dishes
|
Dinner
|
Treats
|
Key Recipes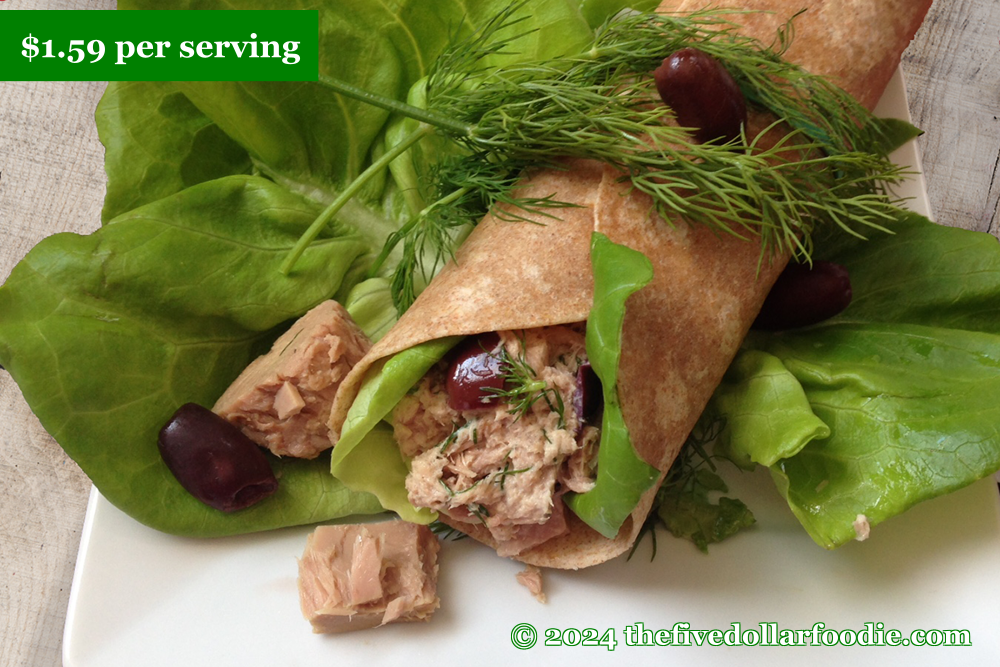 Tuna is an excellent source of protein (here 15 grams per serving!), B vitamins, and omega-3 fatty acids. Plus it's inexpensive and makes a quick and easy lunch. Zesty bits of olive and fresh dill balance the flavors and let this dish stand out.
Makes 2 Servings - $1.59 per serving Show Detailed Pricing
1 can of tuna (5 oz)
4 tablespoons mayonnaise
2 tablespoons relish
1 tablespoon onion, grated
1 teaspoon vinegar
1 teaspoon honey
6 kalamata olives, chopped
1 tablespoon dill (fresh), finely chopped
2 tortillas (use corn or spelt tortillas for a gluten free version)
4 romaine lettuce leaves
Instructions:
Drain tuna and place in a small mixing bowl. Add the mayonnaise, relish, grated onion, vinegar, honey, olives, and dill. Stir with a fork until well combined.
Place each tortilla on a plate. Layer two romaine leaves on top of each tortilla, then top with half of the tuna salad. Firmly roll up each tortilla to form two wraps. Alternately, the tuna salad can be refrigerated and the wraps assembled at a later time.
Notes:
if using corn tortillas, depending on the brand of tortilla, you may need to heat them for one minute in a hot skillet or for 20 seconds in the microwave to make them easier to roll without breaking.
---
Review our Olive and Herb Tuna Wrap:
Thanks for your reviewing this recipe! We are looking over your comments and will post as many as possible.
---
Ann S. on 1/17/2020
Where are you finding a can of tuna for $.99? ann
Rating:
Alison F. on 1/19/2018
A delicious alternative to my boring old tuna sandwich go-to! I like to swap the lettuce for arugula for a little extra kick.
Rating: