All Recipes
|
Breakfast
|
Lunch & Light Dishes
|
Dinner
|
Treats
|
Key Recipes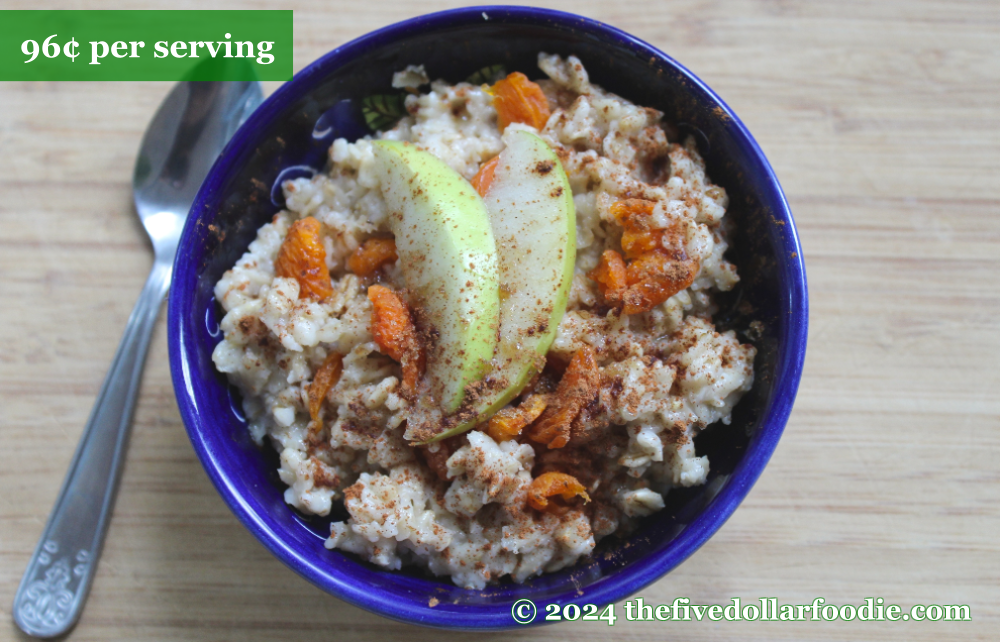 Forget prepackaged oatmeal, which can be pricey and ordinary. Buy rolled oats in bulk for just pennies and prepare them yourself for a delicious and hearty breakfast that's ready in just 5 minutes. Whole rolled oats are not just cheap, they are also extremely nutritious, offering loads of fiber, protein, potassium, and magnesium. The texture is chewy and apple adds some crunch while apricots give it tang.
Makes 2 Servings - 96¢ per serving Show Detailed Pricing
1 apple, peeled
2 cups water
1 pinch salt
1 cup whole rolled oats
1 teaspoon cinnamon (to taste)
1 teaspoon brown sugar (to taste)
1 ounce dried apricots, chopped
Prep Time: About 5 minutes
Cook Time: About 5 minutes
Instructions:
Chop 3/4 of the apple into bite-size pieces. Cut the rest of the apple into very thin slices and set aside.
Bring 2 cups of water (or slightly more, depending on desired oatmeal consistency) to a boil in a saucepan. Add a pinch of salt and the chopped apple and cook 1-2 minutes. Add the oats, return to a boil, stir, and turn heat to low. Simmer about 5 minutes uncovered, stirring occasionally until the water is absorbed.
Add cinnamon, brown sugar to taste, and chopped apricots and stir. Garnish with the remaining apple slices and serve.
Notes:
Note: For gluten-free oatmeal, be sure that your oats are labeled gluten-free, as not all varieties are.
---
Review our Oatmeal with Apple and Apricots:
Thanks for your reviewing this recipe! We are looking over your comments and will post as many as possible.
---
Michael G. on 12/9/2017
This was a terrific breakfast on a cold winter morning. I have even tried this for a stay-at-home late lunch. The apples are a plus that can't be argued with...
Rating: