All Recipes
|
Breakfast
|
Lunch & Light Dishes
|
Dinner
|
Treats
|
Key Recipes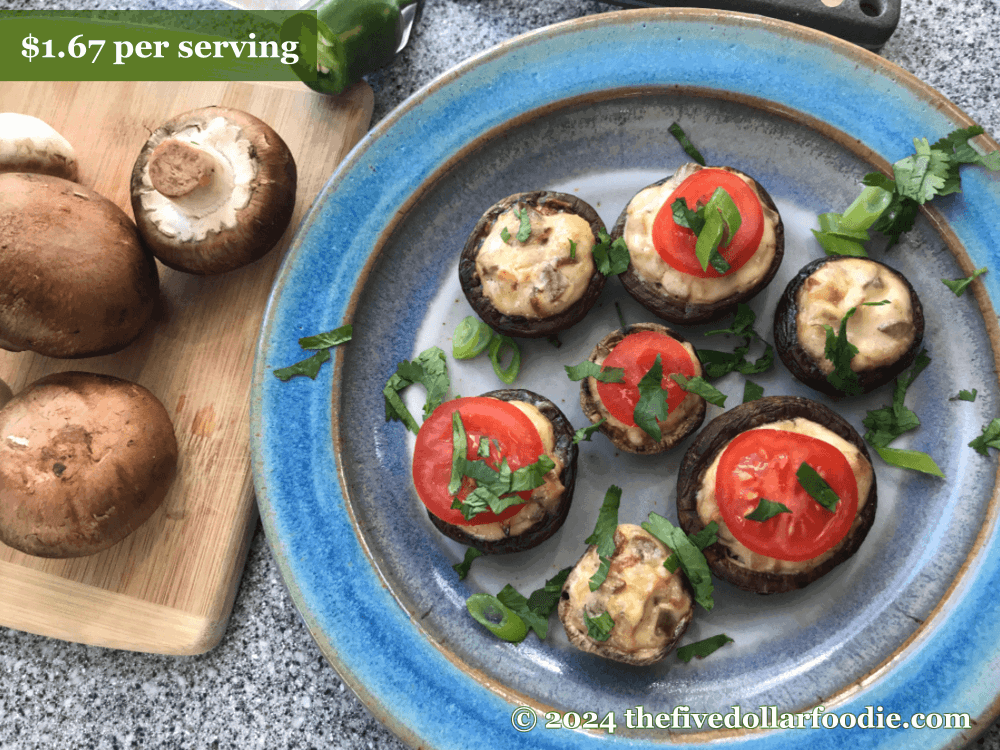 Start with fresh mushroom caps (white or baby portabellas work nicely) and let nothing go to waste by combining the mushroom stems with onion, garlic, and sweet anaheim chile in a sauté pan. With an optional splash of beer, the smoky flavors are concentrated into a luscious filling. Precooking the vegetables and mushroom caps eliminates the excess liquid, resulting in a tender, flavorful appetizer or entrée.
Makes 3 Servings - $1.67 per serving Show Detailed Pricing
8 ounces mushrooms (about 9 large white or baby portabellas)
1/2 onion, chopped
2 cloves of garlic, chopped
1 anaheim chile (or jalapeño), chopped
3 tablespoons olive oil
1 teaspoon salt
1/2 teaspoon black pepper
* 1 teaspoon worcestershire sauce (or a splash of beer)
4 ounces cream cheese
1/2 lemon, juiced
* 1 tomato sliced
* 1 teaspoon parsley, chopped (or scallion)
*Optional ingredients are not counted towards pricing
Prep Time: About 15 minutes
Cook Time: About 40 minutes
Instructions:
Cut stems off the mushrooms and set aside. Sprinkle mushroom caps lightly with salt and bake them, rounded side up at 450º for 15 minutes.
Warm the olive oil in a sauté pan over medium heat. Chop the mushroom stems and add them to the pan with the onion, garlic, and chile pepper. Add salt and pepper to taste. Continue sautéing until the mushroom and onion turns golden brown and the liquid has cooked off, about 5 minutes. Add optional worcestershire sauce or a splash of beer to the pan and cook another minute.
In a small bowl, stir together the cream cheese and lemon juice. Then stir in the mushroom-onion mixture. Taste for salt and pepper.
Spoon the cream cheese mixture into the baked mushroom caps, and return to the oven for 20-25 minutes, or until the stuffing bubbles. Top with optional tomato slices for the last 5 minutes of baking.
Garnish with chopped parsley or scallion and serve the mushrooms warm. They're great on their own, or for a light meal with salad and crusty bread.
---
Review our Mushrooms Stuffed with Chile & Onion:
Thanks for your reviewing this recipe! We are looking over your comments and will post as many as possible.
---
Judy E. on 11/23/2021
This is a perfect recipe for anyone, it is so delicious and has great texture. But for someone on a low sodium diet, it is especially great because there are so many flavors in it. The cream cheese is actually the only thing with much sodium at all. Worcestershire sauce has sodium but a "dash" is minimal.
I wanted to see whether I could pre-cook and then just re-heat this dish, so I saved one of the filled mushrooms and refrigerated it overnight. the next day I microwaved it and it was just as delicious!
I also tried this recipe with the large portobello mushrooms, and added some grated swiss cheese on top (the lowest sodium cheese.)
Yum!
Rating: