All Recipes
|
Breakfast
|
Lunch & Light Dishes
|
Dinner
|
Treats
|
Key Recipes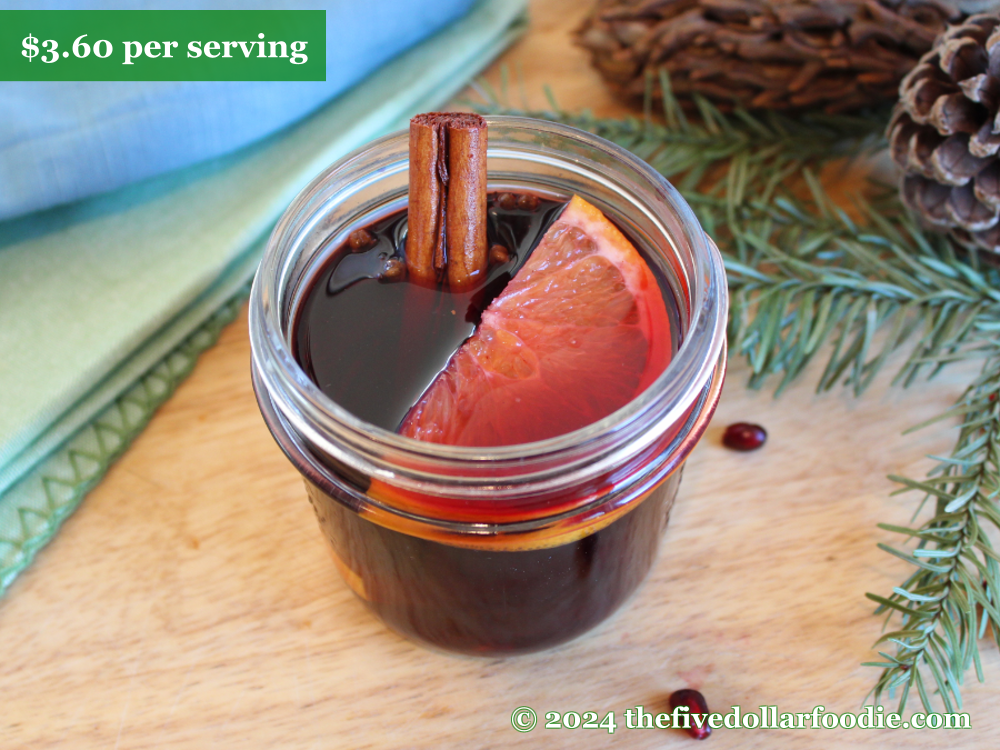 Winter is here, the holidays are near. We are in the mood for a cozy libation to enjoy at home around the fire. Mulled wine couldn't be easier to make, and you can use any inexpensive red wine (even boxed wine). We made this version with a merlot, though garnacha, tempranillo, pinot noir, or any blend will work nicely. We added cinnamon, whole cloves, fresh orange and maple syrup to the wine. Traditionally star anise is included in mulling, though we were out of it when we made this and it still turned out great. You can also add a splash of brandy or cognac if you have some, though even without the liquor the wine develops a deep, rich flavor as it heats. Serve it in mugs or glasses for a warming, festive treat. Cheers!
Makes 4 Servings - $3.59 per serving Show Detailed Pricing
25 ounces red wine (one 750ml bottle)
1 orange, sliced into rounds
8 whole cloves
3 cinnamon sticks
2 tablespoons maple syrup (or more, to taste)
* 2 star anise
* 1/4 cup brandy or cognac
*Optional ingredients are not counted towards pricing
Prep Time: About 5 minutes
Cook Time: About 15 minutes
Instructions:
Place all of the ingredients in a large pot and stir. Heat over medium-low heat until the smallest bubbles appear. Reduce heat to very low and gently warm for at least 15 minutes.
Add the optional liquor. Ladle the warm, mulled wine into mugs or glasses and enjoy!
Notes:
You don't want the wine to boil or the alcohol will cook off. Make sure the heat is on the absolute lowest setting.
The longer the wine sits after mulling, the spicier it will get. You can let it sit for several hours off the heat and reheat it when you're ready to serve.
You can substitute about 1/2 teaspoon of ground cinnamon for the cinnamon sticks.
---
Thanks for your reviewing this recipe! We are looking over your comments and will post as many as possible.
---