All Recipes
|
Breakfast
|
Lunch & Light Dishes
|
Dinner
|
Treats
|
Key Recipes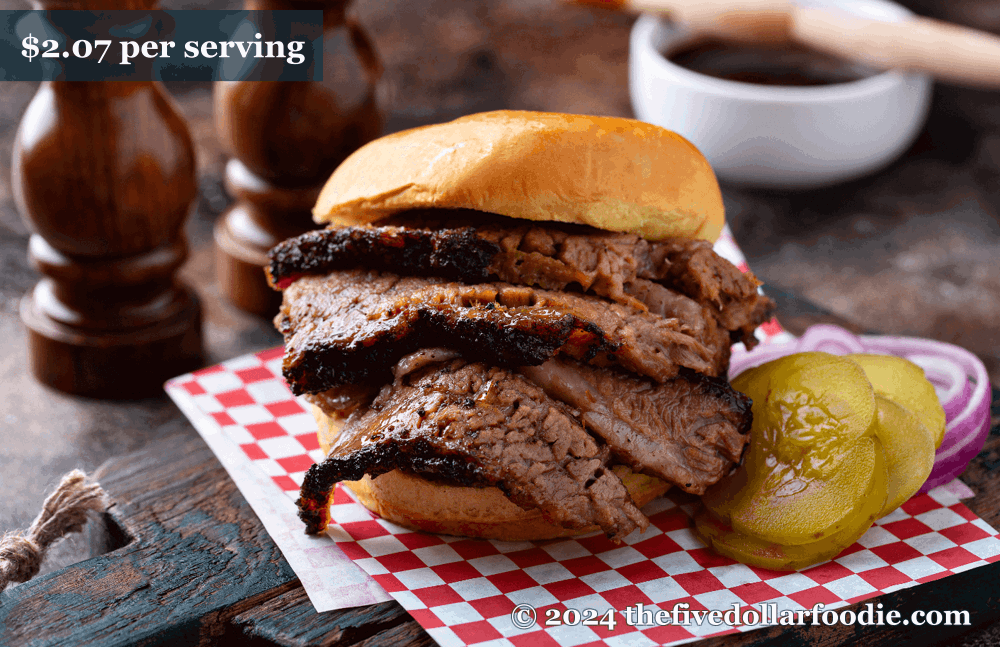 Get ready for delicious, mouth-watering brisket without having to dust off your smoker or grill or spend hours tending to it. This technique not only stands up to traditional slow-cook methods of preparing brisket using a wood-smoker but has actually WON competitions. We season our brisket with an assortment of aromatic spices, then we wrap it in foil to poach it slowly in the juices while it slow cooks at a perfect temperature in your oven, slow cooker, or crock pot. Then you can go about your day while the brisket cooks to perfection. The result is the most tender, delicious fall-apart competition-worthy brisket that you have ever tasted.
Makes 12 Servings - $2.07 per serving Show Detailed Pricing
3 pounds beef brisket, or larger if available
Spice Rub
1/4 cup sugar
4 tablespoons salt
2 tablespoons chili powder
2 tablespoons black pepper
The BBQ Sauce
1 cup ketchup
1/2 cup worcestershire sauce
3 tablespoons apple cider vinegar
2 tablespoons brown sugar, or regular white sugar
1 teaspoon chili powder
1 teaspoon onion powder
1/8 teaspoon liquid smoke, mesquite, available in common grocery stores
* 1/4 cup beer
*Optional ingredients are not counted towards pricing
Prep Time: About 10 minutes
Cook Time: About 120 minutes
Instructions:
Cover brisket in spice rub using a mixing bowl.
Wrap brisket tightly in foil, place on a baking sheet and cook in oven at 275º for 1 hour per pound, until brisket is fall-apart tender.
Remove from oven and allow to cool. Trim excess fat and discard juices.
Turn the oven temperature to broil. Place brisket back on the baking sheet and broil for several minutes until a thick, crispy bark forms. You can also place the brisket on the grill or use a searing torch.
For the sauce, whisk together ingredients in a sauce pan and heat for several minutes.
Slice brisket and top with sauce. May be served on sandwiches, salads, or as the protein for almost any other side dish.
Notes:
This technique of wrapping the brisket in foil, known as "The Texas Crutch," has been used by the winners of world-class BBQ competitions.
Liquid smoke is collected from natural mesquite wood, via a smoker, it is a natural product used by serious BBQ chefs around the world.
For an extra rich and smoky flavor, add a few drops of liquid smoke to the spice rub before wrapping the brisket in foil.
---
Review our Mesquite Smoked Brisket (Done in your oven, no smoker or grill required!):
Thanks for your reviewing this recipe! We are looking over your comments and will post as many as possible.
---