All Recipes
|
Breakfast
|
Lunch & Light Dishes
|
Dinner
|
Treats
|
Key Recipes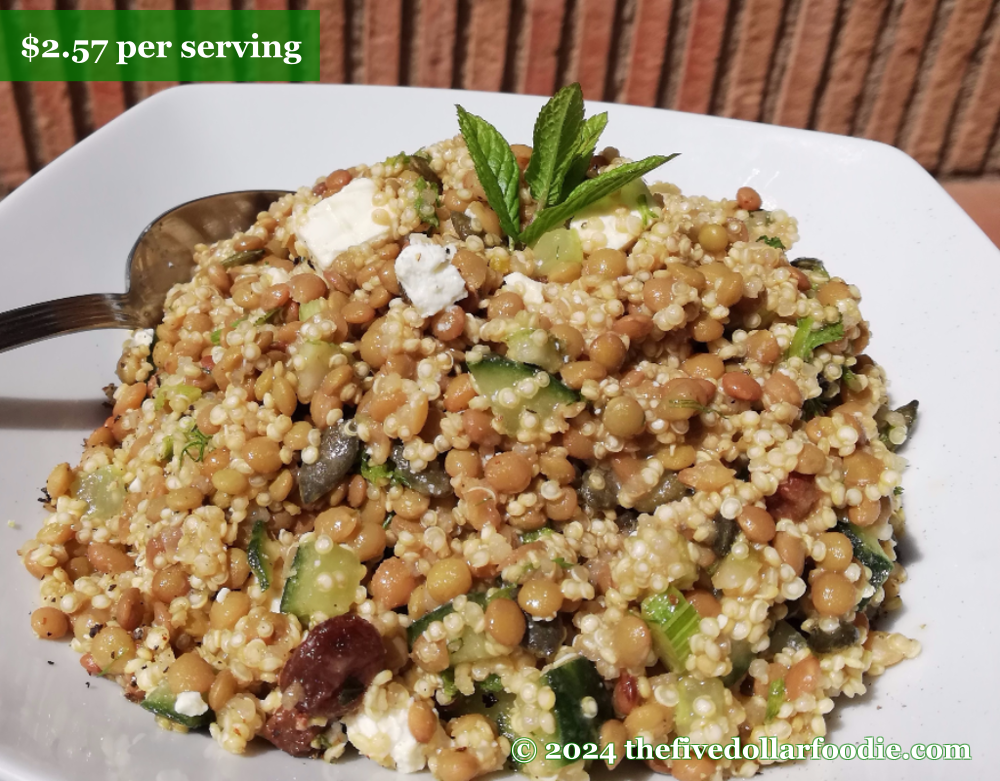 For a fresh take on a Mediterranean salad, we combined lentils, quinoa, fresh herbs, raisins, and cucumber, with a creamy lemon vinaigrette. The key to a wildly tasty and satisfying salad is a balance of textures and flavors—crunchy, smooth, sweet, and tangy—and it's all here, complemented by a bright, fresh homemade dressing you can make in minutes. There is plenty of protein, too, with the quinoa, lentils, cheese, and seeds all contributing. Wonderful served warm or at room temperature, this salad's flavors meld and become even more vibrant when prepared ahead of time. At home or on a picnic, those around you will be enviously asking for the recipe.
Makes 5 Servings - $2.57 per serving Show Detailed Pricing
1 cup green lentils, rinsed and drained
1/2 cup quinoa, rinsed and drained
1/2 cucumber, chopped in small bite-size pieces
6 ounces goat cheese goat or feta cheese, crumbled
1/2 cup raisins
1/3 cup sunflower seeds or pumpkin seeds (or seeds of your choice)
2 teaspoons thyme, fresh and minced (or 1 teaspoon dry thyme)
1 tablespoon oregano fresh and minced (or 2 teaspoons dry oregano)
* 2 tablespoons dill, fresh and minced (use 1 tablespoon if dry herbs)
For the dressing:
1/4 cup olive oil
4 tablespoons lemon juice (approximately juice of 1 lemon)
1 tablespoon honey, agave nectar, or maple syrup
2 teaspoons stoneground mustard
*Optional ingredients are not counted towards pricing
Prep Time: About 10 minutes
Instructions:
Bring the lentils to a boil in lightly salted water and then lower the heat to a simmer, cover with a lid, and let the lentils cook for about 20-30 minutes (according to package instructions). The lentils are ready when they are just tender but still retain their shape. Remove from heat, drain, and rinse with cold water to stop the cooking process.
While the lentils cook, bring the rinsed quinoa to a boil in 1 cup of lightly salted water, cover and lower the heat to a simmer. Cook the quinoa for about 10 minutes, until you notice a little white stem emerging from each grain and the quinoa is al dente, or tender to your liking. Remove from heat, drain, and rinse with cold water to stop the cooking process. (When quinoa is overcooked, it becomes sticky and does not combine well into a salad.)
While the quinoa and lentils cook, prepare the salad dressing by combining the olive oil, lemon juice, honey, and dijon mustard in a jar with a tight-fitting lid. Shake the dressing briskly for about 30 seconds until it becomes creamy and well blended.
In a large bowl, combine the lentils, quinoa, cucumber, and cheese, adding the raisins, thyme, oregano, and optional dill or mint, and then the dressing. Stir gently until well mixed. Taste for seasoning and add more salt as needed. The sunflower seeds can be added now, or if you plan to prepare the salad in advance of serving and prefer very crunchy seeds, you can keep the seeds in reserve until it is time to eat.
Notes:
You can serve this as a main dish (it looks especially appealing on a large leaf of romaine lettuce) or of course as a side.
Don't have a cucumber? Try half a crispy apple.
---
Review our Mediterranean Quinoa-Lentil Salad with Fresh Herbs:
Thanks for your reviewing this recipe! We are looking over your comments and will post as many as possible.
---
Hadassah Z. on 6/26/2019
This looks so good, I am always looking for Quinoa recipes!
Rating: