All Recipes
|
Breakfast
|
Lunch & Light Dishes
|
Dinner
|
Treats
|
Key Recipes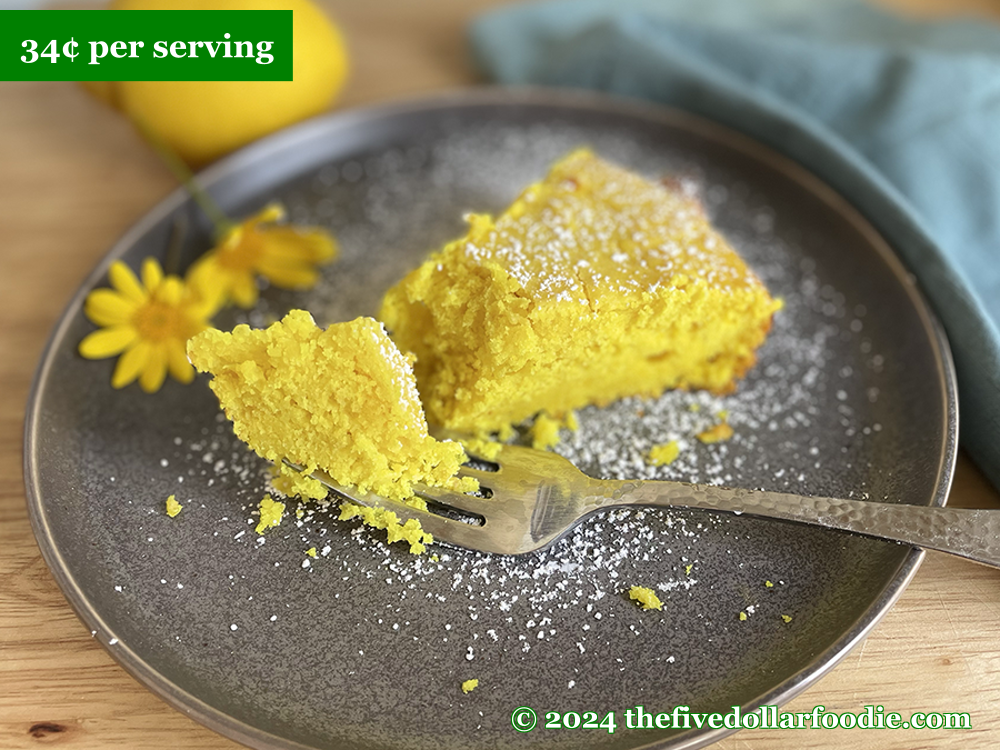 This lemony confection is an ideal summer treat. Fresh lemon zest and turmeric give a bright yellow hue to this moist cake, which can be garnished with confectioner's sugar or caramelized lemon slices. Served as a light dessert or with tea for an afternoon delight, it's great any time of the day. We even indulge in a slice with coffee for breakfast—it's that good.
Makes 8 Servings - 33¢ per serving Show Detailed Pricing
1 1/2 cups flour
2 teaspoons baking powder
1 teaspoon salt
3/4 teaspoon turmeric
1 lemon (plus 1 additional lemon for optional garnish)
3/4 cup sugar (plus optional tablespoon for garnish)
2 eggs
1/2 cup oil
3/4 cup milk or yogurt
* 2 tablespoons confectioner's sugar
*Optional ingredients are not counted towards pricing
Prep Time: About 15 minutes
Cook Time: About 35 minutes
Instructions:
Preheat oven to 350º and grease a 9" pie dish.
Whisk flour, baking powder, salt, and turmeric together and set aside.
Grate the zest of one lemon into a separate bowl. (If using an additional lemon for garnish, slice it into thin rounds and set aside.)
Add 3/4 cup of sugar to the lemon zest and blend together with fingertips. Squeeze in the juice from the one zested lemon (about 2 tablespoons). Then add the eggs, oil, and milk, and mix.
Add the wet ingredients to the dry ingredients and mix until just blended. Pour the cake batter into the baking dish, top with optional lemon slices and sprinkle with additional tablespoon of sugar (to caramelize the lemon slices), and bake until light golden brown, about 35-40 minutes.
Remove from oven and let cool. Garnish with optional confectioner's sugar and serve.
Notes:
Substitute plain yogurt for the milk if desired, which adds a bit of extra tang to the cake. You can also use a milk alternative such as coconut, almond, or oat milk for a diary-free version.
---
Review our Luscious Lemon Cake with Turmeric:
Thanks for your reviewing this recipe! We are looking over your comments and will post as many as possible.
---
Jean R. on 8/22/2021
Very lemony, extremely moist and very pretty with the lemon slices on top. It was a perfect summer dessert to serve to friends on our screened
porch last night! Thank you for such a treat.
Rating: