All Recipes
|
Breakfast
|
Lunch & Light Dishes
|
Dinner
|
Treats
|
Key Recipes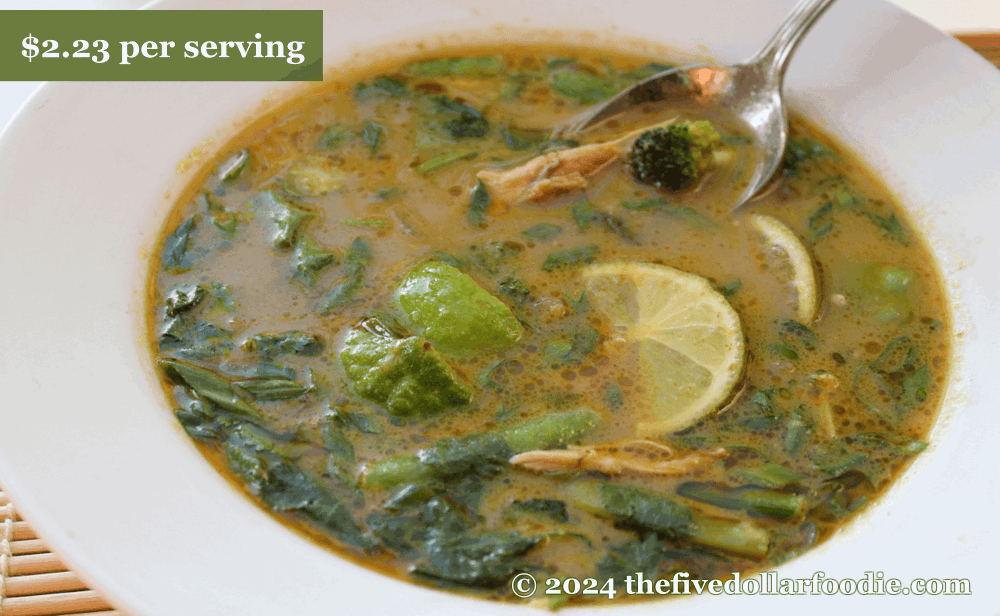 Green curry with lime is one of those dishes—when made this way—that leaves guests swooning and demanding the recipe. With tender, bright green vegetables and the fragrance of fresh cilantro, it melds gentle zings of spice and pepper with coconut milk and richly flavored chicken broth to create a tasty curried soup. Yes, a key to truly memorable green curry is making the broth from scratch, which provides deep flavor. But before you give up in despair and order a pizza, hear us out on the chicken broth! It can be made with leftover chicken bones and vegetables, so it is a great use of staples that would otherwise perish from neglect in the back of your refrigerator. Of course you can always use packaged broth enhanced with chicken bouillon (or chicken base), but give this a try—you won't regret it! For hearty appetites, serve the curry with jasmine rice.
Makes 6 Servings - $2.23 per serving Show Detailed Pricing
1 large green chile pepper (mild, like poblano or anaheim), cleaned and minced
1 potato, medium, cut in 3/4-inch dice
1/2 onion, diced
2 tablespoons oil (vegetable oil or other mildly flavored oil)
1/2 pound chicken breast, or thighs, boneless and skinless
32 ounces chicken broth
1 tablespoon green curry paste (or more, to taste)
* 1 chicken bouillon cube or chicken base (recommended if not using homemade chicken broth)
13 1/2 ounces canned coconut milk
2 limes, juiced
1 teaspoon salt, or more to taste
4 cups broccoli, snow peas, green beans, or other green vegetables
1 cup fresh cilantro, chopped
1 cup green onion, chopped
* 1 lime, cut into wedges (for garnish)
* 3/4 cup jasmine rice, cooked according to package instructions
*Optional ingredients are not counted towards pricing
Prep Time: About 10 minutes
Cook Time: About 35 minutes
Instructions:
In a medium-size frying pan sauté the diced potato and onion in 1 tablespoon oil over medium-high heat, stirring occasionally. Cook until lightly browned and tender, about 6 minutes, and set vegetables aside.
Add another tablespoon of oil to the pan and sear the chicken until light brown on one side, about 4 minutes. Turn the chicken, lower heat, cover pan and cook about 7 minutes more, until chicken is cooked through. Remove to a plate, and with two forks pull meat apart to shred it, making bite-size pieces. The chicken should still be tender and moist on the inside—you will cook it further in step 4, so don't worry if it is slightly undercooked.
In a medium-size soup pot, place the chicken broth, curry paste, and green chile and turn heat to medium-high. Also add the (optional) bouillon cube (or equivalent roasted chicken base, usually 1 teaspoon) to enhance flavor of packaged broth and stir until it dissolves.
Next, add to the pot the coconut milk, lime juice, cooked potato, onion, salt, and the cooked, shredded chicken. Bring to a low simmer and cook for about 2 minutes—until chicken is done all the way through. Remove stem ends from snow peas or beans; cut broccoli into bite-size florets. At the last minute before serving, add the vegetables to the pot. The curry is ready when the vegetables are just tender but still bright green. (Covering the pot or overcooking will cause them to discolor.)
Serve the curry hot and garnish each bowl with fresh cilantro, green onion, and a lime wedge (optional). If serving with rice, mound half a cup in the center of the soup bowl and spoon the curry around it, then garnish.
Notes:
For bouillon, we recommend a product such as \"Better Than Bouillon\" which is available at most grocery stores and does not list MSG as an ingredient.
If a milder curry is desired, discard the seeds and white interior membrane of the green chile pepper.
This is a light curry that is broth-based. If you prefer a richer, thicker curry, more of a stew, and are in the mood to splurge, you can reduce the chicken broth to 4 oz (or omit it entirely), increase the quantity of chicken to 3/4 lb, add extra green curry paste, and use 2 cans of regular, full-fat coconut milk.
---
Review our Lime-Coconut Green Curry with Chicken:
Thanks for your reviewing this recipe! We are looking over your comments and will post as many as possible.
---
Lisa A. on 11/14/2018
This is a delicious soup!! I just recently tried curry for the first time and love it! I am looking for recipes with curry that are simple and inexpensive and this really fills the bill.
Rating:
Kevin H. on 5/8/2018
I wanted this to be delicious, but it wasn't. I'm questioning the tiny amount of green curry paste in it ( 2 teaspoons?) when most similar recipes seem to have at least 2 Tablespoons. Also, once the coconut milk was added, the broth turned into a pale milky soup, nothing like the photo for this recipe. There also seemed to be way too little chicken. Anyway, I'm not even going to try it again to see if those changes would matter. I know I'm being picky but I'm grumpy from making something I didn't like and throwing it out.
Rating: