All Recipes
|
Breakfast
|
Lunch & Light Dishes
|
Dinner
|
Treats
|
Key Recipes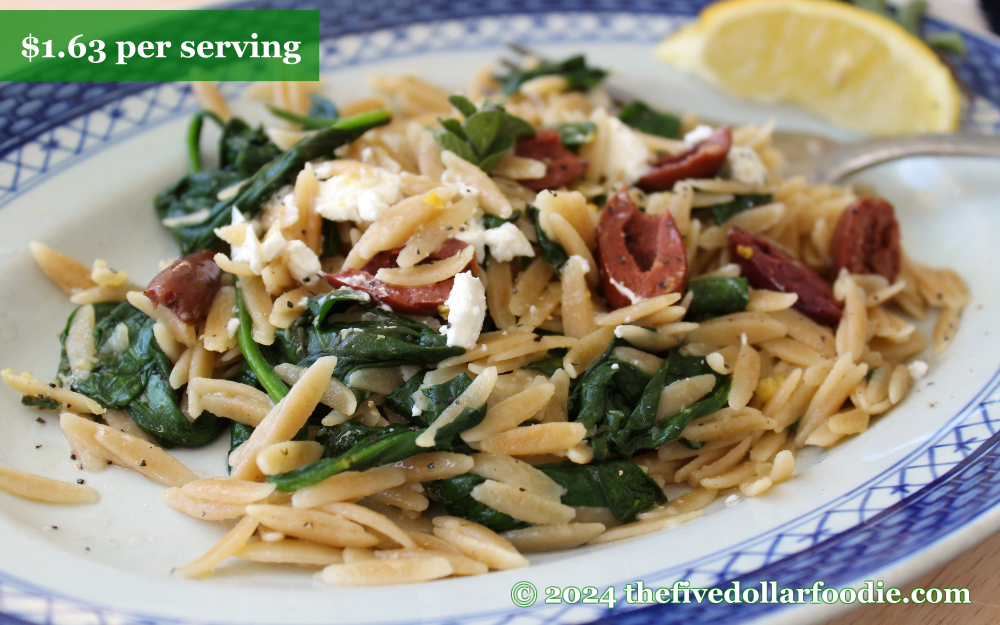 This light, flavorful dish is full of lemon-scented pasta, garlic, and hearty greens. It's so simple to make, which is another reason to love it. Serve it on its own or as a side dish (without the feta and olives) to accompany our Chicken with Plum Tomato and Prosciutto. Or you might like to add a few pieces of grilled chicken or fish with a squeeze of lemon on top. However you choose to enjoy it, this is incredibly easy and quick to prepare—all in one pot!—which makes it a staple at our house.
Makes 4 Servings - $1.63 per serving Show Detailed Pricing
1/2 pound orzo pasta
1/4 cup olive oil
3 cloves of garlic, peeled and minced
4 cups fresh baby spinach (about 4 oz), loosely packed (or regular spinach, chopped)
1 lemon, zested, then juiced (about 1/3 cup)
2 ounces kalamata olives, pitted and halved lengthwise
2 ounces feta cheese, crumbled
* 3 tablespoons fresh basil or oregano
1 pinch salt and pepper, to taste
*Optional ingredients are not counted towards pricing
Prep Time: About 5 minutes
Cook Time: About 15 minutes
Instructions:
Bring a large pot of water to a boil. Add the orzo and a good pinch of salt and cook according to package directions, until al dente, about 7 minutes. Drain the pasta in a colander with small holes (or a mesh strainer) and set it aside, along with about 1/4 cup of the pasta liquid (optional).
In the same pot you used to cook the pasta, heat about half of the olive oil with the garlic over medium low heat. Stir and cook about 1 minute or until the garlic is softened. Be careful not to brown the garlic or let the oil smoke. Add the spinach and sauté for 1 minute more, or until the leaves are lightly wilted. Remove the pot from heat.
Return cooked orzo to the pot with the spinach and stir in the remainder of the olive oil, half the lemon zest, the lemon juice and remaining 1/4 cup of pasta water for added liquid (if desired). Add the olives and feta cheese. Finish with a generous grind of fresh black pepper, salt to taste, and toss lightly. When serving, divide the remaining lemon zest among the portions and decorate with fresh oregano or basil, if you have it.
Notes:
Orzo is the Italian word for this rice-shaped pasta, which is found in Turkish, Arabic, Israeli, Spanish, and Greek cuisine. Hence, the Greek cheese and olives here.
For a vegan variation, omit the cheese.
We like whole wheat orzo, but regular orzo works great. For the whole wheat version, you may need to use a little extra oil.
---
Review our Lemon-Spinach Orzo:
Thanks for your reviewing this recipe! We are looking over your comments and will post as many as possible.
---
Anne D. on 9/5/2018
Amazing recipe. I added in tomato and it is just right! I also cooked my orzo in chicken broth which added to the flavor of this dish.
Rating: