All Recipes
|
Breakfast
|
Lunch & Light Dishes
|
Dinner
|
Treats
|
Key Recipes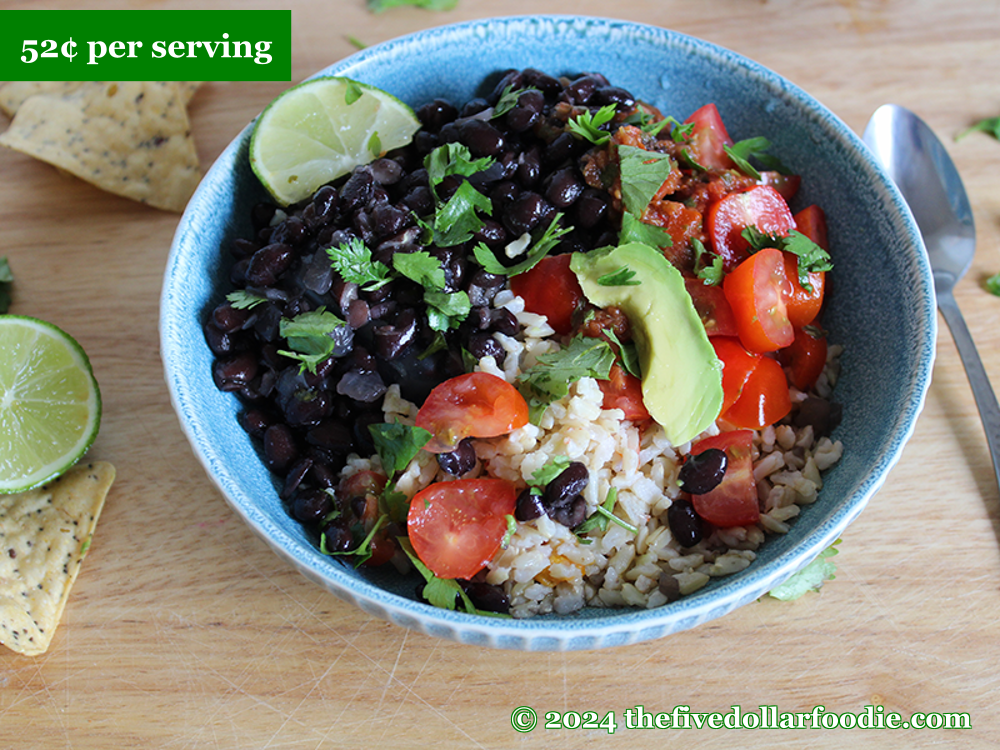 There's nothing quite like a big pot of delicious Latin-style beans. Beans are among the least expensive of all foods, yet they are extremely nutritious, full of flavor, and packed with fiber, protein, iron, and calcium. Preparing dried beans is much easier than you think, and it doesn't require overnight soaking. The result is surprisingly flavorful, creamy, tender beans, which you can serve so many different ways. You can use black or pinto beans with this recipe, and enjoy over rice. Add a garnish or two—salsa, sour cream, grated cheese, chopped cilantro, sliced avocado, diced tomatoes, fresh chopped spinach, or sautéed peppers and onion—or serve the beans wrapped up in warm tortillas. You can also serve them as a tasty side-dish. Save any leftover beans for a myriad of recipes that call for black beans (see our links below!).
Makes 10 Servings - 52¢ per serving Show Detailed Pricing
1 pound raw black beans (about 2 cups)
8 cups water
1 onion, chopped
6 cloves of garlic, peeled
1 teaspoon salt, to taste
2 bay leaves
1 teaspoon cumin
1 tablespoon olive oil
1 lime, juiced
For serving
2 cups rice
* 1 avocado, sliced
* 2 tomatoes, chopped
* 2 tablespoons fresh cilantro, chopped
* 1/4 cup salsa
* 1 cup fresh spinach or other green, chopped
*Optional ingredients are not counted towards pricing
Prep Time: About 60 minutes
Cook Time: About 90 minutes
Instructions:
Sort and rinse the beans to remove any debris. Soak the beans, either overnight or a quick-soak if you're short on time. Soaking the beans is optional but makes them much easier to digest. Overnight: Place the beans in enough water to cover them at least 2" above in a large pot and let stand overnight. Drain and rinse. For a quick soak: place the beans and plenty of water (as above) in a large pot and bring to a boil. Remove from heat, cover, and let stand for an hour; then drain.
Place the soaked beans and about 8 cups of water in the pot. Add the onion, garlic, salt, bay leaves, cumin, and olive oil. Bring to a boil, partially cover, and reduce heat to simmer. Cook about 1 1/2 hours, then test for doneness (depending on your beans, they may take more or less time). Add a little more water if you like more broth with the beans. If you prefer less liquid, uncover the pot while they cook to reduce the liquid.
Meanwhile, prepare the rice according to package directions. When the beans are done, squeeze the lime juice into the beans, stir, and adjust seasoning. Serve over rice, and add optional toppings.
Notes:
We use black beans for this recipe, but pinto beans, or other type of beans will also be delicious. You may have to adjust cooking times depending on the bean type.
The beans will keep for 3-5 days in an airtight container in the refrigerator. Save them and use them right away in other recipes below!
Related Recipes:
---
Review our Latin-Style Black Beans and Rice:
Thanks for your reviewing this recipe! We are looking over your comments and will post as many as possible.
---