All Recipes
|
Breakfast
|
Lunch & Light Dishes
|
Dinner
|
Treats
|
Key Recipes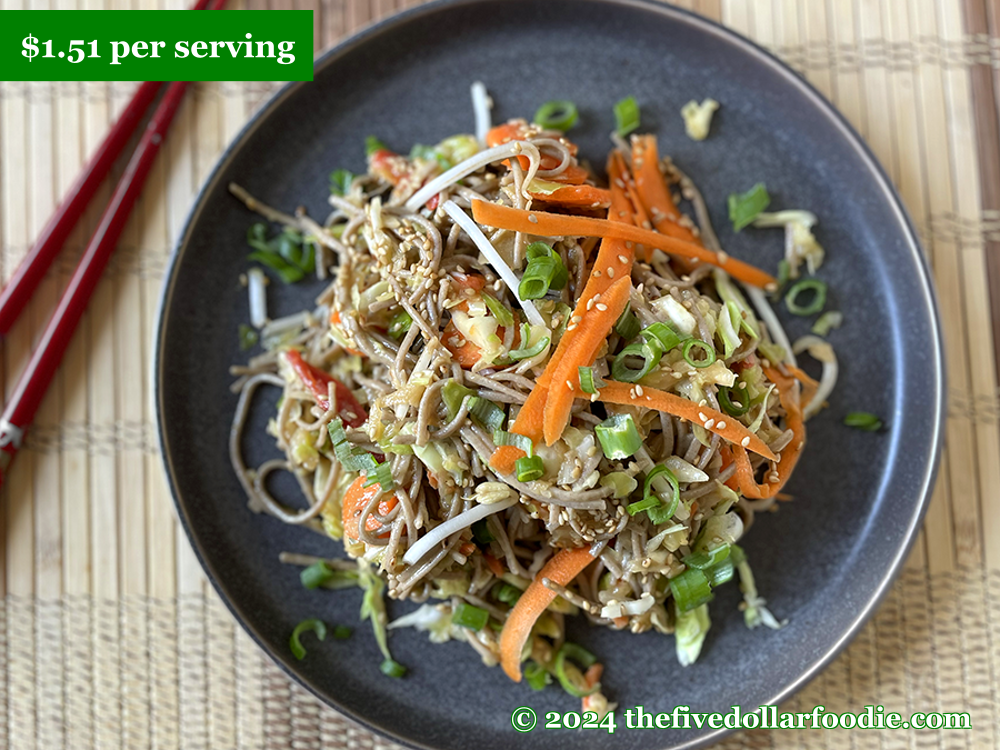 Japanese soba (buckwheat) noodles are readily available in most grocery stores and are especially good when served cold, with fresh vegetables and a bit of tamari or soy sauce. This is a great time to cut costs by chopping up a few fresh vegetables you have left over from other recipes. Cabbage, carrots, bell pepper along with any other available fresh vegetables compliment the flavor profile of the toasted sesame and umami of the soy sauce and honey. You'll impress everyone by preparing this healthful, delicious treat, which is vegan, and many brands of soba are also gluten free.
Makes 5 Servings - $1.51 per serving Show Detailed Pricing
10 ounces soba noodles
1/3 cup oil (vegetable, avocado or canola)
1/4 cup tamari soy sauce (or regular soy sauce if tamari isn't available)
3 tablespoons rice vinegar, to taste
4 teaspoons honey or agave nectar (for vegan preparation)
1 teaspoon sesame oil
1 teaspoon ginger, minced fresh or powdered
1/4 head of cabbage, shredded
4 carrots, shredded or chopped
1 bell pepper, chopped
1/4 cup green onion, chopped
Prep Time: About 20 minutes
Cook Time: About 5 minutes
Instructions:
Bring water to boil in a medium saucepan over medium-high heat. Boil the soba noodles in water for about 5 minutes, until cooked to al dente.
Drain noodles and rinse with cold water to prevent overcooking. Place noodles in a large bowl and stir in the vegetable oil to prevent them from sticking together.
In a large cup or small bowl, whisk together the tamari, rice vinegar, sesame oil, honey, and ginger. Add to the noodles and stir with a fork to distribute the dressing evenly.
Top with the chopped vegetables and any of the optional garnishes, below, before serving. You can also refrigerate this salad to allow some of the flavor profile to develop before serving.
Notes:
Optional garnishes to fancy up your salad include chopped peanuts, chili oil, toasted sesame seeds, miso, tofu, or bean sprouts.
Many brands of soba noodles are available gluten free—be sure to check packaging for details.
---
Review our Japanese Soba Noodles with Fresh Vegetables:
Thanks for your reviewing this recipe! We are looking over your comments and will post as many as possible.
---
Nolan P. on 9/22/2021
Delicious! And so cheap!
Rating: