All Recipes
|
Breakfast
|
Lunch & Light Dishes
|
Dinner
|
Treats
|
Key Recipes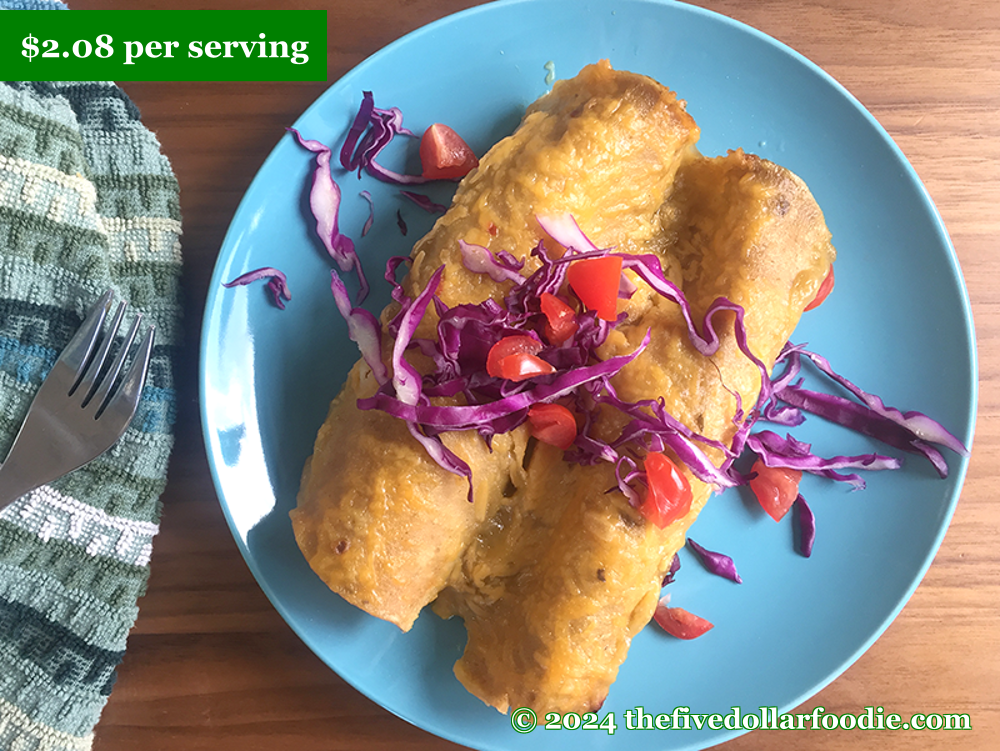 These are the tastiest, easiest enchiladas. Smothered in a tangy green chile sauce, tender chicken and assorted vegetables are sparked by a dash of cumin. We really like corn and spinach here, but you can use a variety of veggies, depending on what you have—bell peppers, zucchini, carrots, and mushrooms, to name a few.
Makes 6 Servings - $2.08 per serving Show Detailed Pricing
12 corn tortillas
2 chicken breast halves
2 tablespoons oil
1 onion, chopped
1 cup corn
2 cups fresh spinach, chopped
1/2 teaspoon cumin
1 pinch salt and pepper, to taste
20 ounces enchilada sauce (green chile)
8 ounces cheddar cheese (or jack), shredded
Optional garnishes
* 1/4 cup red cabbage, chopped
* 1 avocado, sliced
* 1 pinch fresh cilantro, chopped
* 1 tomato, chopped
*Optional ingredients are not counted towards pricing
Prep Time: About 10 minutes
Cook Time: About 45 minutes
Instructions:
Preheat the oven to 350º. Wrap the tortillas in foil and place them in the oven to warm while you prepare the filling (this makes the tortillas easier to roll without breaking).
Cut the chicken into half-inch cubes. Heat the oil in a large skillet over medium heat. When it shimmers, add the onion and saute one minute. Then add the chicken and saute for 4-5 minutes, or until the chicken is mostly cooked through. Add the corn and spinach (or other vegetables) and saute 2-3 minutes longer. Be careful not to overcook the chicken. Sprinkle with cumin, salt and pepper, and remove from the heat.
Carefully remove the tortillas from the oven. Place a tortilla in a 9 x 12" baking dish, add a spoonful of the chicken/veggie mixture and a sprinkle of cheese and roll it up. Continue the process until all tortillas are used.
Pour the enchilada sauce over the top and sprinkle on the remaining cheese. Cover with foil and bake about 30 minutes. Remove the foil and bake 5-10 more minutes, until the enchiladas are bubbling hot and the cheese is melted. Top with optional garnishes and serve.
Notes:
If you have leftover filling, you can sprinkle it on top of the enchiladas before baking, or place the filling in an airtight container and save it for another meal.
While we love a mild green chile enchilada sauce with this recipe, you can use a red sauce if you prefer—or why not both?
---
Review our Green Chile Chicken and Vegetable Enchiladas:
Thanks for your reviewing this recipe! We are looking over your comments and will post as many as possible.
---