All Recipes
|
Breakfast
|
Lunch & Light Dishes
|
Dinner
|
Treats
|
Key Recipes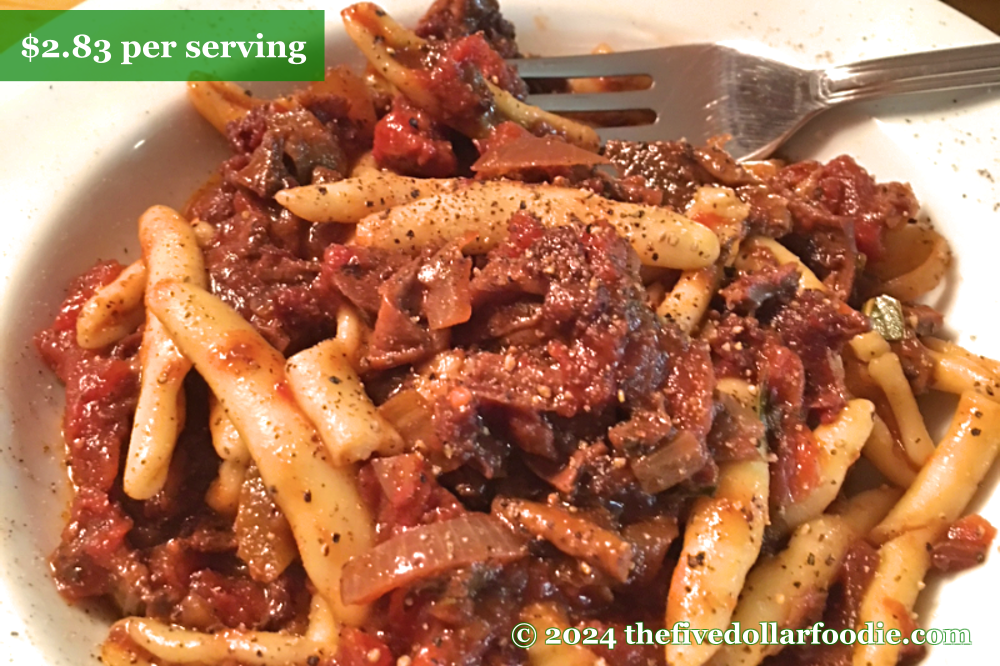 The Tuscan approach to food is probably the closest of all to our idealized vision of perfect country cooking: ingredients produced locally, used in season or "put up" for winter, making them affordable, and because they do not travel, they are fresher, better tasting and more healthful. Tuscany happens to be blessed with some of the planet's most exquisite produce, cheeses, meats and wines. This rustic sauce reflects the very essence of the region's bounty.
Makes 6 Servings - $2.83 per serving Show Detailed Pricing
1 ounce dried porcini mushrooms (or other dried mushrooms)
4 tablespoons olive oil
2 stalks of celery, diced
1 onion, chopped
1/8 pound prosciutto ham (about 4-6 thin slices), cut in strips
2 bay leaves
1/2 cup red wine
15 ounces canned crushed tomatoes
3/4 pound gemelli pasta (or other short pasta)
1/4 cup parmesan cheese, grated
1 tablespoon butter
1 pinch salt and pepper, to taste
Prep Time: About 15 minutes
Cook Time: About 40 minutes
Instructions:
Soak mushrooms in a small bowl with just enough hot water to cover them (about 8 ounces) for 30 minutes. Then drain mushrooms but save the soaking liquid. Dry mushrooms on paper towel and roughly chop them.
In a large skillet, gently heat olive oil over low heat and add the mushrooms, celery, onion and prosciutto. Cook to soften the ingredients but not to brown them, about 10 minutes, stirring occasionally.
Now add the bay leaves, wine, tomatoes and half the mushroom soaking liquid to the skillet (avoiding any grit remaining in the soaking bowl). Bring to a simmer, then reduce heat to maintain a lazy simmer for about 30 minutes, stirring occasionally. As the sauce cooks, place a large pot of water on high heat and bring it to a boil for the pasta. Add a tablespoon of salt and cover the pot.
Meanwhile remove bay leaves from the sauce and discard. The sauce should be nicely thickened but if it seems a little dry, add more \"mushroom water\" and a tablespoon or two of plain water if needed.
Cook the pasta in the boiling water until al dente. Taste it for doneness and drain. Combine pasta and sauce in the skillet. Add the parmesan cheese and butter and mix well. Spoon pasta with sauce into 6 bowls and finish with a generous grind of black pepper. Buon appetito!
Notes:
Dried porcini mushrooms ("piglets" in Italian) are full-flavored and concentrated. Other dried varieties will produce good results too. Save the soaking water and add some to the sauce during cooking for extra flavor. You are looking for a bold, thick, dark sauce that clings nicely to the pasta.
If you can't find gemelli, other short pasta like penne, cavatelli, rotini, rigatoni, and seashells hold a thick sauce as well.
Salt: the ham is salty enough to amply season the sauce. You won't need more.
---
Review our Gemelli with Rustic Tuscan Sauce:
Thanks for your reviewing this recipe! We are looking over your comments and will post as many as possible.
---
Dan F. on 2/11/2018
I am a father of two boys and picking up cooking:) I have just decided to do this and involve my boys in the process. . . What a wonderful idea the website is. The Gemelli recipe was very easy to understand and bring to completion. My 8 year old handled the cutting of the veggies and my 5 year old did most of the stirring. We had a blast! The sauce tasted great and the aroma of the dish was irresistible. Needless to say, we had a feast and I am already planning on cooking more recipes.
Rating:
Judy E. on 2/2/2018
Absolutely delicious! So glad to have found this recipe... the sauce was robust and flavorful. I can't believe how inexpensive it is, it tastes like it should cost a lot more. Can't wait to make it again. Keep them coming, haven't been disappointed yet!
Rating: