All Recipes
|
Breakfast
|
Lunch & Light Dishes
|
Dinner
|
Treats
|
Key Recipes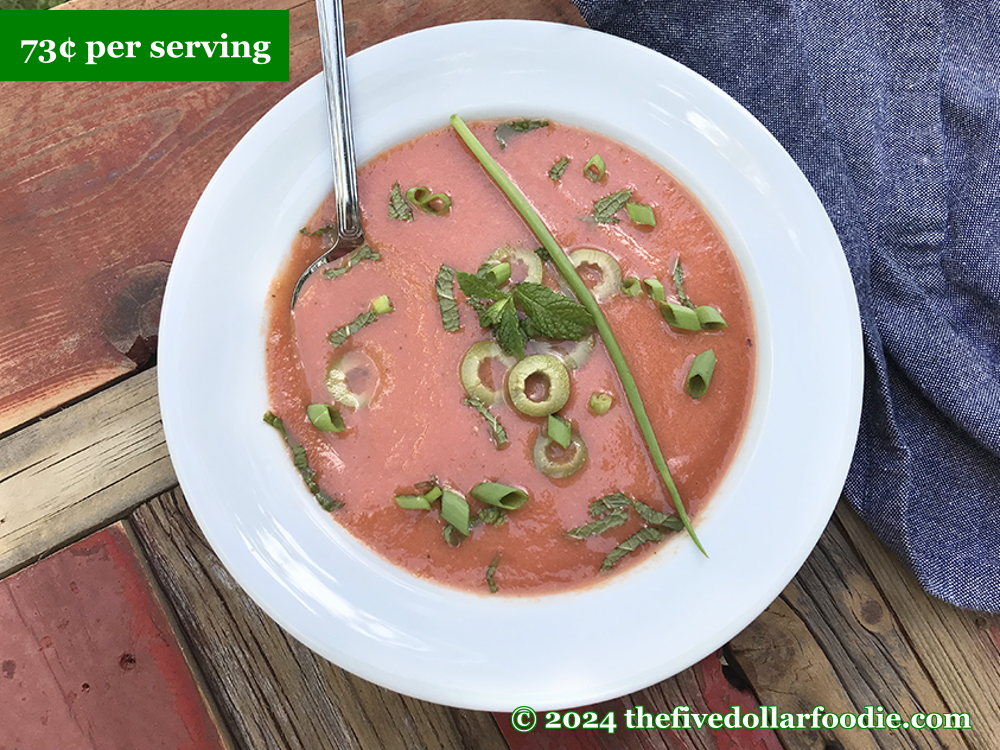 Cool, refreshing, and bright with tomatoes, this soup originated in southern Spain, where summers get really hot. Perfect for a summer night at home, perfect as a party appetizer served in small glasses, perfect for lunches and picnics, gazpacho fits our agenda in every way. It's healthful, inexpensive, simple to make, and full of lively flavors.
Makes 6 Servings - 73¢ per serving Show Detailed Pricing
1 slice of bread, cubed (enough to make 1/2 cup)
1/2 cup water (to soak the bread)
3 tablespoons balsamic vinegar
3 tablespoons olive oil
3 tablespoons onion, chopped
1 clove of garlic
28 ounces tomato (1 can, with juices) or 2-3 large fresh tomatoes, roughly chopped
2/3 cup water
1/4 teaspoon salt
1/4 teaspoon black pepper
1/8 teaspoon red pepper flakes
1/2 teaspoon oregano (or thyme)
* 1/2 cucumber, diced
* 1/3 cup olives, sliced
* 1/3 cup green onion, sliced
*Optional ingredients are not counted towards pricing
Prep Time: About 15 minutes
Instructions:
Soak the bread in 1/2 cup cold water for about 10 minutes, until it softens. Meanwhile, assemble the other ingredients and place them all (except the optional garnishes) in a blender or food processor: vinegar, olive oil, onion, garlic, tomatoes, 2/3 cup water, salt, black and red pepper, and oregano or thyme.
Add the bread-water mixture and blend until the soup is smooth. Taste for seasoning and add more salt and pepper if you like. Canned tomatoes may already be salted; fresh tomatoes may require more salt.
If the soup seems too thick, add a little more water. Chill the soup for 30 minutes before serving—or start with chilled ingredients and skip the chilling (see note below). Garnish each bowl when serving or pass the garnishes around.
Notes:
To speed things along, chill the tomatoes in advance and use ice water in the soup (but not for soaking the bread).
Red tomatoes are traditional, but the soup is also a knockout with orange or yellow tomatoes. You can even make two batches, one red and the other yellow or orange, and ladle them side by side into bowls to serve.
Replace the oregano with thyme if that's what you have, or try chopped fresh mint or cilantro. The soup can be made ahead and refrigerated overnight with excellent results, as the flavors meld.
---
Thanks for your reviewing this recipe! We are looking over your comments and will post as many as possible.
---