All Recipes
|
Breakfast
|
Lunch & Light Dishes
|
Dinner
|
Treats
|
Key Recipes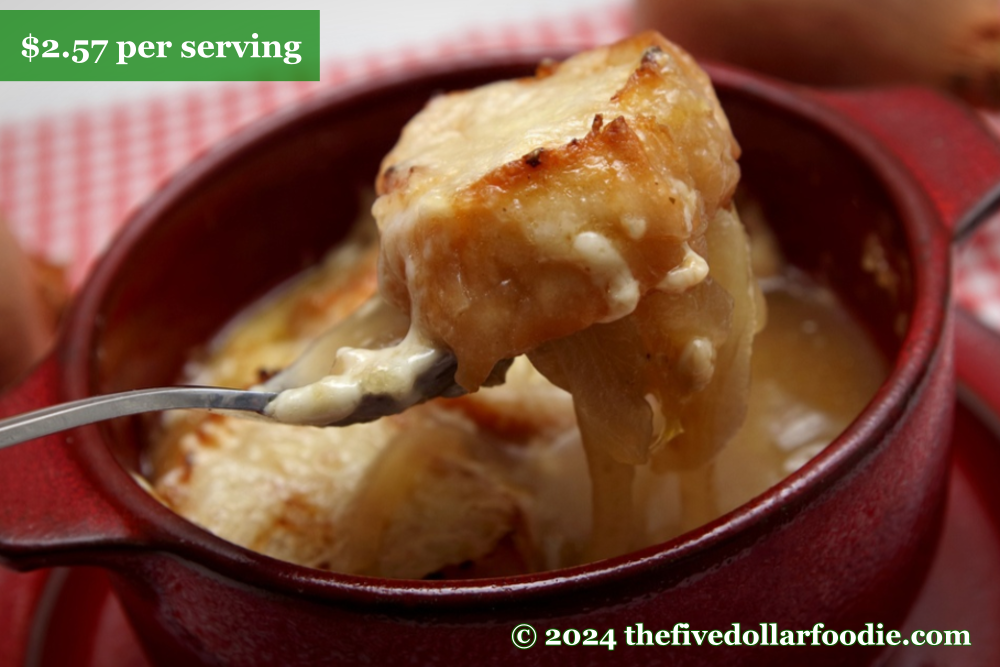 French onion soup is a classic, originating as a super-inexpensive but warming supper in 18th-century Paris. We especially love this dish on cold winter evenings. The rich flavors of the beef broth are complemented by caramelized onions and melted gruyere (if you can't find an inexpensive one, you can use swiss cheese instead). Onions are cheap, flavorful, and good for you, too—they are packed with vitamin C, flavonoids, and phytochemicals (compounds that have been shown to prevent some diseases). Our recipe is inspired by Julia Child, though we take a few cost- and time-saving shortcuts. We use water in addition to the beef stock, and you can repurpose your stale French bread here. This also is a perfect dish to freeze for another day.
Makes 8 Servings - $2.56 per serving Show Detailed Pricing
3 tablespoons oil (or butter)
6 cups onion, sliced thinly
1 teaspoon sugar
3/4 teaspoon salt
3 tablespoons flour
1/2 cup white wine
32 ounces beef broth
4 cups water
1 baguette (about 10-oz), sliced into rounds
1/2 pound gruyere cheese (or swiss cheese), grated
1 pinch salt and pepper, to taste
* 1 teaspoon parsley, chopped
* 3 tablespoons cognac
*Optional ingredients are not counted towards pricing
Prep Time: About 10 minutes
Cook Time: About 60 minutes
Instructions:
In a large covered saucepan, cook onions in oil or butter slowly over low heat until they are softened, about 10 minutes. Uncover, sprinkle in sugar and salt, and cook over medium-high heat until browned, about 20 minutes, stirring every few minutes. The sugar helps caramelize the onions to a rich brown color. Then add the flour and stir for a few more minutes.
Remove the pan from heat and slowly and carefully pour in the wine, beef broth, and water. Add salt and pepper to taste. Reduce heat to low and simmer for about 30 minutes (if you're short on time, you can simmer for less time, or let it simmer longer to allow the flavors to develop further). Add the cognac just before serving.
Meanwhile, preheat the oven to 350 degrees. Place the rounds of sliced baguette on a sheet pan and put half the cheese on top of the rounds. Bake them for about 10-15 minutes, until the cheese is nicely melted and the bread lightly browned.
Ladle the soup into bowls, stir in the remaining grated cheese and top with 2 or 3 of the bread rounds. Sprinkle with chopped parsley if you like, and serve it up.
---
Review our French Onion Soup:
Thanks for your reviewing this recipe! We are looking over your comments and will post as many as possible.
---
Judy E. on 2/2/2018
This was really easy to make and the perfect dinner for a cold winter evening. I'm glad to find a recipe that didn't require baking it in the oven afterwards, as is traditionally done, much easier this way. We had extra leftover and was great for lunch the next day!
Rating:
Jason H. on 1/19/2018
I recommend adding a little red wine, worked great for me!
Rating: