All Recipes
|
Breakfast
|
Lunch & Light Dishes
|
Dinner
|
Treats
|
Key Recipes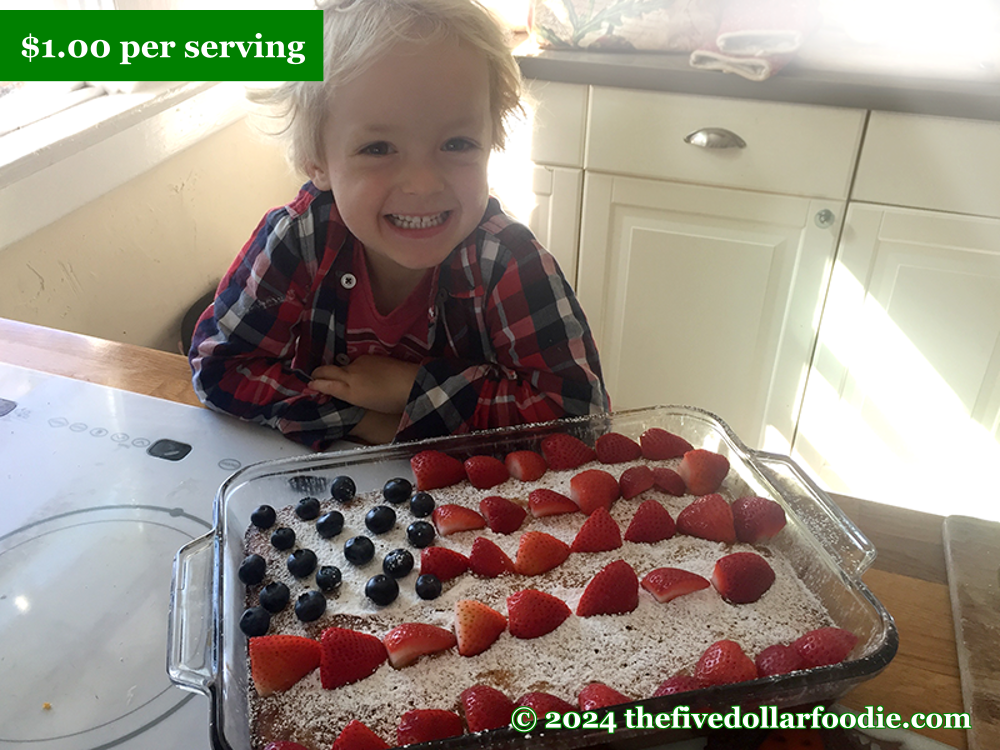 It wouldn't be the Fourth of July without this cake. So carefree, and you can share the fun by letting family or friends help you decorate it. Our quick vanilla cake, dusted with confectioner's sugar, is topped with fresh strawberries (or raspberries) and blueberries. You can use almost any basic cake recipe, such as our Almond Cake, or substitute a good gluten-free baking flour in what is likely to become a family favorite—for generations—as it is in ours!
Makes 8 Servings - $1.00 per serving Show Detailed Pricing
1 3/4 cups flour
3/4 cup sugar
1/2 teaspoon salt
2 teaspoons baking powder
1/3 cup oil, mildly flavored
2 eggs
1/2 cup milk
2 teaspoons vanilla extract
For the topping:
1 pound strawberries, halved
1/4 cup blueberries
2 tablespoons confectioner's sugar
Prep Time: About 15 minutes
Cook Time: About 30 minutes
Instructions:
Preheat the oven to 350º and grease a 9 x 12" baking pan with oil or butter. Sift the dry ingredients (flour, sugar, salt and baking powder) together in a large mixing bowl.
Add the oil, eggs, milk, and vanilla extract and beat with a whisk or an electric mixer for 2-3 minutes, until well-blended.
Bake the cake for 25-30 minutes, until it is light golden brown. You can also test for doneness by pressing lightly at the center of the cake with your finger to see if the cake springs back. Remove cake from the oven and let it cool. Then dust with confectioner's sugar and arrange the berries on top.
Notes:
Make this cake gluten-free by substituting a good gluten-free baking flour. You can also make it dairy-free by using coconut milk for regular milk.
For a richer taste, replace the oil with 1/2 cup soft butter
Related Recipes:
Almond Cake - Another great cake recipe that lends itself well for the Fourth of July.
---
Review our Fourth of July Cake:
Thanks for your reviewing this recipe! We are looking over your comments and will post as many as possible.
---