All Recipes
|
Breakfast
|
Lunch & Light Dishes
|
Dinner
|
Treats
|
Key Recipes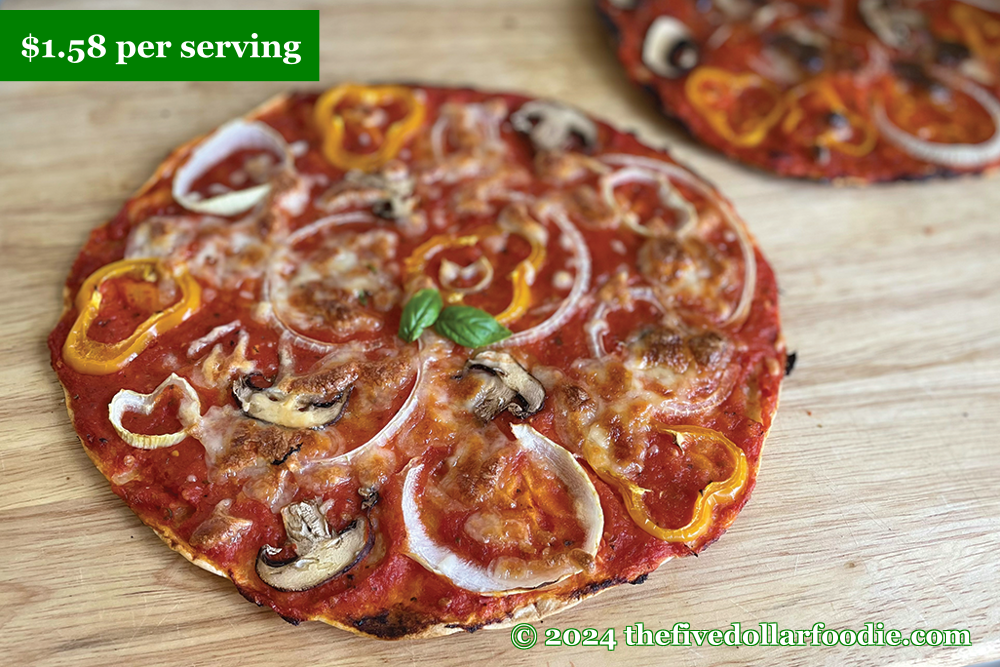 Flatbread pizza is good, fast, and cheap! Our kitchen hackers discovered that an uncooked (raw) flour tortilla delivers the perfect consistency of a thin crust loaded with sweet tomato sauce, veggies, and a sprinkling of goat cheese—a real treat. It makes a quick dinner, or a tantalizing appetizer that you can serve guests. Alternatively, you can use a cooked flour tortilla, if uncooked aren't available at your local grocer. For a gluten-free flatbread, tortillas without gluten are commonly available at most grocery stores. Napoletana, by the way, is an uncomplicated sauce of tomatoes combined just with olive oil, salt, and oregano—a beautiful example of less is more.
Makes 4 Servings - $1.58 per serving Show Detailed Pricing
4 tortillas flour, use larger sizes (8" or 10") - uncooked are best for this recipe
2 cups tomato sauce
Toppings:
1/2 cup onion, thinly sliced
1 cup mushrooms, thinly sliced
2 ounces goat cheese, crumbled
Prep Time: About 10 minutes
Cook Time: About 30 minutes
Instructions:
Preheat the oven to 450 degrees. Line a large baking pan or sheet with parchment paper (so that the flatbreads won't stick when baked), and place two tortillas on it. If you have two large baking sheets, you can cook four at a time, on the upper and lower oven racks.
Spoon a few tablespoons of sauce onto the tortillas and spread the sauce evenly into a thin layer using the back of the spoon or a spatula, covering the entire tortilla (any areas that aren't covered with sauce will burn). The trick is to keep the layer of sauce as thin as possible. Sprinkle the thinly sliced onions and mushrooms on top, and add the goat cheese.
Now bake the flatbread in the oven for about 20 minutes or until the crust is crisp, the goat cheese has melted, and the veggies are  caramelized.
If a crisper crust is desired, transfer the flatbreads to a nonstick frying pan or skillet and cook over medium heat for 2-3 minutes more, or until the crust has turned golden brown on the bottom.
Cut into slices and serve hot.
Notes:
You can substitute other vegetables that you have on hand—like bell peppers, spinach, tomatoes, zucchini, artichoke, and eggplant.
Be sure to cut the veggies (except for the spinach) into thin slices so they will cook evenly to a golden brown.
If you want to prepare fewer servings, keep the remainder of the veggies in the refrigerator and store the extra sauce in an airtight container in the refrigerator (or freezer) for more pizzas at a later time. You can also use the extra sauce in another recipe, such as our Farmhouse Sausage and Vegetable Soup.
For the tomato sauce, a jar sauce will do or you can make your own sauce from scratch.
For an individual serving, you can also bake the flatbread in the toaster oven.
Related Recipes:
---
Review our Flatbread Napoletana:
Thanks for your reviewing this recipe! We are looking over your comments and will post as many as possible.
---