All Recipes
|
Breakfast
|
Lunch & Light Dishes
|
Dinner
|
Treats
|
Key Recipes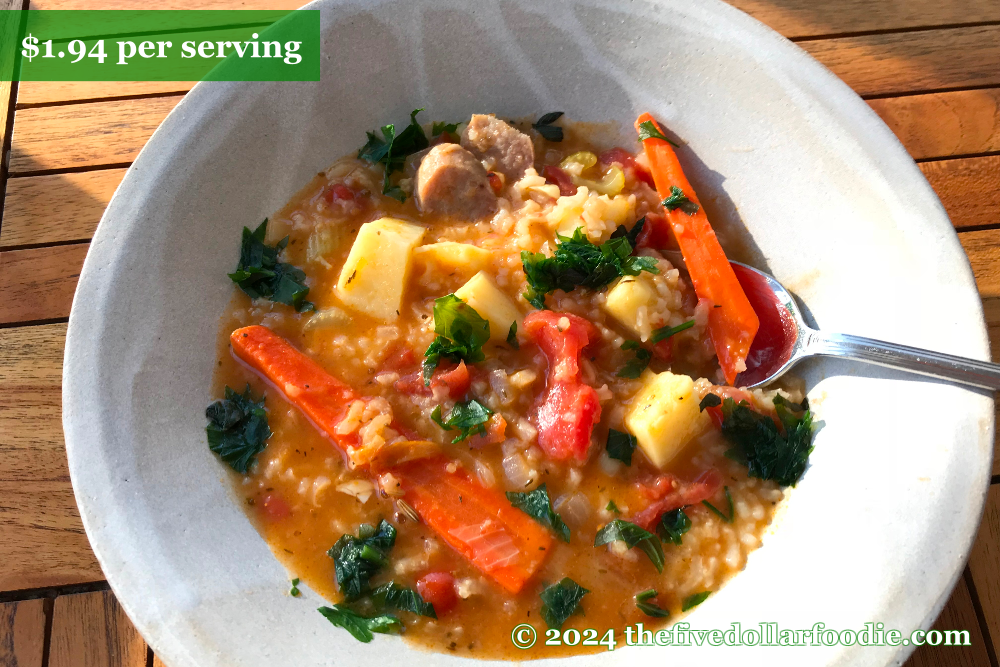 Everyone is hungry, we forgot to shop, and of course the fridge is almost bare. This awesome accidental soup—it's thick, more like stew, and full-flavored—surprised even the cook when it was ready. From the fridge came 4 carrots, 3 sausages, 2 potatoes, 1 carton of chicken broth, some leftover marinara sauce and a takeout box of rice. With a little oil, garlic, and dried herbs, we were enjoying a fantastic supper 30 minutes later. The best thing about this concept is it can be made with pretty much any veggies and protein you have around. These particular ingredients, though, evoked southern France's legendary Provencal region, and so we chose oregano, basil, thyme and garlic, along with fennel if you have it, for a consistent flavor profile.
Makes 6 Servings - $1.94 per serving Show Detailed Pricing
3 precooked sausages (chicken and apple, spicy Italian, or pork)
2 tablespoons olive oil
6 cloves of garlic, peeled and minced
32 ounces chicken broth (or a combination of broth and water)
2/3 cup water
4 carrots, peeled, sliced lengthwise, then halved
1 cup tomato sauce
1 potato (white or sweet), cut into small cubes
1/3 cup rice (white, uncooked)
1 teaspoon oregano
1 teaspoon basil
1 teaspoon thyme
* 1 teaspoon fennel seed
* 1 pinch red pepper flakes
1 tablespoon parsley, chopped
1/2 lemon, juiced
*Optional ingredients are not counted towards pricing
Prep Time: About 10 minutes
Cook Time: About 20 minutes
Instructions:
Slice the sausages into 1/4-inch rounds. Heat the oil in a medium-size pot (enamel or cast iron if you have one), until it shimmers, and add the sausages. Cook until the meat is slightly colored, about 3 minutes.
Then add all the other ingredients to the pot (including half the fresh parsley) along with salt and pepper to taste, and bring to a simmer. Cover the pot and cook until the vegetables are done (easily pierced by a fork) and the soup is nicely thickened, about 20 minutes. If it's too thick, add a little extra water as it cooks. The soup also benefits from "resting"—sitting off the heat for 5-10 minutes before serving, but this isn't necessary.\n
Taste and adjust the seasonings. Add the remaining parsley now, or the juice of half a lemon and soup's on!
Notes:
Note: If you have leftover pre-cooked rice, you may substitute a cup of that instead of 1/3 cup uncooked rice, and omit the extra 2/3 cup of water.
---
Review our Farmhouse Sausage and Vegetable Soup:
Thanks for your reviewing this recipe! We are looking over your comments and will post as many as possible.
---
Molly C. on 5/19/2019
Delicious! I highly recommend this soup - super hearty and perfectly seasoned.
Rating:
Judy E. on 2/5/2019
This is by far my favorite recipe in your collection. I make it often and add various vegetables I have in my refrigerator or garden. I serve it to guests a lot, too--in fact, I served it last night to German neighbors who are great cooks and they LOVED it. I use chicken-and-spinach sausage, and veggies I add sometimes are squash, mushrooms, spinach, and barley (is that a vegetable?) And I always use brown rice that I cook in advance. The thyme, oregano and basil make it!! Thank you for this scrumptious recipe.
Rating:
Michael G. on 5/12/2018
A wonderful meal...easy and quick...full of flavor; especially today as it is cold and rainy - perfect for an "end of the day" meal...
Rating:
Kevin H. on 2/15/2018
This soup has terrific flavor and is simple to make. I'm still confused on the rice part though...is it a cup of cooked rice or a cup of raw rice cooked separately?
Rating:
Judy E. on 2/2/2018
We like this soup a lot, surprisingly good! I love how easy and quick it was to make. This will be a new staple recipe for our household.
Rating: