All Recipes
|
Breakfast
|
Lunch & Light Dishes
|
Dinner
|
Treats
|
Key Recipes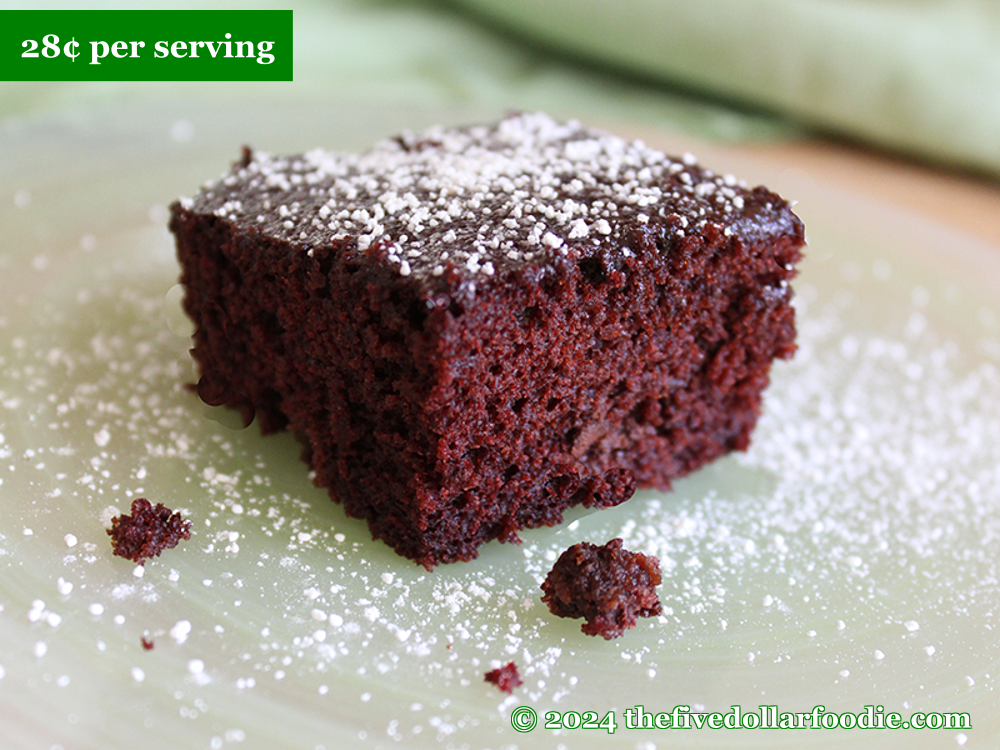 Otherwise known as "Wacky Cake," this World War II-era confection was innovated from basic pantry staples—without requiring any butter, eggs, or milk. Just throw all of the ingredients in a bowl, stir, and bake. The result is an incredibly moist and delicious chocolate treat that can be assembled in minutes (even with the help of toddlers!). Dusted with confectioner's sugar, this cake makes for a gratifying dessert or with tea in the afternoon. We love topping it with a few berries, if in season. It never lasts more than a day in our house, but you can keep the cake in an airtight container in the fridge for several days.
Makes 8 Servings - 28¢ per serving Show Detailed Pricing
1 1/4 cups flour
1 cup sugar
1/3 cup cocoa powder (unsweetened)
3/4 teaspoon baking soda
1/2 teaspoon salt
1 cup water
1/3 cup oil (canola or other vegetable oil)
1 teaspoon vanilla extract
1 teaspoon apple cider vinegar (or white vinegar)
1/4 cup semisweet chocolate chips
* 3 tablespoons confectioner's sugar (for dusting the top)
*Optional ingredients are not counted towards pricing
Prep Time: About 10 minutes
Cook Time: About 30 minutes
Instructions:
Preheat oven to 325º. Whisk the flour, sugar, cocoa powder, baking soda, and salt in a large mixing bowl.
Add the water, oil, vinegar, and vanilla extract and stir to blend, until the mixture is smooth and free from lumps. Add chocolate chips and stir to combine.
Pour into an 8 x 8" square or 9" round baking dish, and bake for about 30 minutes. The cake is done when a toothpick inserted comes out clean, and the top center is springy if you gently press on it.
Remove from the oven, let it cool, and dust with confectioner's sugar.
Notes:
Don't omit the vinegar -- though you may be wondering about the strong flavor and how it will taste, it reacts with the baking soda to give rise to the cake as it bakes.
This version has been edited to include a full cup of sugar, though we often will only use 3/4 cup to cut the sweetness. Don't skip the chocolate chips -- it really makes the cake tastier.
For a delicious gluten-free version, substitute a good gluten-free one-to-one baking flour mix, such as one made from rice flour. We couldn't taste the difference!
---
Review our Easy Chocolate Cake:
Thanks for your reviewing this recipe! We are looking over your comments and will post as many as possible.
---
S M. on 5/27/2020
Have no idea what I did wrong... Cake didn't seem to rise, so is a bit stodgy (like a brownie only without the density and richness) :(
Rating:
Michael G. on 5/9/2020
Perfect! This was so easy to make and straight forward. Another recipe to have when you want a quick sweet treat for yourself or to impress your friends... I didn't need to make it sweeter as it was perfect and the chocolate was satisfying ...Don't fear the vinegar and the chocolate chips for an extra treat is a must + a dusting of the confectioner's sugar makes it complete...
Rating:
Joy W. on 5/9/2020
This cake is quite moist and seems to taste better after a day in fridge and with a frosting. (IMO) Otherwise, almost gummy -not sure if that is because of water and oil? It is a crazy fast cake to whip up and extraordinarily similar to a cake I recently saw on Jenny Can Cook blog. I think I also read somewhere that the water can be replaced with coffee? Anyway, good cake in a pinch, definitely no complaints to ease to put together!
Rating:
Amy S. on 5/9/2020
This is the easiest recipe ever! Don't forget to line the pan with parchment paper - it's a must.
Rating: