All Recipes
|
Breakfast
|
Lunch & Light Dishes
|
Dinner
|
Treats
|
Key Recipes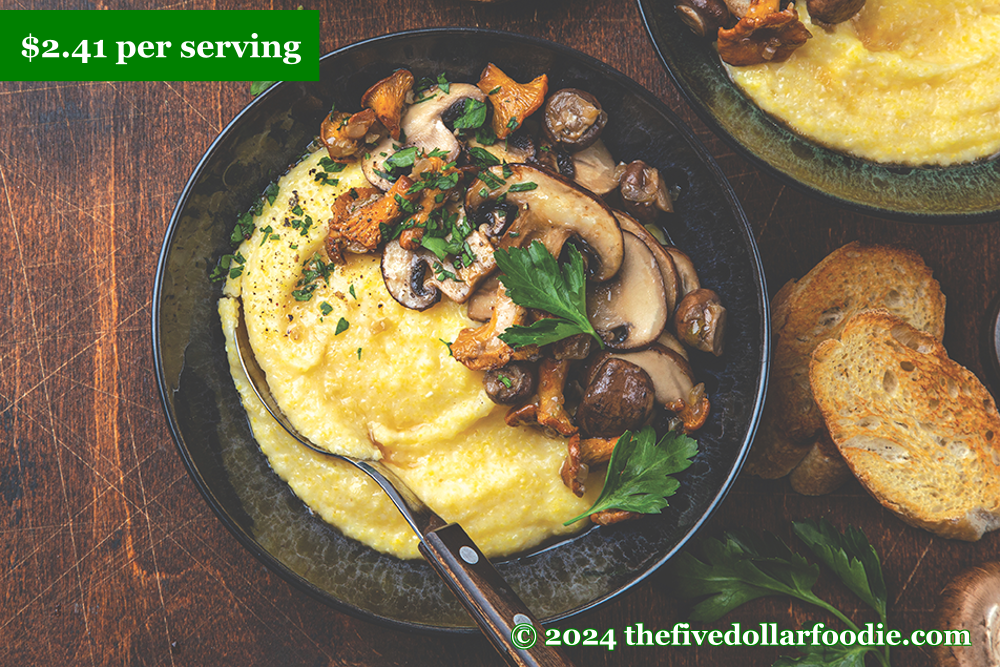 This is quintessential, rustic Italian comfort food. Polenta differs slightly from what we know as cornmeal but nearly any available yellow or white cornmeal will do the job. Remember, "available" and "economical" are our watchwords! It's deliciously creamy, and offers and impressive meal for just pennies. I'll never forget when Carol and I (Hugo) climbed stone steps to a tiny restaurant perched precipitously over Lake Lugano. In the giant fireplace, suspended on rusty chains over low embers, was a massive black pot of...that's right, bubbling creamy polenta.
Makes 4 Servings - $2.41 per serving Show Detailed Pricing
4 tablespoons olive oil
1 tablespoon butter
2 1/2 cups mushrooms cremini or white button mushrooms, sliced
1 pinch salt and pepper, to taste
1 onion, chopped
1 pinch oregano
3 ounces marsala (or white wine)
3 cups chicken broth
1 cup polenta (or cornmeal)
8 tablespoons parmesan cheese, grated
* 1 pinch fresh parsley, chopped
*Optional ingredients are not counted towards pricing
Prep Time: About 5 minutes
Cook Time: About 15 minutes
Instructions:
In a saucepan, set 4 cups of water to boil over medium heat.
Meanwhile, place a skillet over medium heat and add 2 tablespoons oil and the butter. Add mushrooms, pinches of salt and pepper to the skillet and sauté mushrooms about 5 minutes, stirring or shaking occasionally to lightly brown them. Add onion and oregano and stir, cooking an additional 2 minutes to soften onion.
Pour marsala into skillet and bring to a simmer, then add broth and simmer another 2 minutes. Reduce heat and simmer gently for a few more minutes. Turn off heat and cover to keep warm.
Pour cornmeal slowly into boiling water, add 1/4 teaspoon salt and stir. Bring back the boil, reduce heat, and stir occasionally for about 5 minutes. Stir in remaining olive oil and half the parmesan. Cornmeal will be thick and water absorbed. Taste for salt and doneness. If cornmeal is still a little hard, cook a few minutes longer, adding more water if necessary so the polenta is thick and creamy.
Serve right away, ladling cornmeal into 4 shallow bowls and spoon mushrooms and cooking liquid in a ring around each serving. Toss a generous pinch of chopped parsley, if using, on top of each serving. Pass around the remaining cheese at the table.
Notes:
If you don't have marsala, you might have some leftover white wine, which will still add fabulous flavor.
Almost everyone uses an Italian cheese of some sort. Whatever you have on hand works: romano, asiago, parmesan, even provolone.
Olive oil has wonderful flavor, but blending it with a little canola or safflower oil for sautéing helps to bring down the price.
---
Review our Creamy Polenta with Mushrooms:
Thanks for your reviewing this recipe! We are looking over your comments and will post as many as possible.
---
Linda M. on 2/2/2018
Warm and filling. Tasty as well. And except that I went out and bought the marsala it was inexpensive. Will now need recipes (perhaps chicken marsala?) to bring down the cost of using the wine.
Rating:
Michael G. on 1/26/2018
This was very good. For my taste, I would chop the mushrooms finer, as well as the onion - I did add minced garlic...The flavors worked well together - and the polenta came out very creamy - I added extra cheese. (I'm Italian)...don't leave out the wine, it is such a good flavor and balance with the mushrooms...
Rating: