All Recipes
|
Breakfast
|
Lunch & Light Dishes
|
Dinner
|
Treats
|
Key Recipes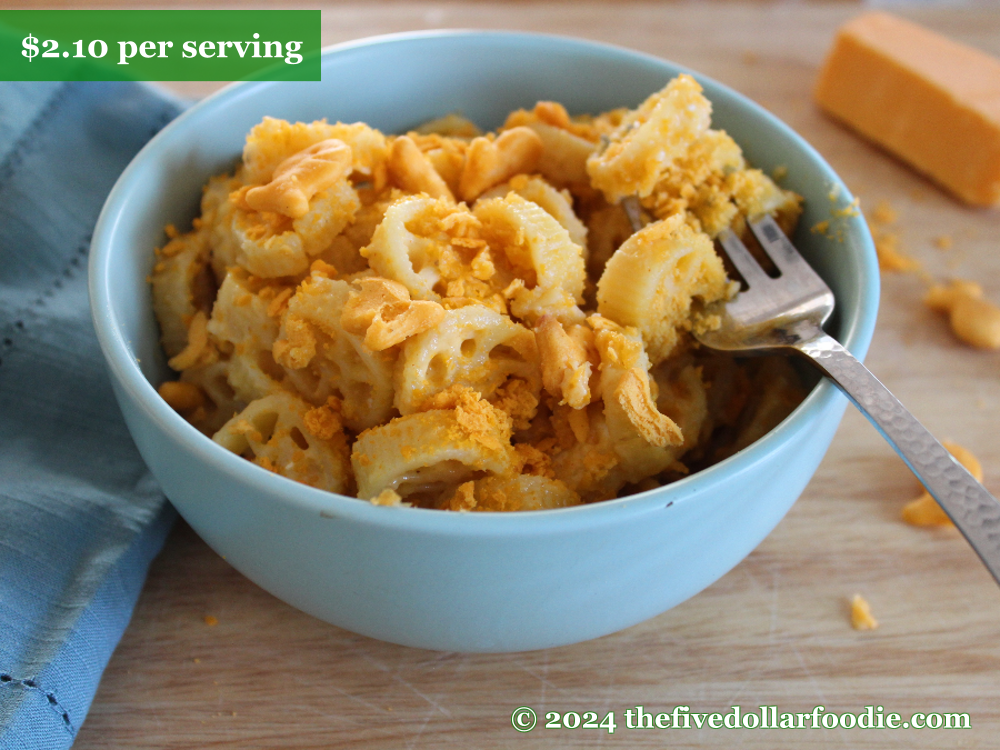 We've spent years perfecting this recipe— it's so creamy and decadent that we only serve it to friends and family on very special occasions. The secret lies not only in the ingredients but how you make it as well. We start with al dente pasta, coated in olive oil or butter to maintain a freshly cooked texture. This is absolutely key, because it prevents the sauce from being absorbed by the pasta. (Yes, yes, that style has its fans, but try this before you decide!) We fold in a creamy cheese sauce absolutely loaded with the flavors of sharp cheddar and aged parmesan. Last, to add a bit of crunch, we layer cheddar goldfish crackers on top—guaranteed to bring smiles.
Makes 8 Servings - $2.10 per serving Show Detailed Pricing
1 pound pasta, uncooked (macaroni, shells, or wagon wheels)
8 ounces cheddar cheese, shredded, sharp cheddar works best
8 ounces parmesan cheese, shredded, aged parmesan works best
3 cups heavy cream (24 ounces)
1/4 cup olive oil
2 teaspoons black pepper
1/4 teaspoon nutmeg, ground
1 cup crackers, cheddar goldfish crackers work best
Prep Time: About 10 minutes
Cook Time: About 15 minutes
Instructions:
Bring a large pot of water to a boil. Add a pinch of salt and the pasta and cook until al dente, according to package directions.
When pasta is done, remove from heat and coat with olive oil (or butter) and stir thoroughly then set aside. Make sure you do this step or the pasta will absorb all of the cheese sauce.
Heat the heavy cream over low heat in the same large pot that you used to boil the pasta. Stir in grated cheeses, pepper, and nutmeg, until they have completely dissolved. Make sure you do not let the mixture get too hot or the cheese sauce could separate.
Remove from heat and add the pasta to the cheese sauce. Stir to coat all of the pasta.
To serve, top with crumbled cheddar goldfish crackers and a few whole goldfish crackers for extra flair.
---
Review our Creamy Mac and Cheese:
Thanks for your reviewing this recipe! We are looking over your comments and will post as many as possible.
---