All Recipes
|
Breakfast
|
Lunch & Light Dishes
|
Dinner
|
Treats
|
Key Recipes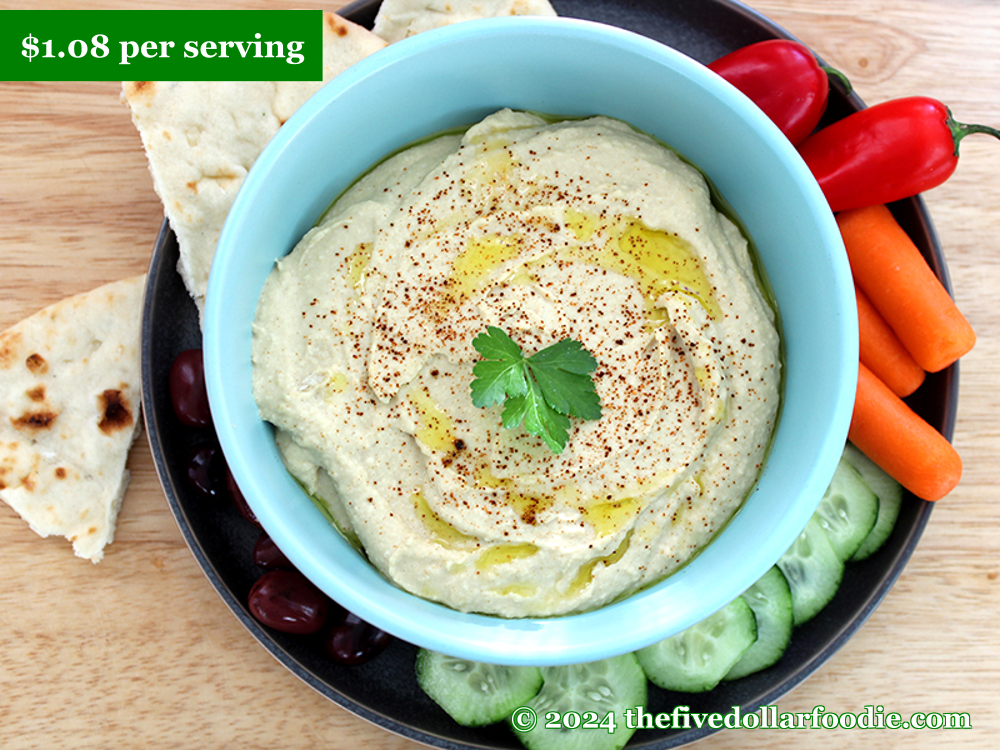 Hummus is incredibly easy to make at home. This recipe calls for mainly pantry ingredients, and is about 5,000 times tastier than store-bought (not to mention cheaper!). We perfected our hummus with just the right amount of tahini, fresh lemon, garlic, and a pinch of cumin. You can serve this creamy dish so many different ways: on lightly toasted pita or naan bread, or for dipping with carrots, bell peppers, or cucumbers. It can be an appetizer or a main course. This is a new family favorite that we will make for many years to come.
Makes 4 Servings - $1.08 per serving Show Detailed Pricing
15 ounces garbanzos (canned), rinsed, and drained
1/4 cup tahini
2 tablespoons olive oil
1 clove of garlic, peeled
1 lemon, juiced (about 3 tablespoons)
1/4 teaspoon cumin
3/4 teaspoon salt
3 tablespoons water
For serving:
* 1 pinch paprika, chopped parsley, and an extra drizzle of olive oil
2 slices of bread (pita or naan), lightly toasted
6 ounces baby carrots (or other veggie such as cucumber or bell peppers)
*Optional ingredients are not counted towards pricing
Prep Time: About 10 minutes
Instructions:
Combine all of the ingredients (garbanzos, tahini, olive oil, garlic, lemon, cumin, salt, and 2 tablespoons of water) in a blender or food processor and blend for 3-4 minutes, or until smooth. Use a spatula to scrape down the sides of the blender to be sure it creates an even mixture. Add another tablespoon of water if the hummus seems too thick. The key is to blend, blend, blend until it is deliciously creamy.
To serve, spoon into a bowl and top with optional extra drizzle of olive oil, chopped parsley, or paprika. Serve with warm sliced naan or pita bread and carrots, cucumber, bell peppers, olives, or other veggies that you have on hand.
Notes:
Hummus will keep in the refrigerator in an airtight container for about a week. Make an extra large batch and store it for when hunger strikes!
---
Review our Creamy Homemade Hummus:
Thanks for your reviewing this recipe! We are looking over your comments and will post as many as possible.
---
Michael G. on 4/7/2020
This is a TERRIFIC hummus recipe ! As soon a I saw this online, I made it...and yes everything is in your pantry. ( I substituted peanut butter for the tahini) and added an extra clove of garlic...as I like garlic. I will not have to purchase store bought hummus again. Thank you $5 foodie...
Rating: