All Recipes
|
Breakfast
|
Lunch & Light Dishes
|
Dinner
|
Treats
|
Key Recipes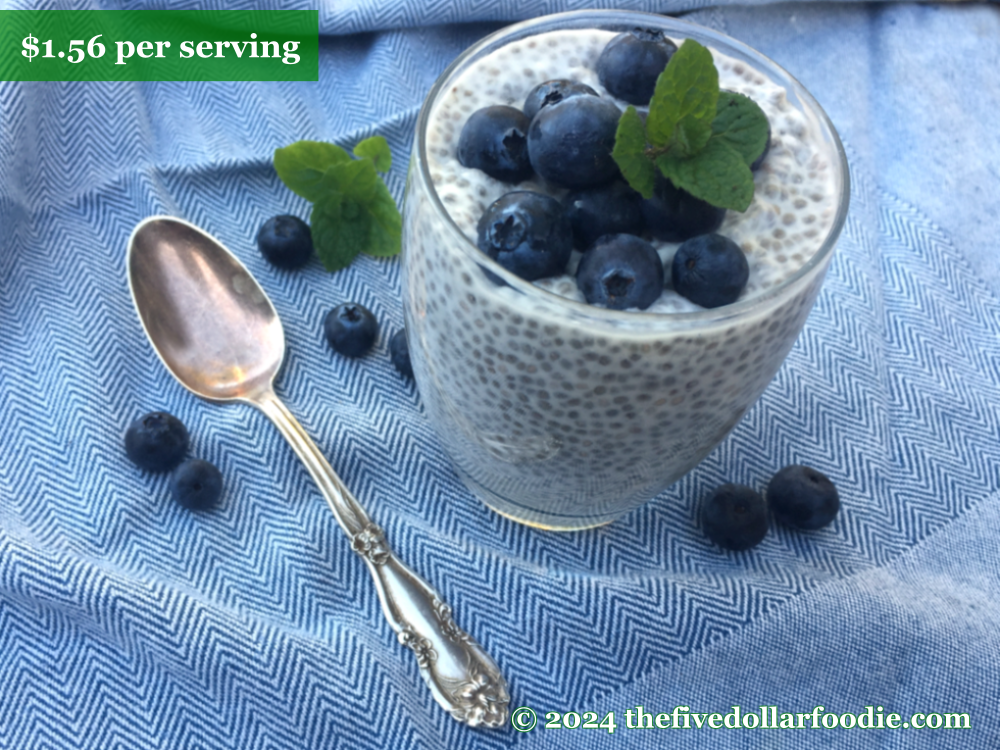 Chia is the latest health craze, and with good reason—it's a superfood. Chia seeds are one of the best plant-based sources of Omega-3 fatty acids, with over 7 times more than found in salmon. They also are loaded with calcium, fiber, and iron. We first tasted chia pudding when experimenting with a dairy-free diet, and fell in love with it—and now we're obsessed with it. While chia pudding may be trendy, and therefore expensive at your local café, it's incredibly easy to make at home and only requires a few ingredients. Buy chia seeds from the bulk section of your grocery store for the best price, or order them online (we found chia for just $3.69 a pound). Light canned coconut milk, we discovered, provides the best texture and flavor—ours is super creamy. You can also add a little regular canned coconut milk for an even richer pudding, or substitute any type of coconut milk beverage if you don't have the canned type. Blueberries and mint complement the coconut flavor perfectly, but you can top the pudding with any combination of fruit or nuts for a delicious and easy breakfast (or dessert!). Try it with our homemade Almond-Vanilla Granola.
Makes 4 Servings - $1.56 per serving Show Detailed Pricing
13 1/2 ounces light coconut milk, canned
1/3 cup chia seeds
3 tablespoons maple syrup (or honey)
1/2 teaspoon vanilla extract
* 3 ounces blueberries
* 1 sprig of fresh mint
*Optional ingredients are not counted towards pricing
Prep Time: About 5 minutes
Instructions:
Combine chia seeds with coconut milk, maple syrup (or honey), and vanilla in a bowl, and stir well.
Cover and refrigerate at least 2-4 hours or overnight. Top with berries and mint and enjoy.
Notes:
The coconut milk should be melted so that it is a liquid, but not hot. If you like a thicker pudding, add more chia seeds or for a thinner consistency, stir in additional milk.
Not all coconut milks are created equally. After many trials (and errors!), we have found that Thai Kitchen Lite Coconut Milk has superior flavor and consistency if you're willing to spend a few pennies more.
---
Review our Coconut Chia Pudding:
Thanks for your reviewing this recipe! We are looking over your comments and will post as many as possible.
---
Lisa A. on 9/1/2018
This is soooo good! I love tapioca but never make it because it is too time consuming. This is my new substitute. It is creamy and light and delicious and so easy to make!! And it is healthy!
Rating:
Elizabeth H. on 4/27/2018
MY FAVORITE.
Rating:
Kevin H. on 2/15/2018
We love this. We've been making it with honey and using a variety of additions and it seems to go well with everything we've tried so far. It is now part of our regular breakfast rotation.
Rating:
Jason H. on 1/27/2018
Wow this is so good... never knew I would actually like chia so much. I have made this like 3 times since discovering this recipe. We didn't have light coconut milk the last time, so we used half regular coconut milk (canned) and half coconut milk beverage and it was amazing. The blueberries and mint is the perfect combo! Excited to try it with some other combinations, like maybe banana and peanut butter granola.
Rating: