All Recipes
|
Breakfast
|
Lunch & Light Dishes
|
Dinner
|
Treats
|
Key Recipes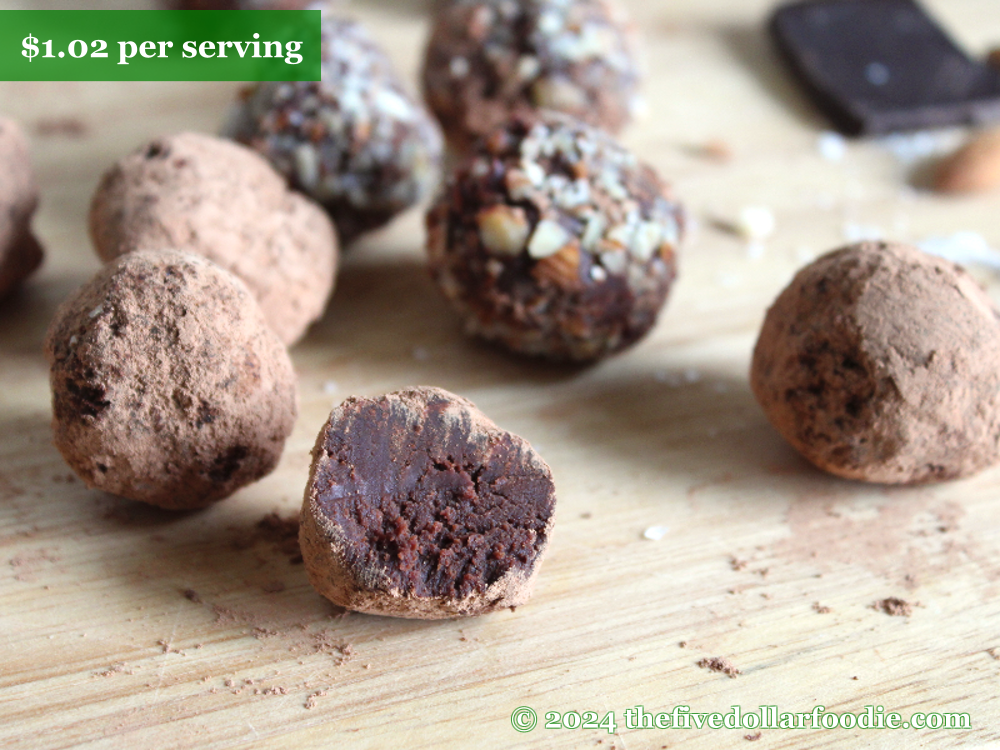 These are the creamiest, most decadent treat — pure chocolate truffles. They are remarkably simple to put together and require just 4 basic ingredients. Melt chocolate bars or chips, add a little cream and a bit of butter, and spice them up with vanilla, peppermint, or orange extracts. Roll them in cocoa powder or crushed nuts for an impressive handmade confection. We made dark chocolate peppermint and salted almond, but variations abound. It takes just minutes to prepare these after 1-2 hours of refrigeration time. Truffles make a wonderful gift, but once you taste them you might end up keeping them all to yourself!
Makes 8 Servings - $1.02 per serving Show Detailed Pricing
8 ounces semisweet chocolate, chopped finely (or semisweet chips)
1 tablespoon butter
2/3 cup heavy cream
3/4 teaspoon vanilla extract (or peppermint or orange)
For the toppings
1/8 cup cocoa powder
* 1/4 cup almonds, chopped
* 1 teaspoon coarse sea salt
*Optional ingredients are not counted towards pricing
Prep Time: About 5 minutes
Cook Time: About 15 minutes
Instructions:
Place the chocolate and butter in a double boiler (a small bowl placed inside a small saucepan with a few inches of water in it) and heat over medium-high heat. When the water starts to boil, turn the heat down to medium. As the chocolate begins to melt, add the heavy cream. Gently stir with a spatula to see that it's evenly combined.
After the chocolate is melted and the butter and cream are mixed in, carefully remove from heat and add the vanilla or other flavored extract and stir.
Transfer the chocolate mixture to a shallow pan. An 8 x 8" baking dish or similar works nicely for this. Place in the refrigerator (uncovered) for about one to two hours, or until the chocolate has mostly hardened. (If you refrigerated for longer and the chocolate hardened too much, let it sit on the counter for a few minutes until it's thawed slightly and easier to work with.)
Line a tray with wax paper or set aside a large plate. Using a spoon or melon baller, scoop about two teaspoonfuls of chocolate and form into a ball. The chocolate will be quite sticky, so read our tips below for how to handle the chocolate. Roll the ball in a shallow dish of cocoa powder (or optional chopped nuts mixed with sea salt) and set onto the plate.
Serve at room temperature or chilled.
Notes:
This recipe makes about 16 truffles, depending on the size ball that you form. You can form these using your hands, if the melon baller or spoon doesn't work for you. You'll want to wear gloves or coat your fingers in cocoa powder, or wipe off your hands on a paper towel after each ball is formed.
You can create variations using just about any flavored extracts or additions you can think of, and can top them with sprinkles or crushed candy for different effects and tastes. Salted almond topping pairs wonderfully with vanilla extract.
If you prefer a less-sweet version, you can use 1 ounce of bittersweet chocolate with 7 ounces of semisweet chocolate.
Keep truffles in an airtight container at room temperature for 2-3 days or store in the refrigerator for 5-7 days. You can also freeze these to enjoy later.
---
Review our Chocolate Truffles:
Thanks for your reviewing this recipe! We are looking over your comments and will post as many as possible.
---
Judy E. on 2/11/2021
I don't even need to taste these to know how great they are! They are beautiful and my mouth is watering!
Rating: