All Recipes
|
Breakfast
|
Lunch & Light Dishes
|
Dinner
|
Treats
|
Key Recipes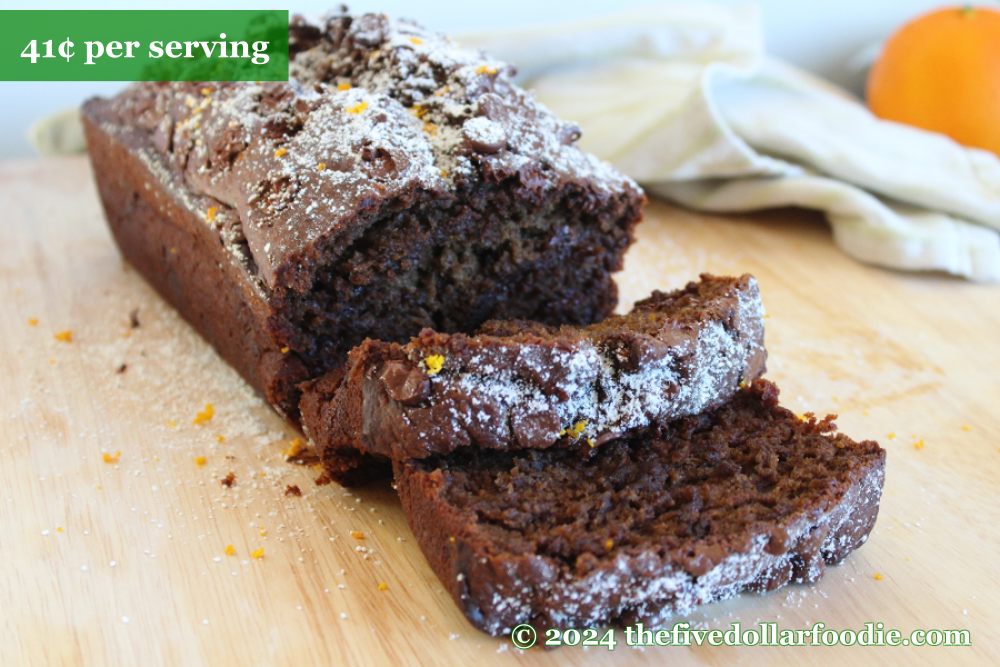 We can't get enough of this decadent banana bread. It's a luxurious-tasting dessert (or breakfast, if you're in the mood for a real treat) and you get to use up those ripe bananas you have sitting around. Chocolate and orange (from its juice and zest) complement each other nicely, and a touch of spice adds a foodie twist to traditional banana bread. Plus, the orange zest makes a colorful garnish. This bread keeps well, and tastes even better the next day, as it becomes even more moist. We crave this dessert often, and now buy extra bananas to keep on hand!
Makes 10 Servings - 41¢ per serving Show Detailed Pricing
3 bananas (ripe), peeled and mashed
1/2 cup oil (canola, vegetable, or other mildly flavored oil)
1/2 cup brown sugar
1 egg, beaten
1 teaspoon vanilla extract
1 orange, zested and juiced (about 2 tablespoons zest and 1/4 cup juice)
1 1/4 cups flour
1/3 cup cocoa powder
1 teaspoon baking soda
1/2 teaspoon baking powder
1/2 teaspoon salt
1/2 cup semisweet chocolate chips
* 1 teaspoon allspice
*Optional ingredients are not counted towards pricing
Prep Time: About 15 minutes
Cook Time: About 45 minutes
Instructions:
Preheat oven to 350 degrees. Grease a loaf pan (about 4.5 x 8.5\") and set it aside.
In a large mixing bowl, mash the bananas with a fork. Then add the oil, brown sugar, egg, vanilla, and orange juice and combine thoroughly. The mixture should look creamy.
In a separate bowl, whisk together the flour, cocoa powder, baking soda, baking powder, salt and optional allspice.
Add the flour mixture slowly to the banana mixture and stir until well-mixed. Stir in the chocolate chips and most of the orange zest (save about a teaspoon to decorate the top of the banana bread when it is done baking).
Pour the batter into the pan and bake for about 45 minutes, or until a toothpick comes out clean. You can also press gently on the top of the loaf, and if it springs back it's done.
Let the bread cool, and sprinkle with confectioner's sugar (optional) and the remaining orange zest before cutting into slices.
Notes:
The allspice adds a subtle layer of flavor to this dessert, but if you don't have any, don't worry—it's still delicious.
To keep this bread fresh, after it has cooled wrap it in wax paper or cover with foil and leave at room temperature, or refrigerate. It will be even tastier the next day!
You can store ripe bananas in the freezer to make this bread at a later date if your bananas are overripe. Just put them in with the peel on; then let them defrost at room temperature before cutting away the peel.
Slices of this bread will keep in the freezer in an airtight container between sheets of wax paper. To reheat, remove a slice, and place it in the microwave or in a hot oven or toaster oven for a few minutes on an oven-safe plate.
Related Recipes:
---
Review our Chocolate-Orange Spiced Banana Bread:
Thanks for your reviewing this recipe! We are looking over your comments and will post as many as possible.
---
Michael G. on 5/29/2020
Phew - this was so easy and tastes wonderful, and now my go-to banana bread...Make sure you don't leave out the allspice, as it adds an interesting flavor. This is a keeper!
Rating:
Lisa A. on 4/19/2018
I made this today. It was easy and it is unbelievably delicious. So rich, chocolaty and moist it tastes like a really fancy dessert! This may replace my favorite chocolate pound cake!
Rating:
Joy W. on 4/16/2018
Quite tasty! Simple to make with ingredients typically on hand. Orange is a lovely flavor with chocolate. Wonderfully moist. A great go to whip up quickly....quick bread! I made according to directions but added an extra egg as mine looked smallish (I typically bake with extra large eggs). I did not use allspice. So yummy I have made two in one week!
Rating: