All Recipes
|
Breakfast
|
Lunch & Light Dishes
|
Dinner
|
Treats
|
Key Recipes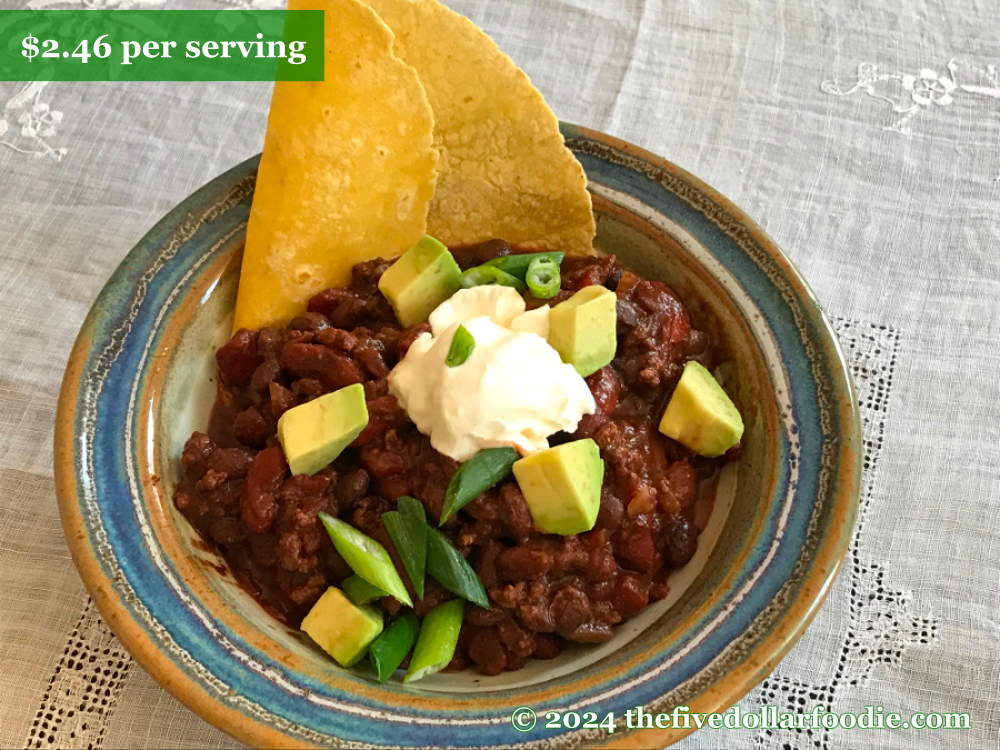 The classic Mexican pairing of chili pepper, tomato, and unsweetened chocolate gives a richness of flavor you have to taste to understand. And once you do, it's unlikely you'll ever turn back. Cook and feast within the hour, or keep the chili over a night or two and the flavor only deepens. It's mild enough for gringo-mouths, but splash it with green and red pepper sauces if you like more fire. Along with scallion, sour cream and avocado, we love smoky, chipotle hot sauce.
Makes 5 Servings - $2.46 per serving Show Detailed Pricing
1 onion, chopped
1 tablespoon oil (a mildly flavored one like canola or safflower)
1/2 pound ground beef
1 1/2 teaspoons cumin
1/2 teaspoon cinnamon
28 ounces canned crushed tomatoes
4 ounces diced green chiles
2 tablespoons cocoa powder (unsweetened)
15 ounces canned black beans
15 ounces canned kidney beans
5 tortillas
5 ounces sour cream
2 scallions, sliced thinly
1 avocado, diced
* 1 pinch salt and pepper, to taste
* 2 teaspoons hot sauce, green or red, to taste
*Optional ingredients are not counted towards pricing
Prep Time: About 5 minutes
Cook Time: About 25 minutes
Instructions:
In a medium size stew pot (an enamel one if you have it), place the onion and oil and sauté 4-5 minutes or until the onion starts to brown slightly. Add the meat, cumin, cinnamon, salt and pepper to taste. Turn up the heat and use a fork to break the meat apart as it lightly browns. This should take 5 minutes or less.\n
Add tomatoes, 2/3 cup water, green chilies, and the cocoa powder to the meat and onion mixture. Stir, cover, and simmer 5 minutes.
Drain the beans of their liquid and add them to the pot. Simmer 10 or more minutes longer, depending how hungry you are. Taste and adjust seasonings.
To serve, tuck a folded tortilla into each bowl, ladle on the chili, and place a spoonful of sour cream on top. Garnish with scallion and avocado. Pass the hot sauce!
Notes:
Cocoa and cacao powder are both made from the bean of the plant Theobroma cacao. But cacao powder is raw whereas the more readily available, and less expensive, cocoa powder is roasted.
You can use half a fresh jalapeño pepper in place of the canned green chilies if you prefer. Just take care to remove the seeds before mincing it and do taste for heat, using more or less accordingly. Chili peppers are unpredictable!
For a vegetarian version, this recipe is also delicious without the meat. For a vegan version, also omit the sour cream.
---
Review our Chili with Cinnamon and Cacao:
Thanks for your reviewing this recipe! We are looking over your comments and will post as many as possible.
---
Linda M. on 10/30/2021
Never was a chili fan particularly. BUT, it was end of the month. All my pantry items pointed to chili for my last company meal for October. I had all the ingredients I was sure for a vegetarian version and so I went to $5 Foodie for a recipe. You all did not fail. I followed the recipe exactly, except for the condiments on top because I did not happen to have them. Opted to serve it over rice with a salad on the side. My son raved about it, my daughter-in-law raved about it, and my two and a half year old granddaughter asked for a second helping. And I surprised myself by deciding chili was not bad at all. I will be serving it again for sure.
Rating:
Kevin H. on 2/15/2018
This was the best chili I've ever made. (although I did change one thing....I used a 4.5 ounce can of mild diced chili peppers instead of 2 tablespoons of what I'm assuming is fresh green chili peppers.)
Rating:
nancy k. on 2/14/2018
Delicious and easy! A new chili flavor!
Nancy K.
Rating: