All Recipes
|
Breakfast
|
Lunch & Light Dishes
|
Dinner
|
Treats
|
Key Recipes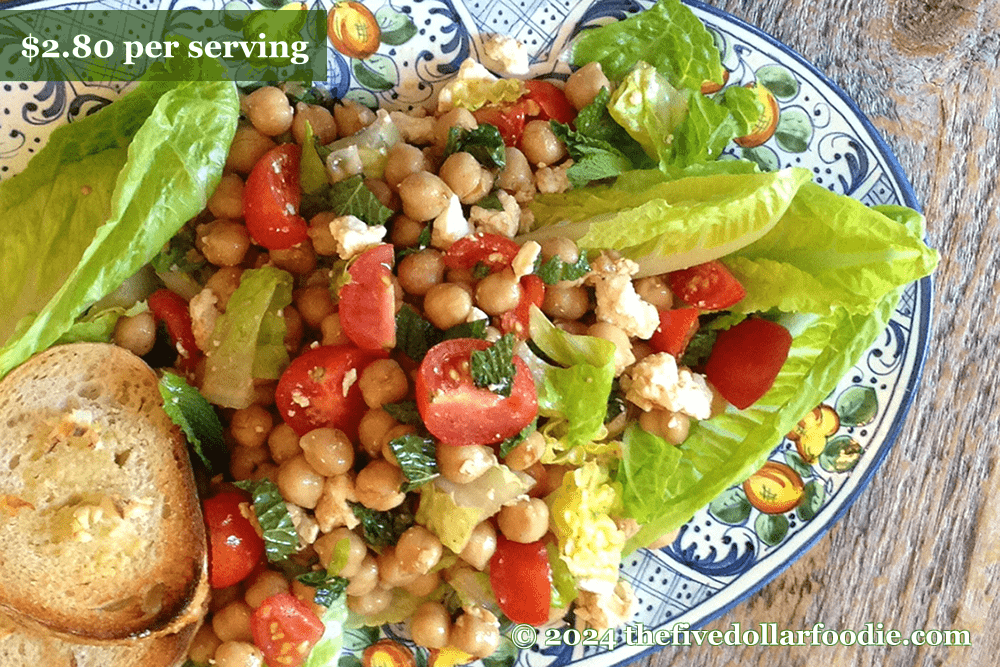 This light but filling salad is loaded with protein and vitamins. Chickpeas are high in protein and fiber, while feta adds protein, calcium, and B-vitamins and a foodie touch to this inexpensive dish. The mint really makes it if you can find fresh mint at a good price (we often grow our own), though you can substitute other fresh or dried herbs if you have them. Garlic crostini are tasty and quick to prepare.
Makes 2 Servings - $2.79 per serving Show Detailed Pricing
15 ounces canned chickpeas
1 tomato
6 romaine lettuce leaves
1 tablespoon mint leaves
2 ounces feta cheese
4 tablespoons olive oil
1 tablespoon balsamic vinegar
* 1 pinch salt and pepper, to taste
For the Garlic-Parmesan Crostini:
2 cloves of garlic, peeled and minced
1 tablespoon parmesan cheese, grated
2 slices of bread
*Optional ingredients are not counted towards pricing
Instructions:
Drain liquid from the chickpeas and place them in a medium bowl.
Chop the tomato, lettuce, and mint into bite-sizes pieces and add to chickpeas; then add the feta cheese.
In a cup mix together 3 tablespoons of the oil, 1 tablespoon vinegar and salt and pepper to taste and pour over the salad. With a spoon and fork, toss the salad to coat with the dressing.
For the garlic crostini: sprinkle the garlic and parmesan over two slices of bread and drizzle the remaining olive oil on top. Toast until the bread and garlic are lightly browned.
Notes:
for a gluten free version, substitute gluten free bread for the wheat bread.
---
Review our Chickpea, Tomato, Mint, and Feta Salad with Garlic-Parmesan Crostini:
Thanks for your reviewing this recipe! We are looking over your comments and will post as many as possible.
---
Ms B. on 4/7/2018
Yummy - bright - easy - filling - served with grilled sandwich: brie-panini-with-fresh-pear-and-red-fruit-jam
Rating:
Linda H. on 1/22/2018
A flavorful burst of summer sunshine, via the fresh mint leaves, to brighten our winter day in Ohio! Easy to make, light, delectable, loaded with protein, altogether delightful. And I'll share a nifty little secret - if there are leftovers, simply warm them slightly and toss on hot, freshly cooked pasta. (Maybe add another drizzle of olive oil also.) Wow! In fact, that is such a good use of this recipe that you could make it for that purpose, tossing all with hot pasta, and bringing down the per-serving cost even further, I imagine.
Rating:
Nancy A. on 1/17/2018
Easy to make and full of flavor!
Rating: