All Recipes
|
Breakfast
|
Lunch & Light Dishes
|
Dinner
|
Treats
|
Key Recipes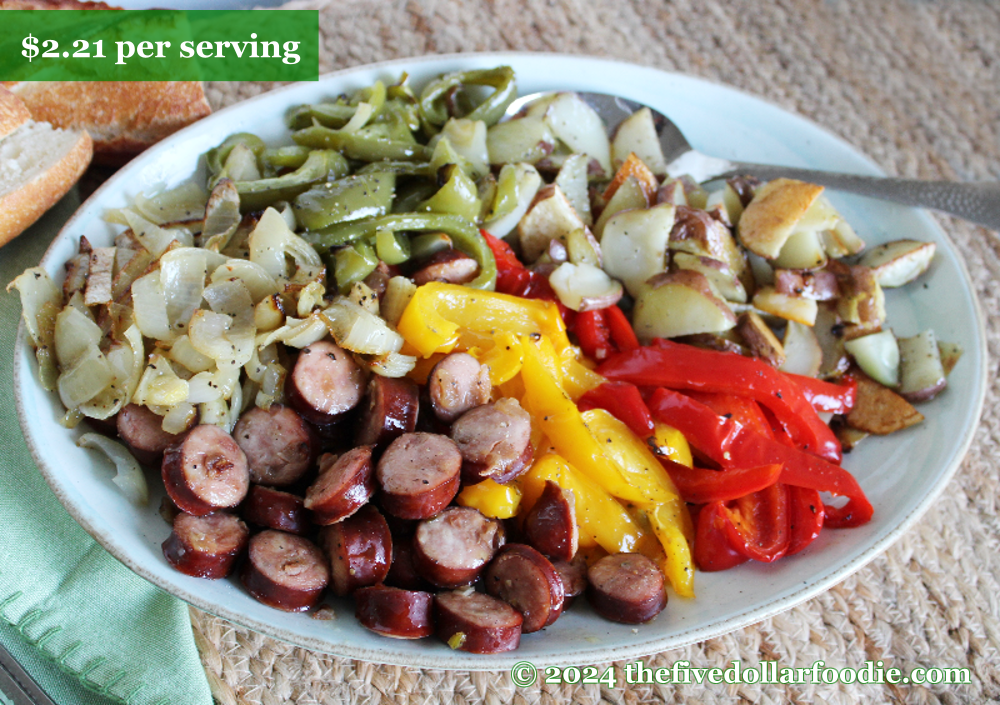 This is what to cook when you have assorted vegetables on hand and not a lot of time to stand at the stove. It only requires a little chopping, and once the dish goes in the oven you'll have time for other things. The colorful vegetables sweeten with roasting and go nicely with chicken-apple sausage (or any other type of precooked sausage) and caramelized onion. We like to keep things simple by seasoning just with salt and pepper and a good splash of olive oil—nothing else is needed for this full-flavored dish. Plus, it meets all of our criteria: simple to prepare, healthy, yummy, and cheap.
Makes 4 Servings - $2.21 per serving Show Detailed Pricing
4 precooked sausages (chicken and apple, spicy Italian, or pork), sliced into 1/2-inch rounds
1 onion, sliced
2 bell peppers, sliced
1 zucchini, sliced into 3/4-inch rounds
1 potato, diced
1/4 cup olive oil
* 1 baguette
* 1 pinch salt and pepper, to taste
*Optional ingredients are not counted towards pricing
Cook Time: About 30 minutes
Instructions:
Preheat the oven to 450 degrees. On a large roasting pan or baking sheet, toss the sausage and vegetables with olive oil, salt, and pepper. For better roasting, you want a pan that is large enough so the vegetables aren't crowded.
Roast the vegetables and sausage for about 30 minutes, until the vegetables are softened and the edges are nicely browned to your liking. Remove from the oven; add additional salt and pepper to taste.
Place the (optional) baguette, or french bread, in the hot oven for about 2 minutes to warm it, and serve with sausage and vegetables. Dinner done!
Notes:
You can roast a variety of vegetables, depending on what you have on hand or what's in season: Eggplant, squash, mushrooms, carrots, parsnip, beets, even broccoli and cauliflower will be tasty.
Softer vegetables, like zucchini, should be sliced thicker than vegetables that take longer to cook, such as potatoes, onions, and peppers. But don't slice any of the vegetables very thinly because they shrink in cooking as their water content evaporates, condensing their flavor.
We like to serve warmed fresh french bread alongside this main dish when we haven't included potatoes. The baguette adds about $1.29 to the total cost (or about 32¢ per serving).
---
Review our Chicken-Apple Sausage with Roasted Vegetables:
Thanks for your reviewing this recipe! We are looking over your comments and will post as many as possible.
---